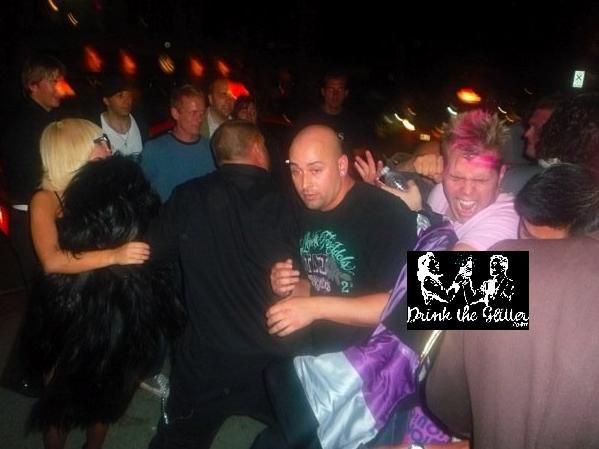 Picture of the fight thanks to DrinktheGlitter
It's safe to say that Perez Hilton is easily as famous for his own drama as he is for reporting on everyone else's. He's started all sorts of feuds over the years. He's also helped promote some up-and-comers by giving them a lot of free positive publicity. The only possible mention of the whole debacle regarding the scuffle with Black Eyed Peas' Will.I.Am on his site today is a list of links to anti-violence websites, which seems pretty damn passive aggressive.
Will.I.Am and Perez have been going back and forth via internet videos talking about the incident and why they were in the right – and for the most part, Will.I.Am is coming off as much more rational. Perez seems intent on playing the victim and milking it for as much as its worth. GLAAD issued a statement requesting that Perez publicly apologize for using the homophobic "f-word" slur (they've also asked the media not to keep repeating the word, including in references to the incident, which is why we won't be writing it). Perez has said that he won't apologize, and that GLAAD should be apologizing to him – though he doesn't really explain why. I guess for requesting that he apologize?
GLAAD was furious when they heard Perez Hilton used a gay slur to attack Will.I.Am on Sunday night — and even asked for an apology — but now Perez is ticked off at the organization for being ticked at him. Follow that?

Hilton, a former GLAAD employee, tells TMZ:

"I am saddened GLAAD chose to victimize me further by criticizing me for how I non-violently dealt with a very scary situation that, unfortunately, turned violent. While I doubt I will get an apology from GLAAD, nor do I expect one, I would just hope people know how difficult it is to intellectualize a situation and think rationally when a thug disguised as a musician is screaming at your face and intimidating you. I am just very fortunate and grateful that nothing more serious happened to me."
[From TMZ]
TMZ has a video of Perez's slur, and it's shocking to hear him say what he says. I appreciate Perez's point about not resorting to violence, but I hardly believe that was why he said what he said. He's trying to make it sound like he could have got into a physical fight so instead he got in a verbal one. That's bull. If anything it seems like he was trying to provoke Will.I.Am and his manager further by using the f slur. It wasn't meant to diffuse a situation, it was meant to heat it up. I'm guessing Perez just came up with that idea after the fact.
Perez is making it really hard to empathize with him. He comes across as intensely unlikeable in his video and seems more intent on drumming up hysteria than anything else. And his self-righteousness is confusing, since we still haven't heard a compelling reason for it. There are obviously two sides to every story, but that doesn't mean they're both equally valid. I doubt Perez will apologize to GLAAD though. And they're a very powerful ally to lose.