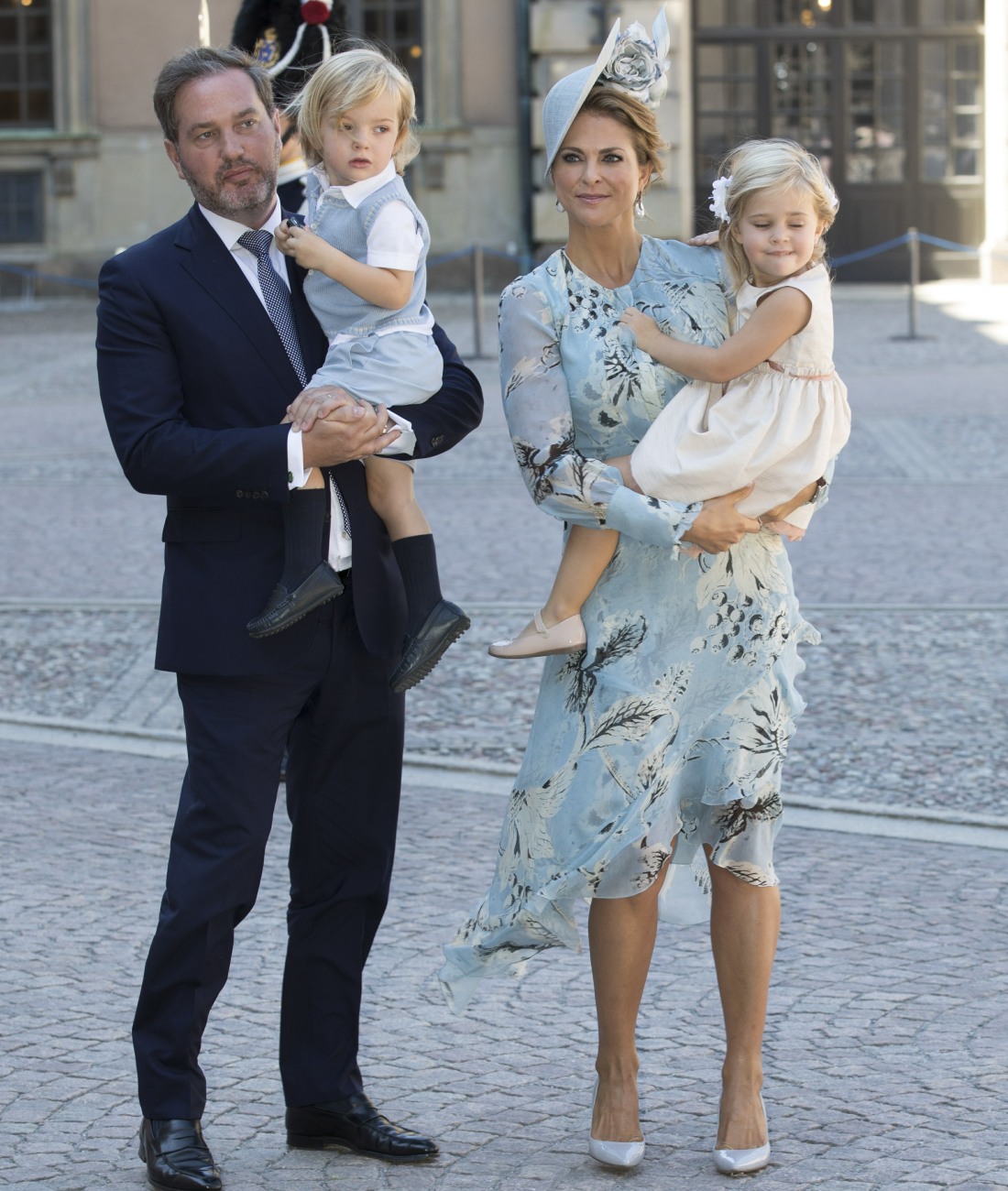 At some point, I did stop paying attention to the Swedish royal baby boom. It felt like everyone in that family was pregnant all at once. Prince Carl Philip and his wife Sofia had two sons (Prince Alexander and Prince Gabriel Carl Walther) in quick succession. Crown Princess Victoria spaced out her babies more than her siblings did – there's a-four-year age difference between Princess Estelle and Prince Oscar (who was born March 2016). Princess Madeleine is the sibling who seems to always be pregnant though – she's perhaps the Kourtney Kardashian of the House of Bernadotte. Madeleine and her husband Christopher O'Neill are already parents to 4-year-old Princess Leonore and 2-year-old Prince Nicholas. Well, she was pregnant again and I guess I totally forgot? She gave birth last week and they've finally announced the name of the little girl.
After Princess Madeleine of Sweden gave birth to a baby girl on Mar. 9, King Carl XVI Gustaf announced the child's name during a Mar. 12 conciliation. The little girl's name is Adrienne Josephine Alice.

The King also awarded the young royal the title of Duchess of Blekinge. Madeleine shared a picture of her two children Princess Leonore, 4, and Prince Nicolas, 2, cuddling with their new sibling via her new Instagram account.

"Leonore and Nicolas welcoming their little sister home," the caption read.
Thoughts on the name? Adrienne feels like a very underused name these days. I grew up with so many Andreas and Andis, but I don't think I've ever met an Adrienne in my generation, nor have I heard the name mentioned on baby-name wishlists. But it doesn't feel off-the-wall – it's a name that's been around forever, and even as I write this, it's growing on me.
A few more things about Madeleine – she gave birth in Sweden, not London. She and her husband spend most of their time in London, but I've read some speculation (on royal blogs and other places) over the years that if Madeleine still wants to have the perks of being of a Swedish princess, people expect her to spend more time in Sweden. That being said, she was apparently worried about announcing her plan to give birth in Sweden because she doesn't want to be known as a "luxury princess" taking advantage of the Swedish healthcare system. Which is a weird criticism to lodge at a Swedish princess??? Anyway, she apparently made a big deal about how she would pay for her medical bills herself. But… it seems that Madeleine and Christopher plan to send their kids to school in London. Which is pissing off Swedish people. Hm.
Photos courtesy of Instagram, WENN.