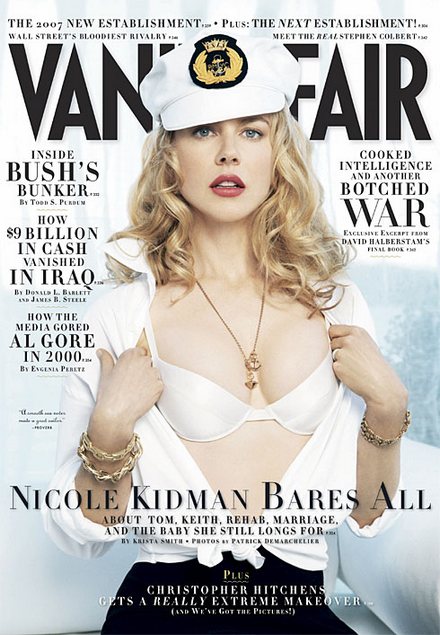 Nicole Kidman has a very revealing (for her) interview in October's issue of "Vanity Fair." The actress talks a bit more in depth about her marriage to Tom Cruise, and confirms some rumors that floated around the time of their divorce. People were always questioning what was "wrong" with their marriage since they never had biological children. That always annoyed the crap out of me – people can choose to adopt for a million reasons, most of them having nothing to do with anything being "wrong." I think it was more fuel for the "Is Tom Cruise gay?" fire, just like Jamie Lee Curtis adopting was more fuel for the "Is she really a hermaphrodite?" fire. With the adopting doesn't prove anything, people seem to think it bolsters their case. In Tom Cruise and Nicole Kidman's case, she confirms that she had a miscarriage when she was 23 which devastated her. She met Tom Cruise in 1990, when she was 23, so it was obviously very early in their relationship.
"Nicole Kidman has revealed how early on in her marriage to her ex Tom Cruise she became pregnant and lost the baby due to miscarriage. Kidman has never spoken about the miscarriage until now in her interview with Vanity Fair, and said that it happened when she was 23.

"However, Kidman was so desperate to have a baby that the couple decided to adopt less than two years later. She also admits how she's wanted a child of her own since she was 17."
[From the Cleveland Leader]
Nicole makes it clear in the interview that she really loved Tom and was willing to give up a lot to be with him, even if that meant her career. She never comes across as a victim of his reportedly controlling ways though.
"'My agents told me, "Once you become Mrs. Tom Cruise, you do know your career is going to die,'" says Kidman, who won an Oscar for her portrayal of Virginia Woolf in 2002's 'The Hours.'

"'I was appalled,' she says. 'I was like, "Hello? I'm in love, and I don't care if it's shooting myself in the foot. I'd much rather be married and have a family."'

"The couple 'lost a baby early on, so that was really very traumatic,' she says. 'And that's when it came that we would adopt Bella.'

"Cryptically, she adds: 'There's a complicated background to that, given that I never speak much about many things. One day maybe that story will be told.'"
[From the Associated Press]
You've got to give Tom and Nicole some credit for adopting because they really wanted kids. It wasn't the trendy thing to do back in the day, and no one added on to their brood like they were picking out vegetables at the grocery store. Sometimes it's hard not to feel badly for Nicole, even though she seems a bit too prim and slightly ice queeny. And I'm not even going to touch that Botoxed brow of hers – mostly because I'm afraid the toxin might leak through. But she seemed to give up a lot of herself to be with Tom. She converted to Scientology (though she later said she never believed any of it) which must have been difficult, given that her father is a very prominent Australian biochemist and a clinical psychologist – and Scientology labels all psychiatry a "pseudo-science." She was willing to give up her career – though she's had some great roles and seems to have done fine in that regard. You just get the feeling that she really lived under Tom's thumb (so to speak). I'm not even going to touch the "Tom Cruise is gay" issue, but only because he sues the pants off of anyone who dares to suggest it. Nicole says she's like to have a biological child with husband Keith Urban, who is slowly coming around to the idea. Even though the couple have had some struggles relating to his substance abuse, she seems a lot happier with him, and he seems all around less scary and controlling than Tom. Let's hope they get what they want, and stay far, far away from Xenu.