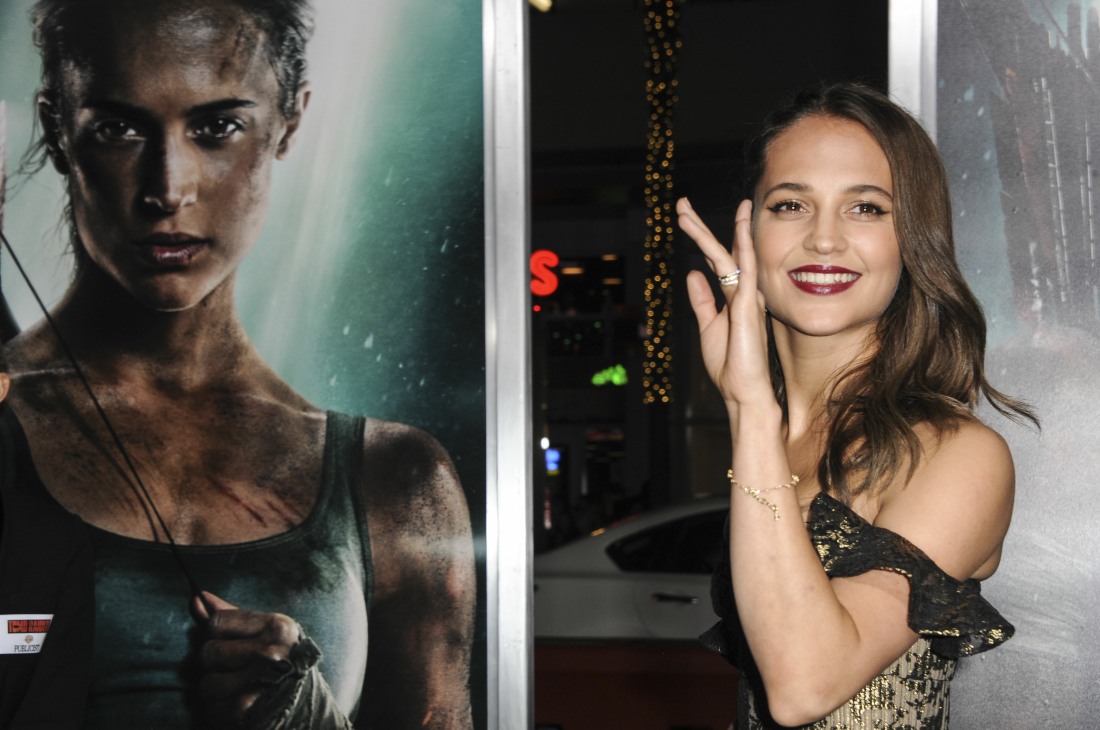 By now I'm sure many people have heard about the YouTuber and blogger (?) The Amazing Atheist and his "take" on Alicia Vikander's Lara Croft. The Amazing Atheist tweeted out: "Do I have to be the a–hole who says her t-ts are too small for me to see her as Lara Croft? Do I have to be that guy? Do I have to be the one who f–king says it? I guess I do. Sorry." People yelled at him and defended Vikander, and many are arguing that Vikander is playing the updated-video-game version of Lara Croft, where Lara is slimmer and has a more athletic figure as opposed to the buxom OG video-game Lara. Plus, what is Vikander supposed to do, get implants just to please the Neanderthals who refuse to see Tomb Raider if Lara doesn't have big boobs? It's just a dumb criticism overall.
But there are other criticisms. Many critics have dropped their reviews of Tomb Raider, the reboot of the franchise that few people were asking for. The Rotten Tomatoes All-Critics score is currently sitting at 52%, and the Top-Critics score is 47%. The Hollywood Reporter did a review-roundup, which you can read here. There is no huge consensus, but it seems like many critics just think that this reboot is aggressively dull more than anything, and that the actual story is just a boring rehash of the Angelina Jolie-led Croft movies.
With a 49 percent score on Rotten Tomatoes as of Wednesday, the critical consensus so far seems to be that the film's origin-story setup, which shows Croft traveling to the mysterious Pacific isle Skull Island in order to find out what happened to her missing father, is a derivative bore. The film's deviation from previous versions of the Tomb Raider mythology, which shows Vikander's Croft as a capable, powerful and unobjectified heroine, has, however, energized many critics familiar with Jolie's take.

The Hollywood Reporter's Todd McCarthy found the film derivative of the original two movies starring Jolie, which were released in 2001 and 2003. He said the pic was "a grimly determined by-the-numbers rehash of the same sort of plots and action moves that animated the first two Lara Croft films back in the early 2000s" which featured supporting characters that were "straight out of 1930s movie serials."

The one bright spot to the movie, he added, was Vikander herself, who "fully embodies physical tenacity and grit, along with absolute determination not to give in or up." Though her character recovers from injuries remarkably quickly, the actress "is the element here that makes Tomb Raider sort of watchable," McCarthy added.

The Guardian's Peter Bradshaw similarly pointed out that the film's origin-story setup — which shows how Croft came into her wealth, her martial arts skills and interest in tomb raiding — borrowed much from movies of the past, especially the Indiana Jones films. But Bradshaw was less taken by Vikander's take on the heiress heroine: "[T]hroughout Vikander maintains a kind of serene evenness of manner. Blandness is Lara's theme," he wrote.

In Vanity Fair, critic Jordan Hoffman complained about the slowness of the action in the new pic, pointing out that it takes 76 minutes for Croft to complete her titular mission in the 116-minute film: Raid tombs. Of director Roar Uthang, Hoffman wrote, "Uthaug's take on this material is almost aggressively boring." He additionally argued that the action scenes are often so dimly lit that it's difficult for viewers to see much of the action, and called Alien vs. Predator a "masterpiece" by comparison.

"Having Lara Croft leap around and avoid traps should be an easy formula — but for this crew, it remains an unsolvable puzzle," Hoffman wrote.
This cracked me up: "it takes 76 minutes for Croft to complete her titular mission in the 116-minute film: Raid tombs." Say what you will about the Jolie-led films, but chica was out there raiding tombs nonstop. Not so much with Vikander's version. In any case, most critics do think Vikander is okay-to-good as Lara Croft, they just wish the script and direction had been better. Will you see it? Or was this reboot just sort of unnecessary? The box-office tracking is looking okay – the trade papers say that Tomb Raider will probably open domestically with $20-25 million and come in second to Black Panther, which is eyeing its fifth straight week at #1 at the box office.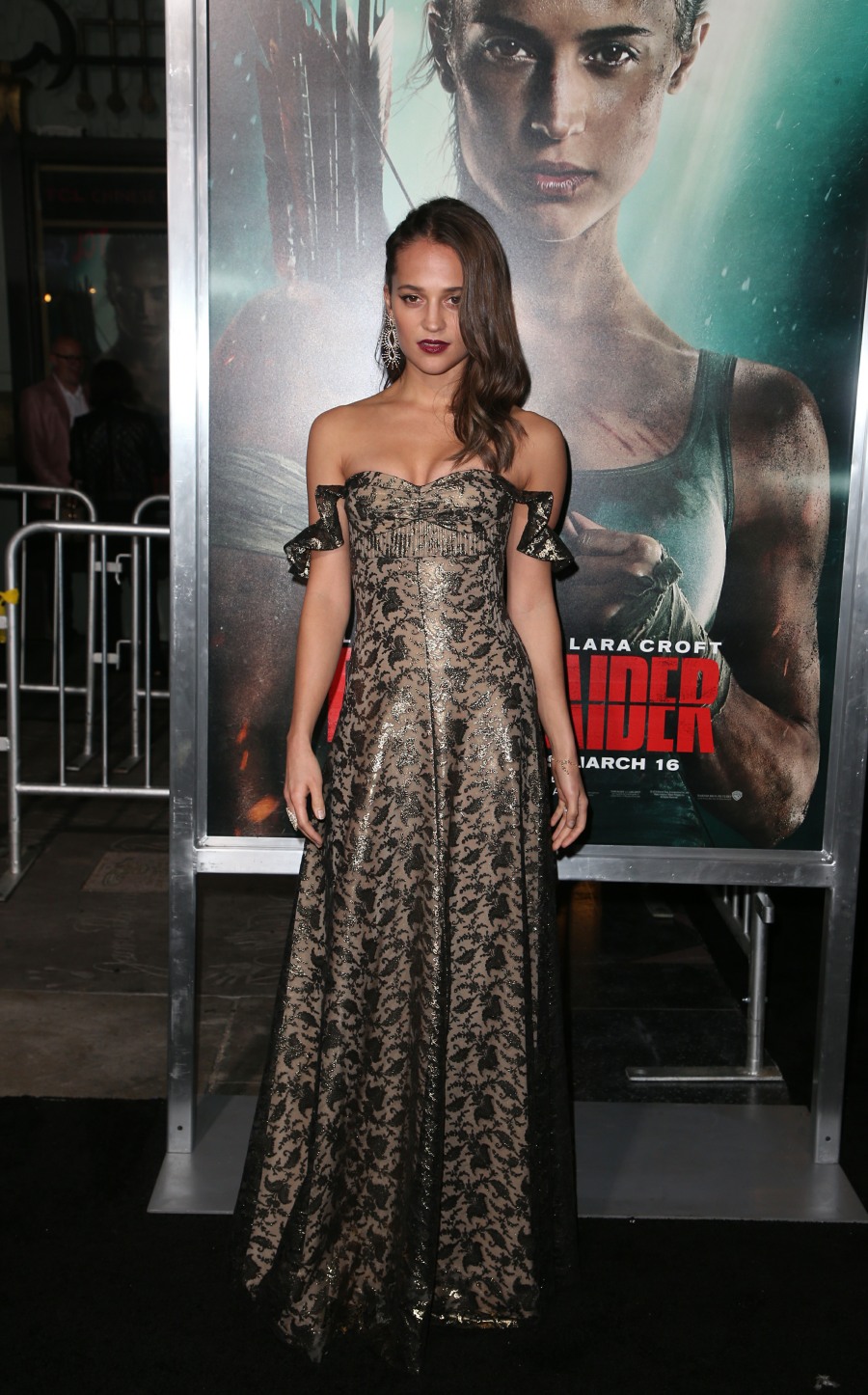 Photos courtesy of WENN.