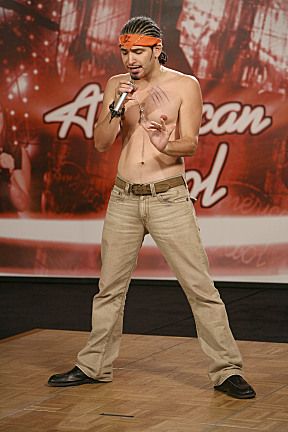 I hate American Idol. Fortunately, the country I live in isn't a fan either, so last year's NZ Idol winner didn't even get a recording contract, just a car. Which was probably more useful to them, since no one was going to buy that album anyway. Then all the rejects from the previous two series, from when NZ Idol way in its heyday, got together and fought it out for $50,000. Unfortunately it wasn't a Gladiator-style fight.
Anyway, it seems American Idol might finally have sucked the talent out of the pool, and is scraping the mildew at the bottom, according to Ryan Seacrest.
TMZ cameras caught the "Idol" host before his jog outside the Mandarin Oriental Hotel in NYC on Sunday — sporting an iPod and an inconspicuous Ed Hardy hat. When asked about the upcoming season of the juggernaut that is "American Idol," Ryan said they "weren't great … for 20,000 people, we only found a few good ones." Is that a change?
Actually, the bad auditions are the best part, so maybe things are looking up for the show.
Another sign American Idol is on the way out – low ticket sales for its Idols Live shows.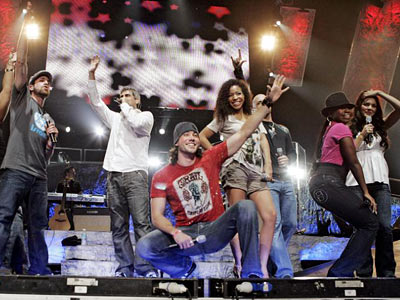 Reports of attendance and gross receipts for the first 30 of the 57 shows scheduled for the tour, as recorded by Billboard Boxscore, show this year's crop of 10 Idol finalists is falling short of last year's concert performance.

No sellouts were reported for the first 30 shows, and only one topped the 93% of capacity mark. (That was the show in Glendale, Ariz., Idol winner Jordin Sparks' home turf.) Of the 2006 tour's first 30 shows, 17 were sellouts and another 10 exceeded 93% of capacity.
Nearly half (14) of the shows were below 60% of capacity. (Lowest was 38.9% in Birmingham, Ala., hometown of 2006 winner Taylor Hicks and 2003 champ Ruben Studdard.) In 2006, the lowest-capacity figure in the first 30 shows was 89.3%.
The 2006 tour was the most successful to date, but 2005's was a lot healthier than the current version. Of the first 29 dates of 2005, 11 were sellouts and four more topped 93%.
What will happen if the whole enterprise shuts down? How will record companies find talent? What will Paula Abdul do for a living?