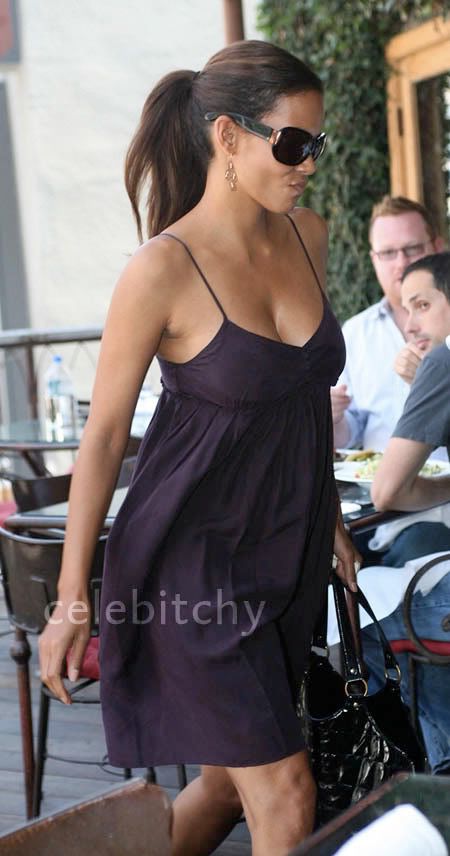 "Access Hollywood" has confirmed that Halle Berry is expecting her first child with her boyfriend of two years, model Gabriel Aubry. Halle has talked quite frequently about her desire to have a baby… though the pretty but empty seeming Aubry didn't exactly appear to be the guy Halle would choose to settle down with. Maybe she won't, and is just using him for his ideal DNA or something. Halle is three months along, and is expecting her baby on February 14th.
"Halle Berry is pregnant with boyfriend Gabriel Aubry's baby, the 41-year-old actress confirmed to 'Access Hollywood's' Nancy O'Dell in an e-mail on Tuesday. 'Yes, I am three months pregnant! Gabriel and I are beyond excited, and I've waited a long time for this moment in life. Now the next seven months will be the longest of my life!' she wrote to Nancy. '… You heard it from ME first!'

According to In Touch Weekly, Berry is due on Valentine's Day. The magazine also reports that Berry will be carefully monitored during the pregnancy, not only because of her age but also because she is a diabetic. She reportedly is being treated by a doctor who specializes in high-risk pregnancies. An insider told the magazine the actress began undergoing fertility treatments in February.

Over the years, Berry has made no secret about her desire for a family. Back in April, Berry sat down with O'Dell for a candid talk about Berry's plans for kids. 'Not that there's not more to accomplish, but I think I arrived at a point in life that I realized I needed more to get me up in the morning. More than going to a new movie set. Or as much fun as getting the star was yesterday, I need something even more profound than that and that's family. And that's children,' Berry said. 'I need that like the air to breathe these days and I'm ready. I'm at a point where I'm really, really ready.' Halle and Gabriel met in November 2005.
[From MSNBC]
Wow, if she says she's three months along and is looking forward to the next seven months of pregnancy, Halle must be planning on a Bridget Moynihan-style 10 month gestation. I'm joking, I know she's rounding. Or maybe really bad at math. The comment from an "insider" who said Berry had undergone fertility treatments is interesting, since she had previously stated that she would adopt kids if she didn't get pregnant naturally. Oh well, to each his (or her) own. Halle was really close to her stepdaughter, Eric Benét's daughter India. She'd made plans to adopt her before their marriage fell apart. Clearly children are really important to her, so it's great she's finally gotten something she's wanted for so long. Congrats to them both!
Halle Berry is shown on 8/22/07 out in LA. Thanks to WENN for these pictures.