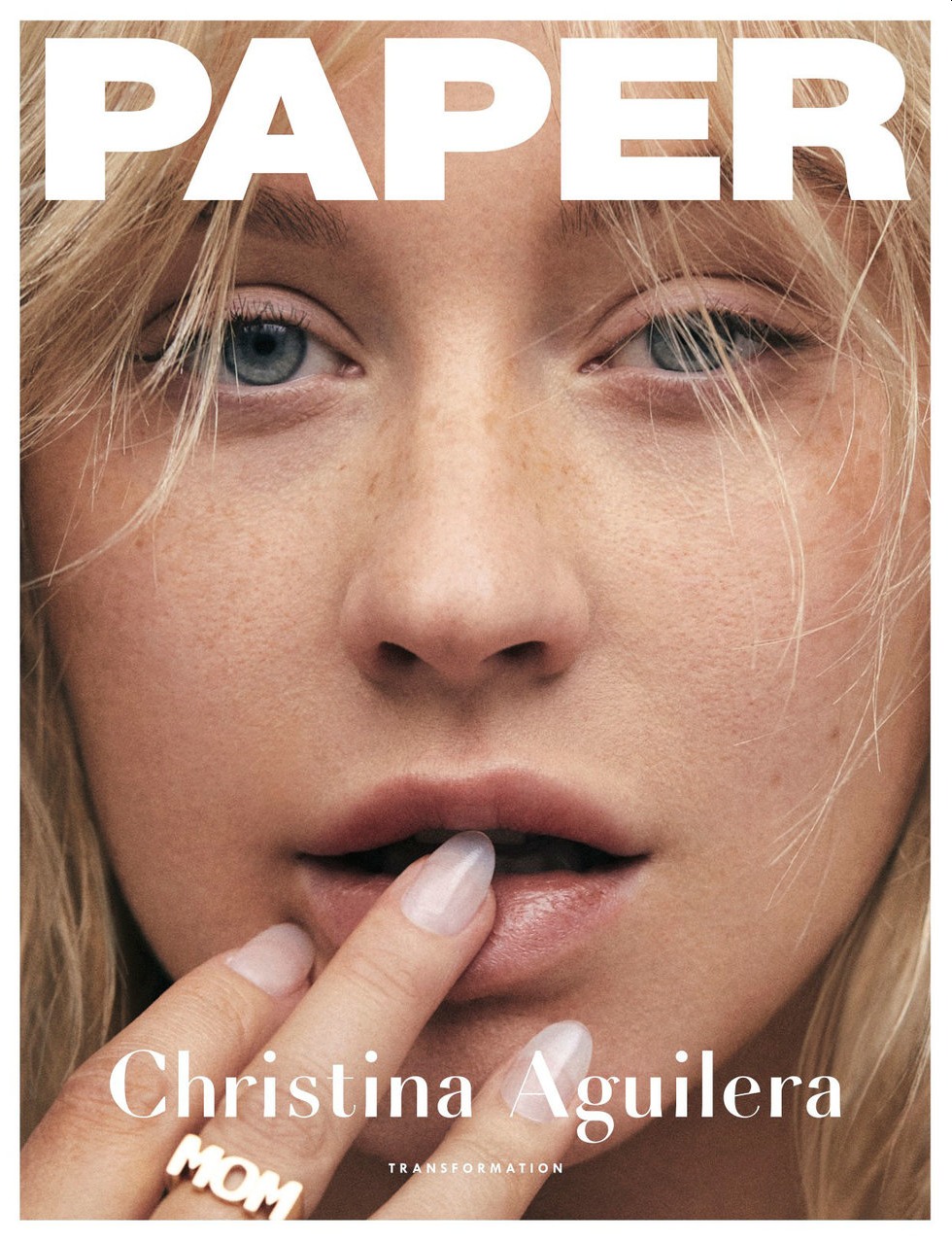 This won't break the internet, but it's nice to see anyway. Christina Aguilera covers the latest issue of Paper Magazine, and she's doing a more natural look. To be clear, she's still wearing makeup, but this is so much better than the orange clown makeup she was wearing for years and years. Aguilera has been extremely quiet for a few years – she left The Voice, she's been working on an album and hopefully she's been taking better care of herself. The interview with Paper isn't breaking news, but she does sound healthy these days. You can read the full piece here. Some highlights:
She'll never give up her makeup: "I mean, I'm a girl that likes a beat face, let's not get it twisted."

Growing up in an abusive household: "I watched my mom have to be submissive, watch her Ps and Qs or she's gonna get beat up… You can either be, unfortunately, so damaged by it that you take a turn for the worse, or you can feel empowered by it and make choices to never go down that route… I hate when people say, 'Why doesn't she just leave?' There's psychological damage and mental abuse that comes with being in a situation like that. A lot of people don't have the ability to vocalize it themselves or have the know-how to get out."

Always changing: "I can't stay in a stagnant place for too long, which is why I think the position I was in with television just became very stifling," she says, referring to her six-season stint on The Voice. "I need movement, I need to go explore, be an artist, create and transform."

She wants to be cast in a comedy: "My ultimate would be to do something with Will Ferrell. Just super funny, just laughing and being stooges."

The music landscape today: "They don't have as much backlash when they come out on the scene. And I did. It was a very interesting and controversial time for me." She points out how much more accepted it is now for an artist to take risks and to also be sexually empowered than it was back then. "Either women are not sexual enough or we're not fulfilling enough of a fantasy for you, but then if we're overtly sexual or feeling empowered in a certain kind of way, then we're shamed for it." She's proud of herself during the "Dirrty" era, even with the harsh criticism she received. "Madonna had to go through it in her day, and she paved the way for my generation to come up. And paying it forward, now a younger generation is coming up and I'm loving what I'm seeing. It's so incredible."
Thinking back on Aguilera's career, it's more than possible that she just came around in the wrong era. They tried to cast her a Britney (but one who could actually sing), then she recast herself as the anti-Britney, the Dirrty Era X-Tina. And then what? Aguilera changed her look and vibe about a dozen times over the years but nothing really stuck (at least not to me). In a different era, she could have been more like Halsey or Adele, you know? And she absolutely could have been Lady Gaga.
Cover and photo courtesy of Paper Magazine.