Rosie Huntington-Whiteley covers the latest issue of Harper's Bazaar Arabia. She's not promoting anything in particular, so I guess she was just a model for hire for this particular editorial, although Bazaar Arabia did a somewhat exhaustive interview with her, like she had something to promote (she did not). Rosie keeps a somewhat low profile, and I can't even remember the last time I wrote about her. I also didn't realize that her baby – son Jack – is already 10 months old. Rosie and Jason Statham are still together and happy, or at least that's what she said in this piece. Mostly, she's just chatting about social media, the modeling industry and how she's non-judgmental about most things. You can read the full piece here. Some highlights:
Social media skews our perceptions: "Sometimes I feel like you'll go into a wormhole on Instagram and then you're like, 'It didn't make me feel good.' Social media can leave people, myself included, feeling insecure." Not only that, "You waste a lot of time on it. You spend your life in a phone rather than engaging with people and having conversations." Her solution to the technological drain? "I always think you feel your best when you're in nature. Being outdoors, being with animals, being with your friends. Dancing, listening to music…"

Life before the prevalence of cell phones & social media: "I'm really pleased I lived pre-all of this. I have my teenage years, my early twenties. I was wild and out there, I was doing my thing and there was no social media, there was no paparazzi. I had those years to be free. Everyone is taking pictures now and it's so funny for me to see a 10-year-old girl who knows how to pose…I think it can be cringe-worthy…"

#MeToo in the modeling industry: "There's definitely been instances where I've felt unprotected and moments where I found myself in situations that were uncomfortable. The fashion industry is so relaxed and casual, there's this expectation on models that the more up for it you are, the better, the further you'll go along in your career…. With modelling, it's always been deemed as not a real career and there's a lot of expectation on girls that the better the model you are, the quieter you are and the least amount of fuss you make."

One thing she'd like to see changed: "For the first time some designers put private changing areas backstage at New York Fashion Week. I've done countless fashion shows where you're in a room, undressing, photographers flying around, people with iPhones, all the crowd and audience coming after the show and you're still half dressed, people are taking photographs of you whilst you're getting changed. It blows my mind that that's acceptable."

Her baby, Jack, is 10 months old: "I took a bit of time off and had my baby; I tried to take the time at home to enjoy those first special months with my family. I have a wonderful personal life with lots of love and fun."

Raising a feminist son: "I think it's so much about raising boys and girls the same. I love the book by Chimamanda Ngozi," We Should All Be Feminists, "I saw her TED talk and it was very inspiring. It's about raising girls and boys with the same values; communication and respect. That's how I was brought up, it's how the people I love were brought up, and they are the values I hope to instil in my loved ones."

She's not all about diet & exercise: "I eat well because I want to be healthy but it's not something that I feel super passionate about. Some people are connected to food and nutrition in a way that they want to sing about it all the time. For me, I work out, I try and eat well. It's not like I'm the new Jane Fonda. Food is my biggest vice. Cheese, bread… It's getting harder to eat what I want."
The way she talks about life before cell phones and social media make her sound like she's a Gen-Xer. She's not! She turns 31 years old on April 18th. She was born in 1987, which makes her a smack-dab in the middle of the Millennial generation, the generation which we were led to believe was born knowing everything about computers and cellphones and social media. Or not. I get what she's saying, and she's right – I'm years older than Rosie (I'm Xennial) and I look back wistfully on my teenage years, before social media, before everyone had a cellphone, before everything had to be documented online.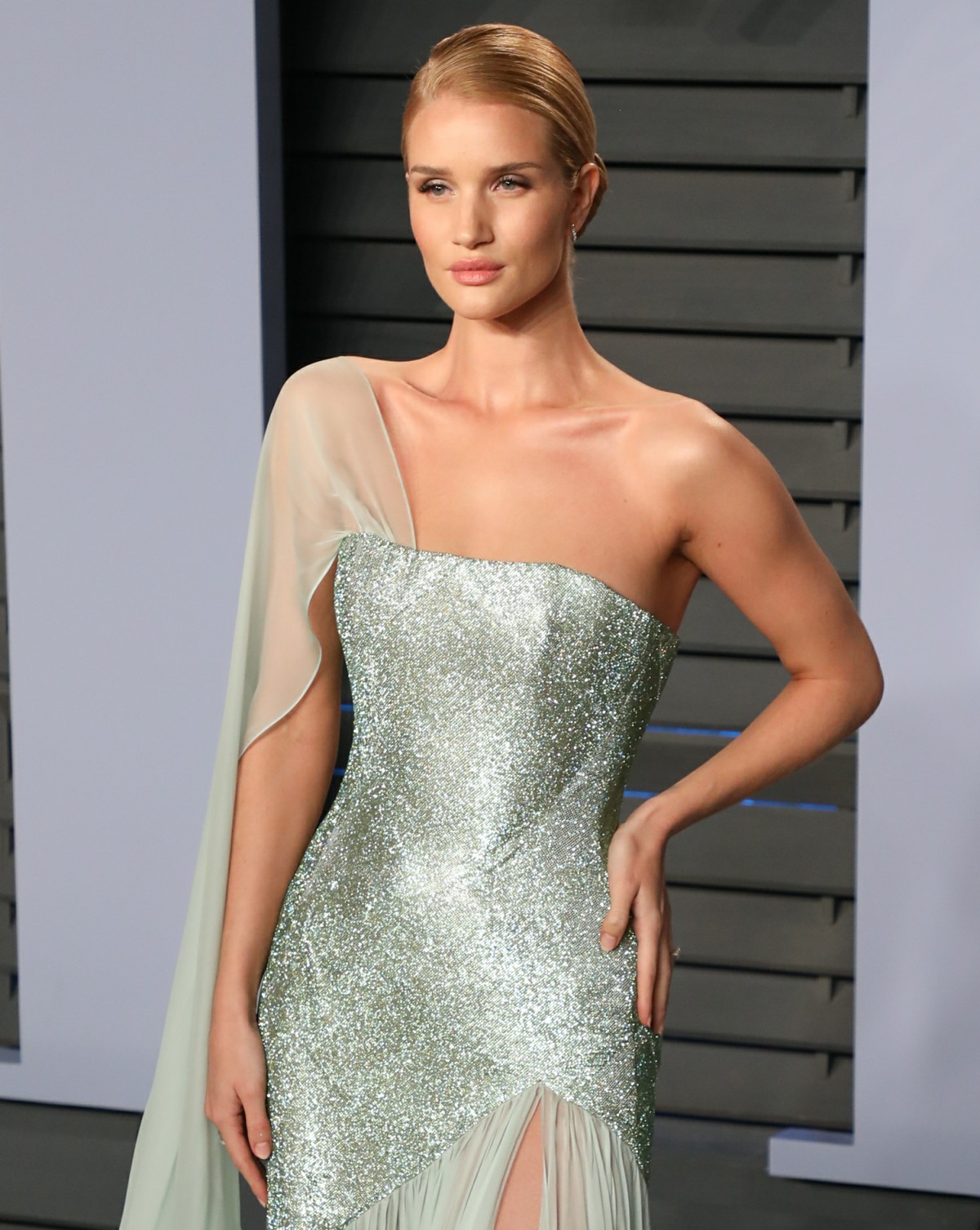 Cover courtesy of Bazaar Arabia, additional photos courtesy of WENN.