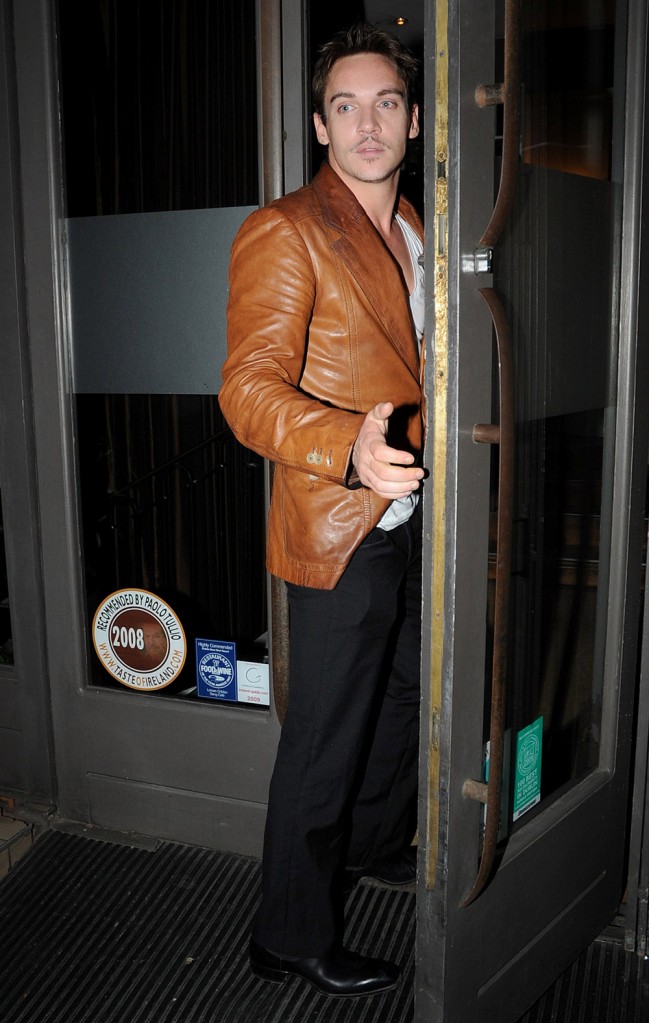 Jonathan Rhys Meyers still seems to have himself a drinking problem. Quite the drinking problem, if you believe French officials. Meyers was detained at Paris' Charles De Gaulle airport this past weekend for getting into a drunken fight. The whole thing started when a bartender refused to serve an obviously intoxicated Meyers anymore drinks. Logically this led to fighting and punches being thrown, as most drunken things do. Well, that or they lead to sex. Luckily only the former occurred. At least according to charging papers.
Tudors star Jonathan Rhys Meyers was detained by French police on Saturday afternoon following an incident in which he allegedly assaulted an airport lounge employee while drunk, Agence France Presse reports.

The Irish actor, 31, was placed in custody for several hours for having a skirmish with bar employees and allegedly punching one at the Charles De Gaulle airport in Paris, according to reports.

The incident began when a bartender at the café area "Le Quotidien" in the departure area of the airport at terminal 2F refused to serve the actor, who appeared drunk, according to the news service. A shouting match developed between Rhys Meyers and the bar manager. Then when another bar employee tried to separate the pair, Rhys Meyers swung and punched the intervening waiter.

Police handcuffed the actor when placing him in custody, and sources tell PEOPLE that the actor remained in a sober lock-up area for three hours before being released.

The AFP reports that Rhys Meyers has been told to appear before the Correctional Tribunal in Bobigny in September to answer charges concerning, "voluntary violence, contempt, issuing death threats and assault," according to a judicial source.
[From People]
That's quite the list of complaints there. Contempt? I would like to know what a contempt charge looks like in France. My favorite is the issuing death threats. When Jonathan Rhys Meyers commits crimes, he goes all out. No "I hate you, jerk!" Or whatever. Only a death threat will do. Meyers has had quite the lengthy relationship with alcohol. He went to rehab in April of 2007. Then he was arrested the following November for public drunkenness. He was also photographed drinking shortly after he left rehab. Clearly it didn't take. I'd love to say hopefully this will be the thing that does it for him, but I highly doubt it.
Here's Jonathan Rhys Meyers in Dublin last Wednesday. Images thanks to WENN.com .