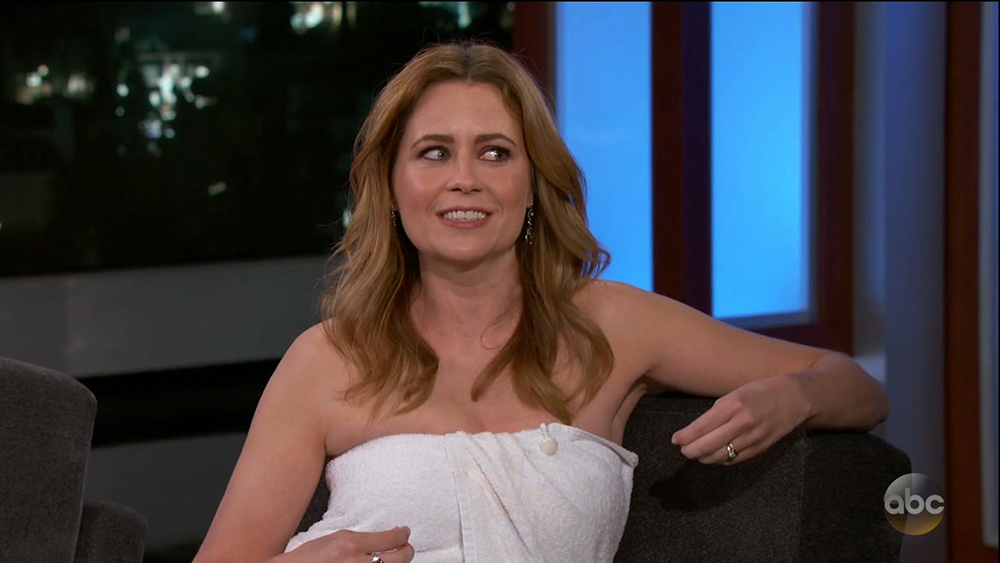 This sounds like something that could have been a plot line on The Office. Jenna Fischer (Pam 4-eva) showed up on Jimmy Kimmel Live! on Monday night to talk about her new comedy series, Splitting Up Together. Unfortunately, the 44-year old actress suffered a faulty zipper on her dress and was forced to wrap herself in a towel and don a pair of jeans for her interview.
Jenna made the most of the potentially awkward situation, parading out to the stage with the malfunctioning dress in tow, which she put it in the chair beside her. Despite this epic entrance, Jenna remained adorably flustered during the first part of the interview, explaining, "I waited a little too long to get dressed, and then my zipper broke. And I panicked." She also joked, "You know, I am a Missouri girl, and the show must go on."
The show, indeed, did go on, but not before a little more "towel talk". Jenna admitted, "I am mentally a little freaking out that I'm on a talk show in a towel, but I'm physically very comfortable." Jimmy quipped, "I feel like I ran into you at the spa." Once Jenna got a bit more relaxed, the topic shifted to the new show, where Jenna and the adorable Oliver Hudson play a couple who divorce and end up living together to help raise their kids.
When asked if she had met Oliver's mother, the fabulous Goldie Hawn, she said she hadn't, but she was dying to, as Overboard is a family favorite. She even recited one of her favorite lines from the movie, which is about to be ruined with a gender-swapped reboot. Don't get me started. Jenna also relayed a funny story about running into the Kardashian clan during a "Mom and Dad" getaway with her husband in Japan.
The interview was great, and I'm tempted to give the show a peek. And what delights me the most is that Jenna had a sense of humor about her "wardrobe malfunction," posting a photo of her #fashionimprov on Instagram.
Splitting Up Together, which airs Tuesdays at 9:30 on ABC, has gotten mixed reviews, but it's great to see Jenna doing comedy again – and I'm not talking about just her talk show appearances. And, who knows? She may have started a new fashion trend. I know I'd love to walk around in a comfy terrycloth top and jeans all of the time.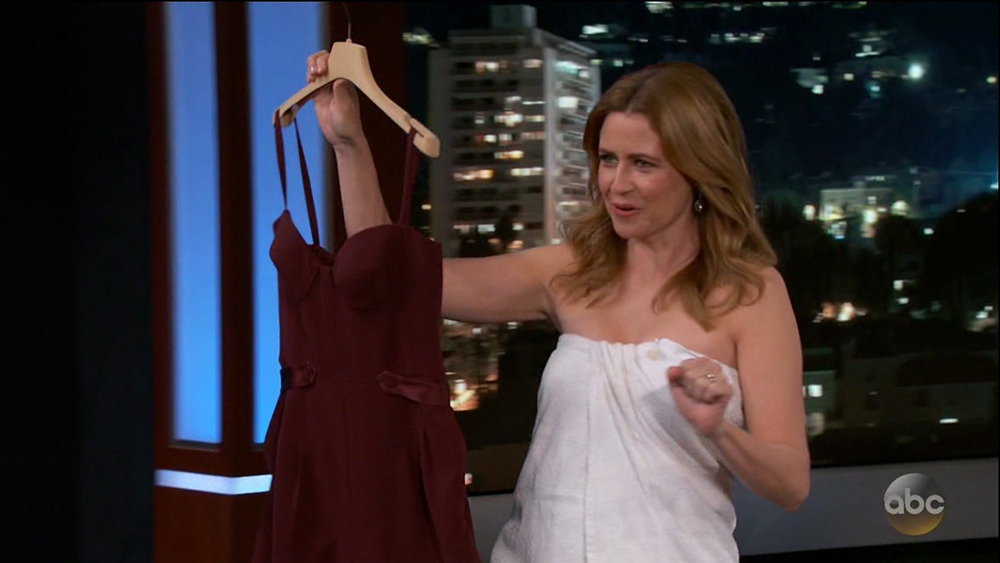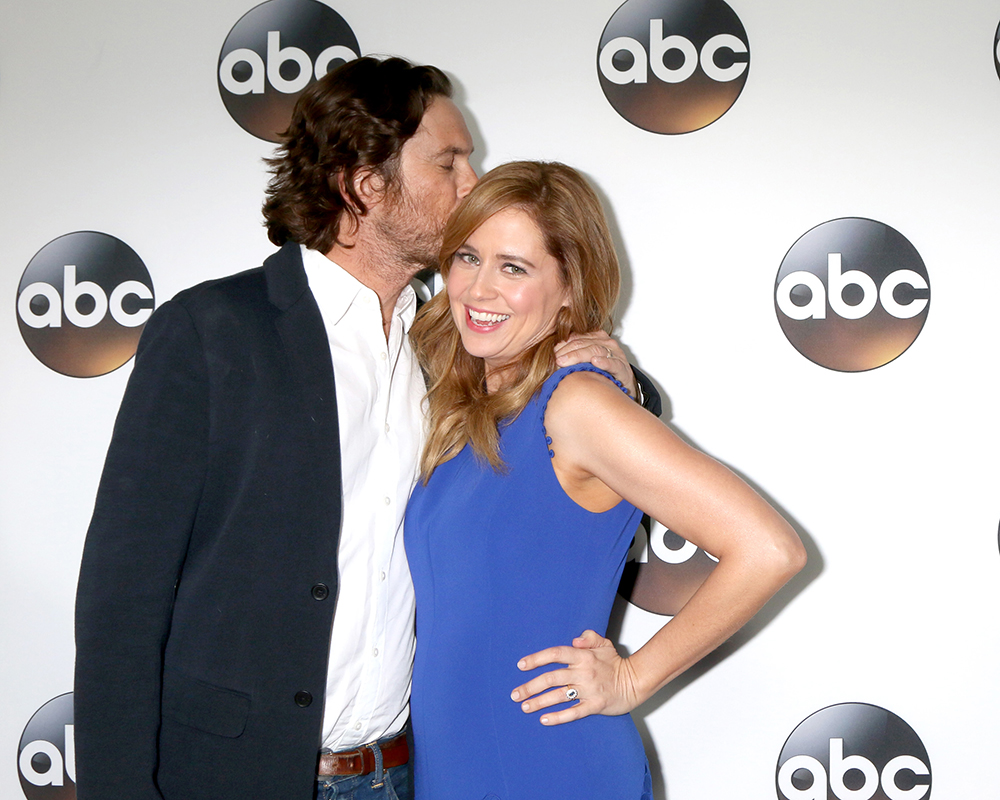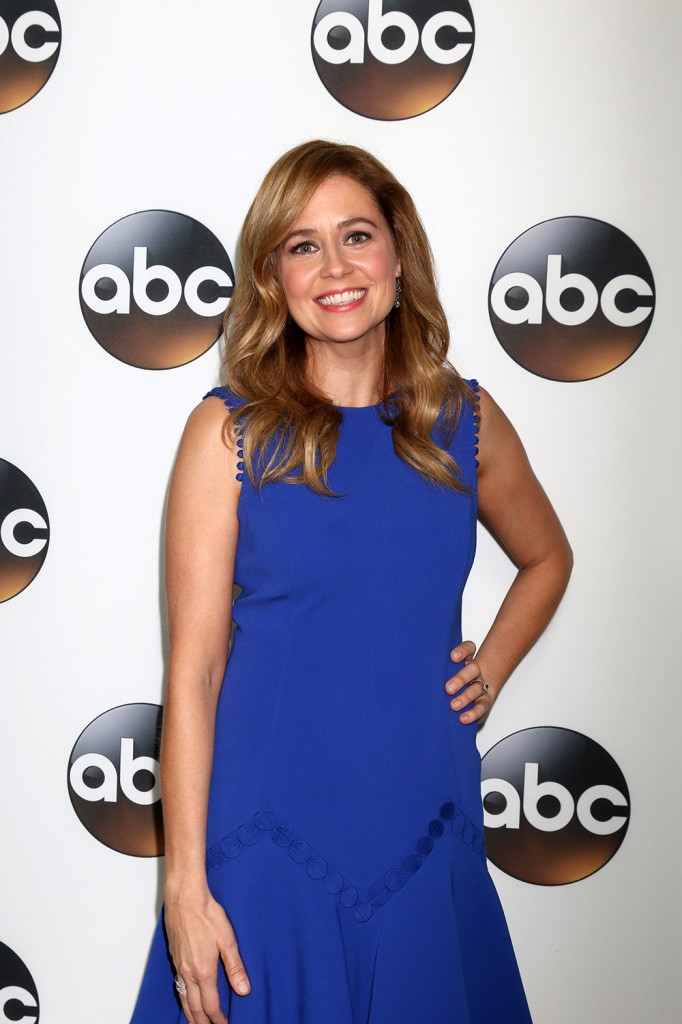 Photos: Getty Images, WENN.com