I used to be a huge Jon Hamm fan. Mad Men is one of the few TV series that I've seen from start to finish, every episode. Hamm was perfect as Don Draper and even now, when I happen upon an old episode, I'm struck by just how great Hamm was on that show. But as the show was ending in 2015, Hamm's life fell apart. He went into rehab, he broke up with his longtime girlfriend, and reports came out about Hamm's activities in college which… really made him seem like a total a–hole. The stories were about Hamm attending UT-Austin and being one of the ringleader sadists of the Sigma Nu fraternity, and some episodes of frat hazing gone terribly wrong. Star Magazine broke the stories – go here and here. According to those reports, Hamm reached a plea deal with prosecutors and the charges against him were later dismissed, while some other frat bros were charged with misdemeanor hazing and assault.
In the months and years that followed Star's reporting, Hamm didn't say much about any of it. It's easy for celebrities to dismiss tabloids like Star and it's easy for the more "legitimate" news outlets to whitewash those tabloid stories. So Hamm was never really pressed about anything. Now Hamm covers the latest issue of Esquire to promote his role in Beirut, and Esquire went there, asking Hamm about his abusive frat-bro past. The impression I getting is "dismissive." You can read the full Esquire piece here. The highlights:
The Hazing Crime: In 1989, he went off to the University of Texas and pledged the Sigma Nu fraternity, through which he found a family of brothers and got himself into serious trouble with the law. According to reports, when Hamm was a sophomore, he and several of his fraternity brothers hazed a pledge so severely that their actions permanently shut down the frat's UT chapter. Assault charges were filed against the 20-year-old and fellow members that were later dropped. A 1991 lawsuit claimed that Hamm lit the kid's pants on fire; physically abused him; and, along with his brothers in a part of the Sigma Nu house called the "Party Room," hooked the claw of a hammer underneath his crotch and led him around the room.

How Hamm responds: When I bring up the incident…Hamm bristles. He tells me, "I wouldn't say it's accurate. Everything about that is sensationalized. I was accused of these things I don't… It's so hard to get into it. I don't want to give it any more breath. It was a bummer of a thing that happened. I was essentially acquitted. I wasn't convicted of anything. I was caught up in a big situation, a stupid kid in a stupid situation, and it's a f–king bummer. I moved on from it."

He later dropped out of UT: That same year, Dan died of complications associated with diabetes. Hamm went home to lay his father to rest and never returned to UT. "My dad was sick. He ended up dying in the middle of all of this and I had to rally my own mental health and become a better person because of it. I'm happy that I became a better person. Everyone goes through a weirdness as a young person, especially in college, when you're trying to figure things out."
The name of Hamm's not-so-alleged victim is Mark Allen Sanders. Sanders gave interviews about the hazing, and clearly, he went to the police at the time. He directly confirmed that Hamm was the ringleader of the fraternity's hazing rituals/crimes. But Hamm makes it all about himself – "it was a bummer of a thing that happened" – and spares no thought to the victim who had to be hospitalized because of Hamm's actions. The fact that this part of the conversation is framed by Esquire as part of Hamm's tragic childhood and young-adulthood feels… tricky. And smarmy. Like, I genuinely believe that Hamm had a terrible f–king childhood. His mother died when he was very young, his dad didn't know how to take care of him, Hamm didn't know how to grieve, all of that. But I also believe that he was an abusive a–hole who brutally assaulted a young fraternity pledge and even now, Hamm can't even spare a thought for his victim.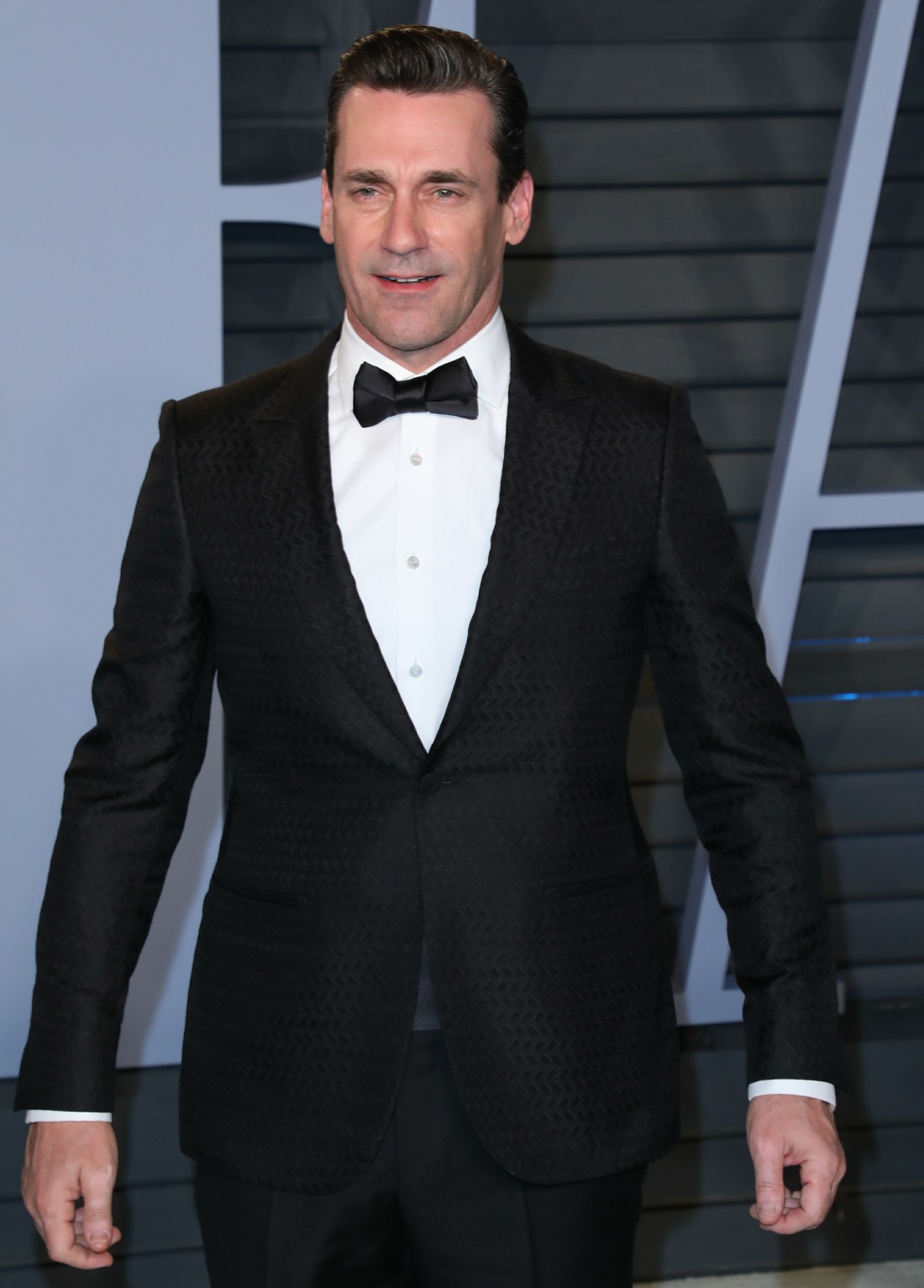 Photos courtesy of WENN, cover courtesy of Esquire.