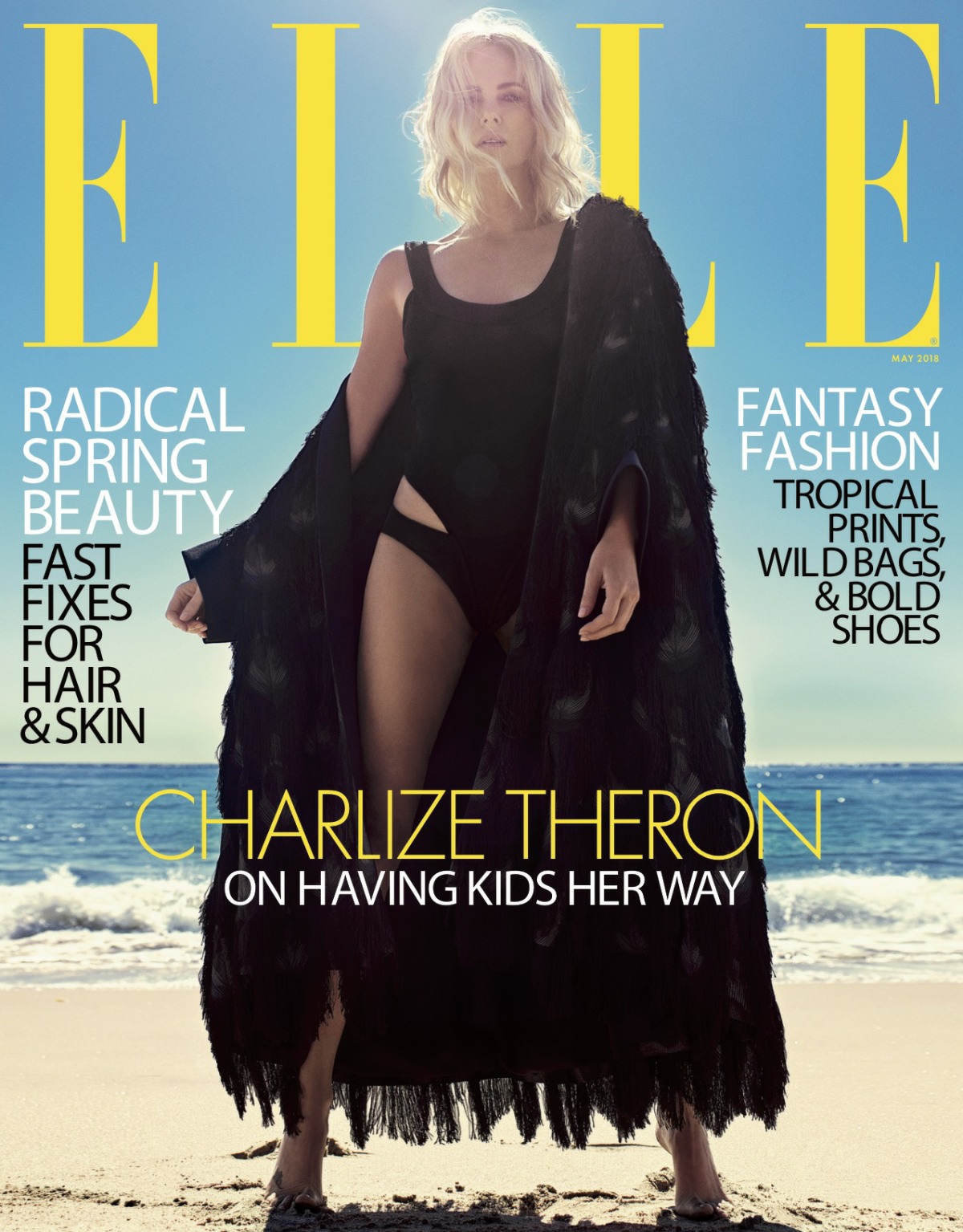 Charlize Theron covers the May issue of Elle Magazine to promote her latest film, Tully. Tully is the latest collaboration between Charlize, Diablo Cody and Jason Reitman. I thought their last film, Young Adult, was extremely underrated. Charlize gave an incredible and often-understated performance which was worthy of awards, in my opinion. I don't know what to think of Tully – will it be awards-baity, or will it be shunned because it's a "lighter" film? I don't know. But Charlize did do a big transformation for it – she put on a great deal of weight to make herself look like a character who had just given birth to her third kid. So… maybe? The Academy does love a dramatic transformation. As for the Elle piece… it was conducted by Chelsea Handler. Ugh. You can read the full piece here. Some highlights:
How gaining weight for 'Tully' was so different: "Yeah. I filmed Monster when I was 27, and I just stopped snacking for three weeks and was back to my normal weight. This time it really hit me hard. I was constantly f–king eating. And I love carbs. But I sort of plateaued on carbs. So I started eating and drinking a lot of sugar. It really messed with my head. I had depression for the first time in my life shooting this film. I felt like I was in a dark cloud. Getting back to normal took a long time

On her career: "If you look at my career, I have done more work in realism than the glamour stuff. It's what I wanted to build my career on and why I fought so hard to not just play the ingénue or the girlfriend."

On co-parenting with her mom, Gerta: "I knew that I would have to have my mom help me if I was going to do this as a single parent. To not acknowledge her coparenting my children would be a lie."

On the adoption process: "I struggled mentally through the adoption process. Some of my lowest points in my life were dealing with the first time I filed; it really took an emotional toll. There were so many situations that didn't work out, and you'd get attached and have all your hopes up and then just get crushed."

On raising two black children: "They need to know where they come from and be proud of that. But they're going to have to know that it's a different climate for them than it is for me, and how unfair that is. If I can do something about that, of course I'm going to."

On racism in the US: "I don't even know how to talk about the last year under our new administration. But racism is much more alive and well than people thought. We can't deny it anymore. We have to be vocal. There are places in this country where, if I got a job, I wouldn't take it. I wouldn't travel with my kids to some parts of America, and that's really problematic."
"There are places in this country where, if I got a job, I wouldn't take it." I don't mean to nitpick, but is she generalizing about the South? She's not specific there, which I understand, but I have to say – the Klan is active everywhere now. White supremacists have crawled out from underneath every rock in this country. There is no one state in America that doesn't have some kind of issue, whether it's with the black community or the brown community. Anyway, I like how she acknowledges her mom's role in all of this – Charlize's mom lives with her and truly does coparent August ("Auggie") and Jackson.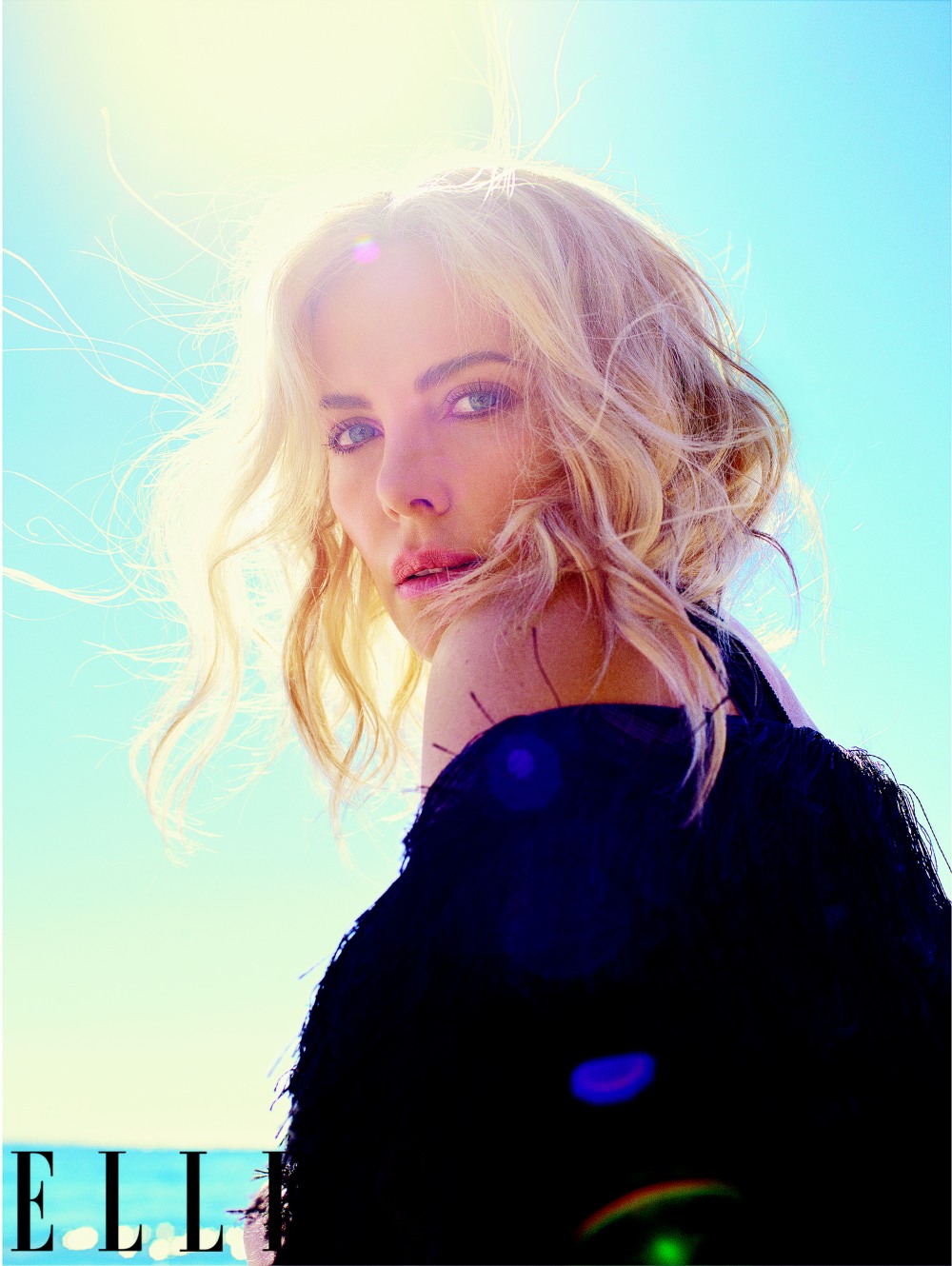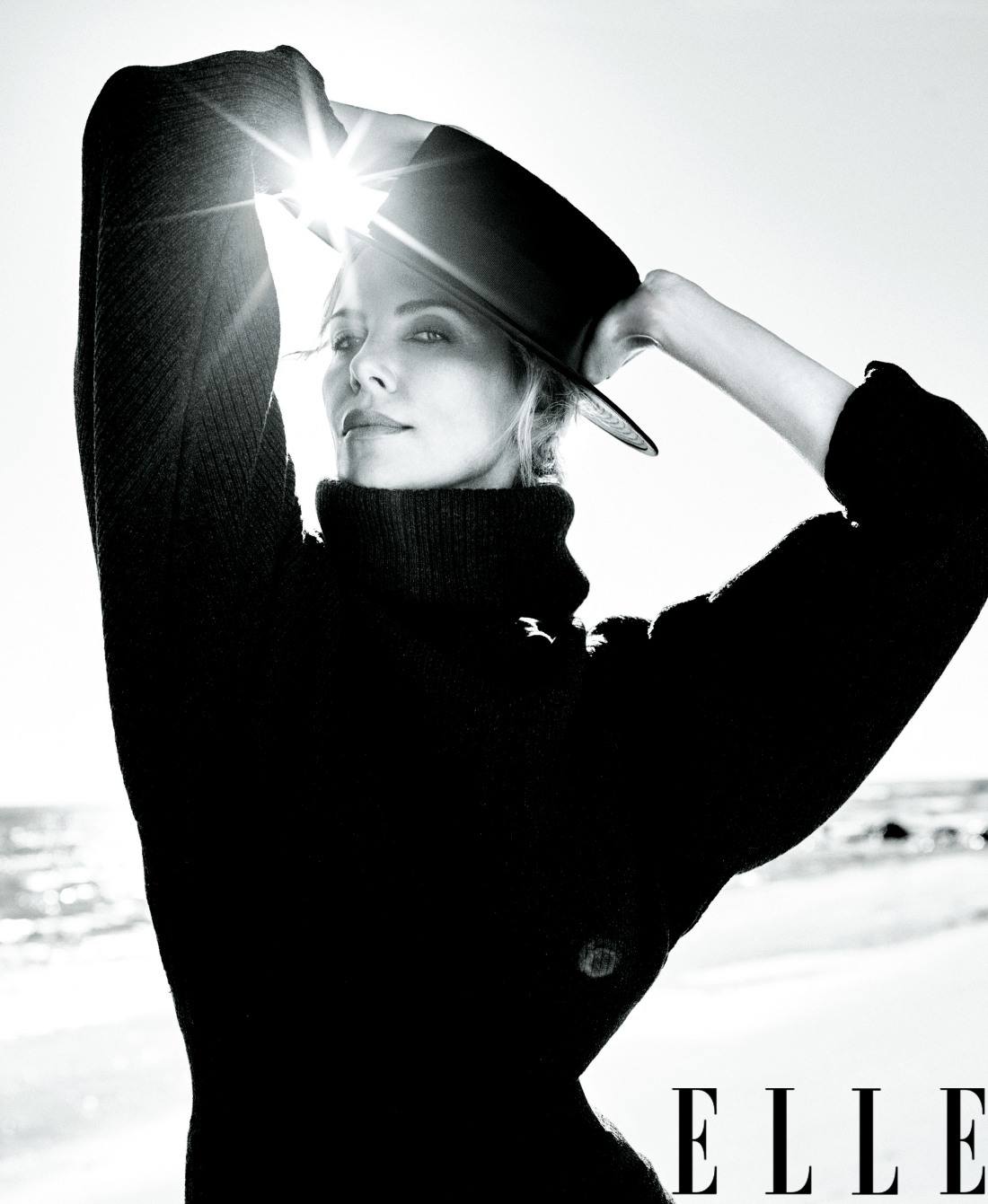 Photos courtesy of Mario Sorrenti for Elle Magazine, from Hearst promotional email.