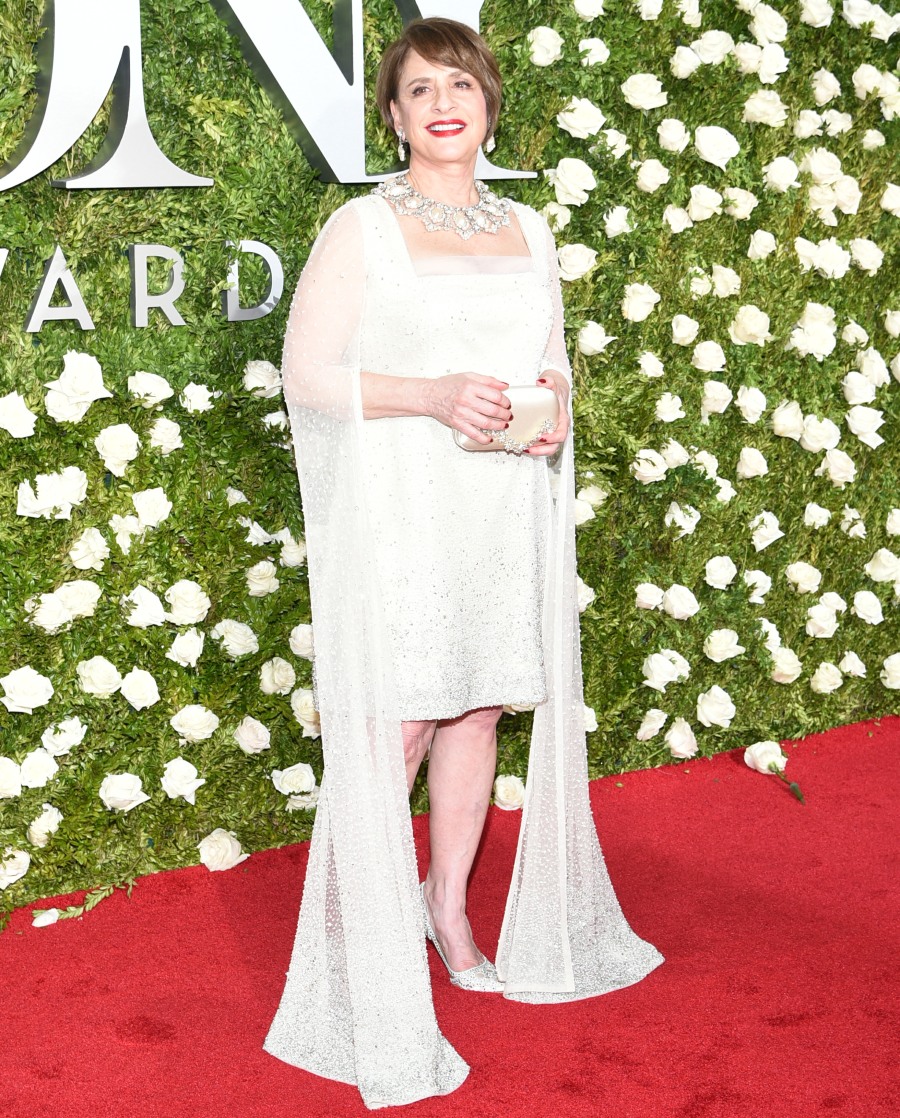 I vaguely remembered covering a Patti LuPone story a while ago, so I had to check the archives – yes, last year, Patti LuPone was on Watch What Happens Live and she burned the f–k out of Madonna. Patti played Eva Peron in the original stage production of Evita. Madonna played Eva Peron in the weaksauce film adaptation. Patti told Andy Cohen that the film version was a "piece of sh-t" and that Madonna is "dead behind the eyes. She couldn't act her way out of a paper bag. She should not be on film or on stage. She's a wonderful performer for what she does, but she is not an actress." I bring this up because Patti is at it again! I wish this could be a regularly monthly feature: Theater Queen Patti LuPone Talks Sh-t About Other Actresses. Wouldn't you love that? This week's sh-t talking is about Uma Thurman. Oh noes!!
Patti LuPone wants Hollywood stars to say in Hollywood, specifically Uma Thurman.

"I don't necessarily need to see film actors on stage, because they can't. Not in my country they can't," LuPone said at the launch of a revival of Stephen Sondheim's Company, per iNews. "Can I just say, Uma Thurman in 'The Parisian Woman,' anybody see it? Holy s–t! I'm sorry, I'm sorry."

Thurman received mixed reviews for her role in last year's "The Parisian Woman." LuPone said while there might not be a stigma against film actors appearing on Broadway anymore, "perhaps there should be."

"It's hard work, so I want you to understand that I have nothing against Uma Thurman," said Tony award-winning LuPone, who starred in "Evita" and "Sunset Boulevard." "But you want those people to come to the stage for the right reason and that is to honor the stage, honor the theatre and not be in for themselves, and I'm not saying that Uma was."

She added, "You also lower the standard, and that seems to be happening in the world with everything." A rep for LuPone had no further comment. Thurman's rep didn't immediately return a request for comment.
I like Uma Thurman just fine, and I hope she doesn't respond. What can you even say when the Grand Dame of Theater slams you so thoroughly? You can only shrug and hope to do better some other time. As for what Patti is saying… she's basically telling film and television actors to stay in their lane, and don't expect to get some "actor cred" by doing one or two stints on Broadway. She might have a point – in the past decade, a lot of film actors have gone off and done plays, and they've even been heavily awarded for it at the Tonys and critics' awards. But are they really "lowering the standard"? I don't know. I think it's a mixed bag – some actors that we now consider "film actors" really did get their start in theater, and they relish the opportunity to go back. Some film actors are just doing theater work for the actor-cred.
Almost on cue, here's Uma Thurman out and about this week in New York. The photo agency made a point of saying that she's not wearing makeup. Her sweater is amazing!!! I like the jacket too.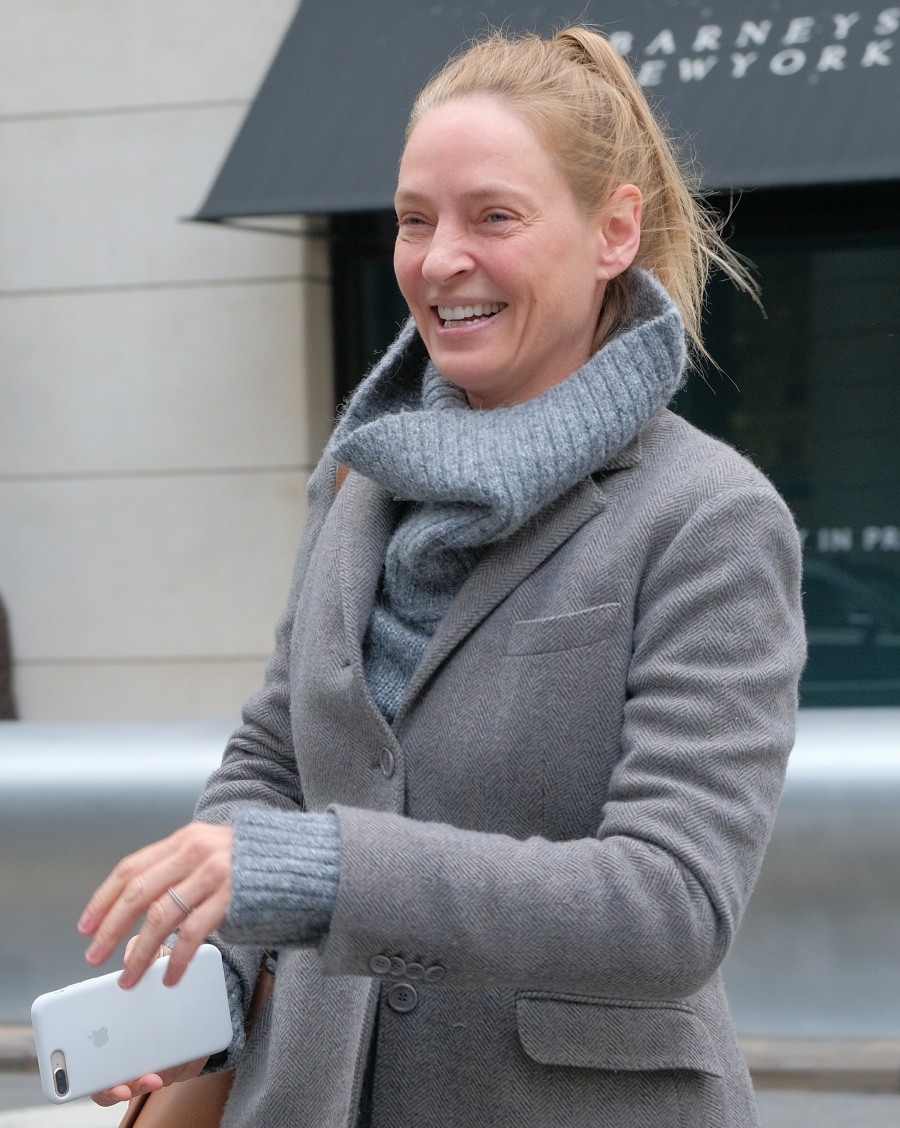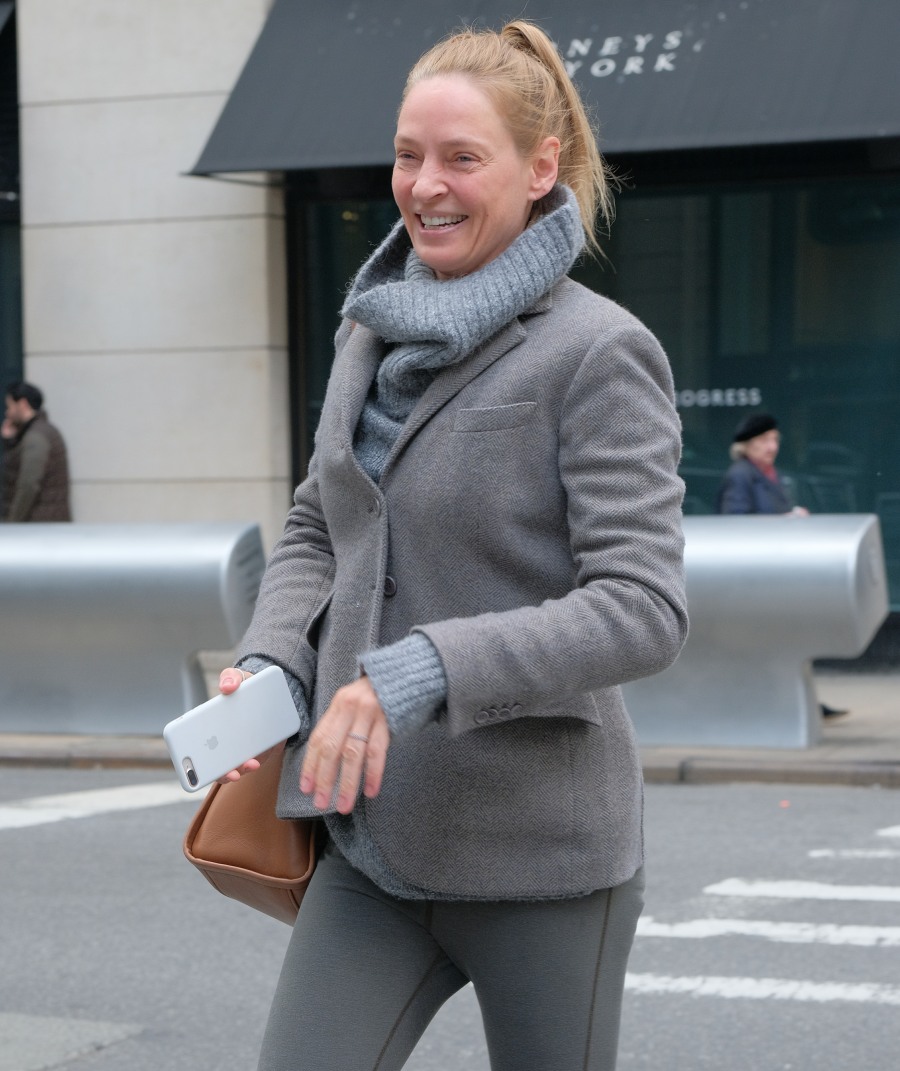 Photos courtesy of WENN.