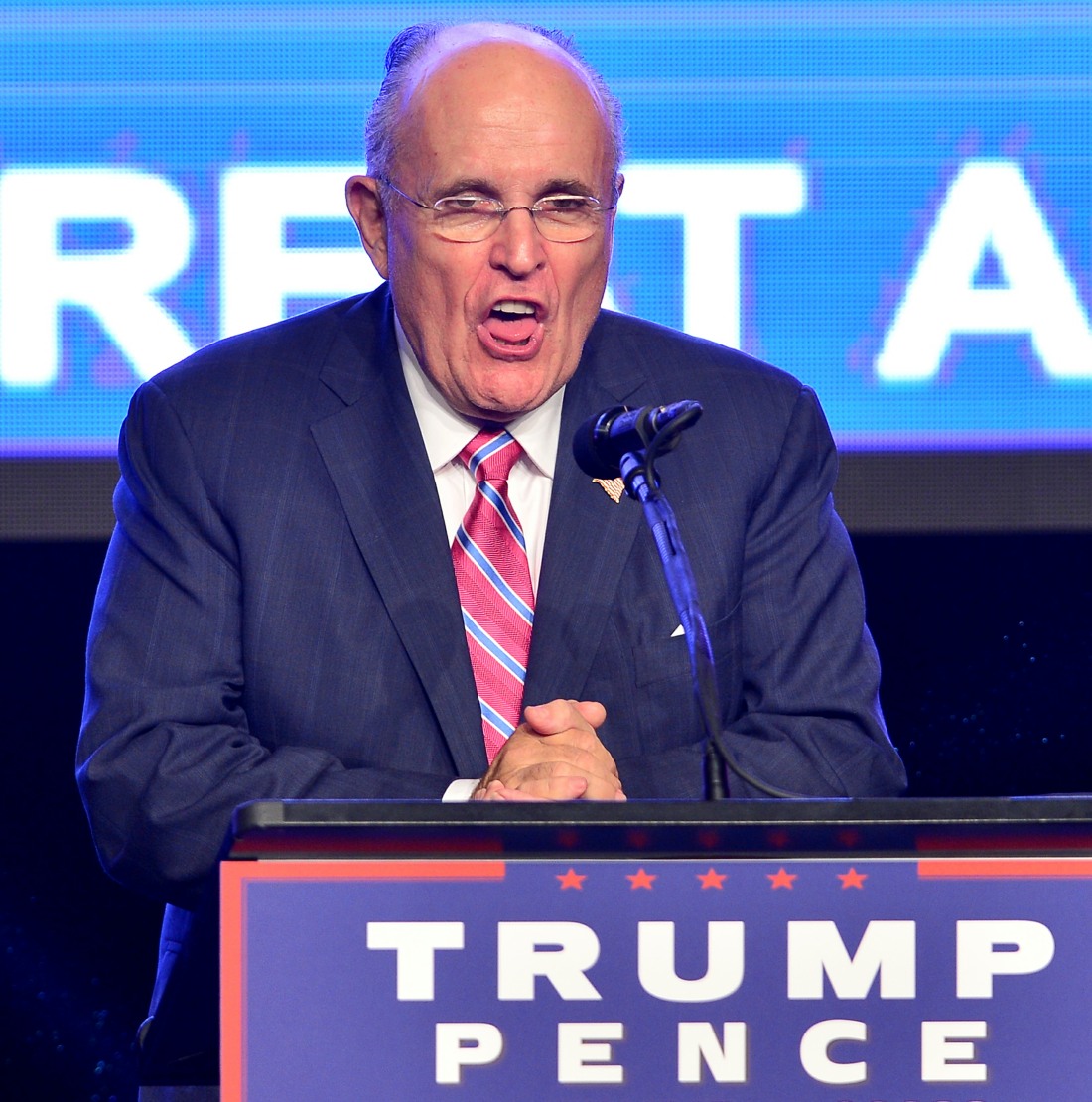 I'm waking up from political hibernation for a moment to discuss this briefly: Rudy Giuliani is now on Donald Trump's legal team. I had forgotten, for a brief moment, that Giuliani actually IS a lawyer. He used to be an associate attorney general in New York many, many years ago, as well as a former US Attorney for the Southern District of New York. That's one the reasons why he has such close ties to state and federal law enforcement in New York, especially the "Trumplandia" FBI office in NY state. So here it is:
Former New York mayor Rudolph W. Giuliani and two other former federal prosecutors joined President Trump's legal team Thursday following weeks of turbulence and struggles to find attorneys who would agree to represent the president in the ongoing federal probe into Russian election interference. The reshuffling comes at a particularly tense juncture for Trump, who aides said is increasingly frustrated by special counsel Robert S. Mueller III's investigation and with the senior officials at the Justice Department.

The entry of Giuliani, an experienced attorney with a combative reputation, immediately raises questions about how Trump will engage with Mueller and the leadership at Justice. Some Trump advisers are concerned that the president could use his ­executive authority to close or diminish the special counsel probe, which has spawned a parallel investigation in New York targeting his personal attorney.

"I'm doing it because I hope we can negotiate an end to this for the good of the country and because I have high regard for the president and for Bob Mueller," Giuliani said in an interview Thursday. Trump said in a statement that Giuliani "wants to get this matter quickly resolved."

In recent days, the president has been regularly venting and speculating to aides about his legal status and the expected timeline for the Russia investigation to end, according to associates briefed on the discussions. Trump also loudly and repeatedly complained to several advisers earlier this week that former FBI director James B. Comey, former deputy FBI director Andrew McCabe and former Democratic presidential nominee Hillary Clinton, among others, should be charged with crimes for misdeeds alleged by Republicans, the associates said.

Although White House officials said Thursday that Trump has not called Justice Department officials or taken any formal action, the persistent grousing has made some advisers anxious, according to two people close to the president. A publicity tour by Comey to promote his book critical of Trump, "A Higher Loyalty," has attracted particular attention from the president, who has disparaged Comey publicly and privately.
A few things… one, by most accounts, Mueller actually is wrapping things up in the next few months anyway. Mueller doesn't need Giuliani calling him up to say "this needs to be finished NOW!" Two, Giuliani is likely a witness to some of the crimes which Mueller is investigating, and Rudy might even be a target of the investigation. Giuliani did a lot of work for the Trump campaign in 2016, including a yet-to-be-explained preview of James Comey publicly throwing the election for Trump. We still don't know how Giuliani knew that Comey was going to do that, two days before Comey made that announcement in late October.
Comey tells @maddow that the FBI started investigating whether Rudy Giuliani had advanced notice from inside the FBI that Comey would re-open the Clinton probe and whether there were leaks inside the FBI for political reasons, but he was fired before the investigation finished.

— Kyle Griffin (@kylegriffin1) April 20, 2018
Here's Rudy Giuliani in Nov. 2016, admitting that the FBI had leaked information to the Trump campaign — giving them advanced warning about Comey's letter. pic.twitter.com/6lOvlouFPl

— Caroline O. (@RVAwonk) April 19, 2018
Photo: Rudy Giuliani with Russian Emin Agalarov. He's the son of Russian oligarch Aras Agalarov who's friends with Putin, did Miss Universe with Trump, hosted the launch of Trump Vodka in Moscow and helped setup the Don Jr Russian lawyer meeting in Trump Tower. #TrumpLeaks #AMJoy pic.twitter.com/J2DK4tjhld

— Scott Dworkin (@funder) April 20, 2018
Let me remind everyone Rudy Giuliani is likely under investigation by Mueller. So the fact he thinks he can serve as one of Trump's attorneys is ludicrous. He's directly linked to Putin, has worked extensively in Russia for years and is tied to folks in the Dossier. #TrumpResign

— Scott Dworkin (@funder) April 19, 2018
Photos courtesy of WENN.