American treasure Sterling K. Brown has another accolade to add to an already ballooning list. The star of This is Us was recognized by TIME as one of their TIME 100 honorees, along with Tiffany Hadish, Trevor Noah, Lena Waithe, John Krasinski and 95 other "influential pioneers, leaders, titans, artists and icons." During the award gala on Tuesday night, Sterling used his time on stage to recognize a teacher, Barbara Jenkins Bull or, as Sterling called her, Mrs. B., for inspiring him not only during his schooling, but throughout his life. Here are some excerpts from his speech:
One of the greatest gifts you can give to anyone is the gift of your presence, and that's exactly what Barbara Bull gave to me. Mrs. B was my high school advisor and middle school algebra teacher. She wasn't just good at her job, she was passionate about it, and not just for the subject matter, but for the students that she taught as well.

Mrs. Bull was that first adult who spoke to me about life. When most folks in my family didn't like to discuss finances ‑‑ I don't know if you know this, black folks don't like to talk about money ‑‑ Mrs. Bull would highlight your boy about the stock market and how she was able to double her income by playing it. Haven't quite been that successful as of yet.

I remember asking Mrs. B in the ninth grade where she went to school, and I remember thinking to myself, if I could kind of set myself on the same trajectory as this woman maybe I have the opportunity to live an extraordinary life as well. She said, "I want to Stanford." I said, "I think I'm going to go there." And she said, "Well, you have to work hard." I said, "Okay." I went to Stanford.

It was never necessary for Mrs. Bull to tell me what she believed. She was never inclined to preach to me or mandate that I see the world through the same prism as herself. She simply led a life well lived. And in walking the walk, she influenced the trajectory of my life in ways she and I could never have imagined. She filled me up with so much love; I felt like I could run through a brick wall, and I wanted to do it for her.
I've always wanted a platform to be able to thank quite a few teachers their support and inspiration and it's wonderful that Sterling recognized the educator who had such an impact on his life. They could have a future TIME 100 made up solely of teachers and I would be very happy about that. Just make sure Margaret Barbick from St. Rose of Lima in Miami Shores, Florida is included.
Also during the event, Sterling said that he'd like to follow up his role in Black Panther with another superhero flick. He confessed, "I wouldn't mind being the Green Lantern. It would be fun. I've been watching cartoons since I was a kid. There was a black man portraying the Green Lantern. To see someone who looked like me meant a lot."
I'm up for seeing Sterling in whatever project he wants to take on, as long as it doesn't interfere with his work on This is Us. Last week, the actor spoke with Entertainment Weekly about the mysterious season two cliffhanger involving older Randall and adult Tess. If you recall, the season finale flash-forwarded to the pair in an ambiguous location, with Randall telling his daughter, "It's time to go see her," to which she replied, "I'm not ready," and Randall agreed, saying, "I'm not either." Who is "her" and what happened?
Sterling told EW, "I know who the person is that future Randall is referring to, but [series creator Dan] Fogelman would cut off my big toe if I actually told you who it was." Even though he had to remain vague, he added, "But I can tell you it's probably not what you suspect. In classic Fogelman style, it will be like, 'Oh, wow — didn't see that coming.'"
As for telling this mystery person's story, all will be revealed, promises Sterling. He said of the show's creator,
"[He] has a very keen understanding of what the beginning, middle, and end of our show is, and that's important because he often likens our show to Lost in terms of its structure. You're dealing with present-day circumstances, and then you have these flashbacks which further illuminate the present circumstances of the characters. … When you see that flash-forward to the future, it will ultimately help to illuminate what the end of our story will be. That's pretty big. Without telling you anything, I actually told you quite a bit."
[From Entertainment Weekly]
I don't know about you, but the next season of This is Us can't come soon enough. I miss Sterling on my TV screen.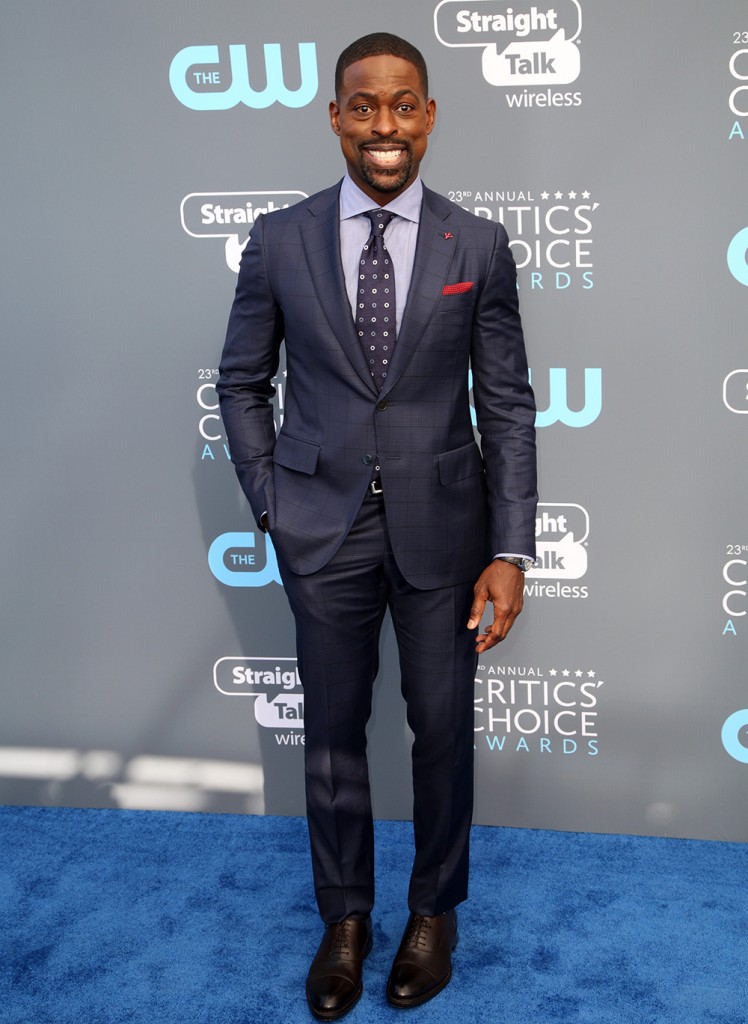 Photos: Getty Images, WENN.com, Pacific Coast News