Christina Hendricks is currently promoting her latest project, Egg, which recently premiered at the Tribeca Film Festival. Christina and her Egg co-stars Alysia Reiner and David Alan Basche spoke with Vulture during the fest. When asked if she felt her Mad Men character Joan was a gay icon, specifically whether or not gay men throw themselves in the street in front of her "as they should," Christina laughed and replied, "they don't throw themselves on the street but they are very kind to me and I appreciate the enthusiasm."
The interviewers asked the same thing of Alysia, who you might recognize as the corrupt Litchfield prison warden Natalie "Fig" Figueroa on Orange is the New Black. When she was told that Fig was also a gay icon, she asked, almost incredulously, "Are you serious?" and went on to share that, "Sometimes when I'm playing Fig I feel like I'm in drag." David, who has starred in numerous TV shows and movies and happens to be Alysia's real-life husband, then joked that he needs to figure out "the gay icon bar." The interviewers said his Egg character's farming over Anna Camp (who also appears in the movie) makes him worthy of gay icon status. I didn't learn a thing about the movie, but it's a cute clip.
What I now know about the movie is that it is a drama that plays out in a single evening, telling the tale of two art-school friends reconnecting at an awkward dinner party. One of the women, played by Christina, is pregnant, and the other, played by Alysia, is having a child via surrogate. The Hollywood Reporter says that the film, directed by Marianna Palke, "confront[s] and undermine[s] the cliches of the cold-hearted childless woman and the smugly blissful mother-to-be."
Christina spoke with Deadline about the film, saying she was attracted to the role because of the script by first-time screenwriter Risa Mickenberg, but also because she loves movies that feature deep conversation:
"I love watching movies where actors are talking to other actors. I like watching people interact, and I think it's a beautiful script in that these friends haven't seen each other for a while, or see each other periodically, but they can say things to one another that somehow, married couples aren't even saying,"

"You're making this huge decision to bring a human being into the world together, and yet you haven't communicated or talked about some really important things. You realize that you really have very different ideas about raising this child, and somehow, being with a friend that you haven't seen in a long time, that long female friendship opens up a lot of conversation that needed to be had earlier."
Christina and her husband, actor Geoffrey Arend, attended Jazz at Lincoln Center on Wednesday night, celebrating clothier Brooks Brothers 200th anniversary. Say what you will, but I think she looked radiant in a delicate white broderie anglaise dress paired with a short black jacket. The dress complemented her red hair and Joan-worthy red lipstick.
At the event, she told Vogue that she thought the legendary brand is "cool" because "they stay true to themselves, but they're constantly reviving themselves." With her recent roles, you could really say the same thing about Christina. Have you seen her on Good Girls? She's great. I was an extra on a recent episode of the show (it films in Atlanta) and got to see Christina in person. Yes, I know, #coolstorycorey. She definitely has that star power, and she is just gorgeous. I think she's going to remain a gay icon regardless of what role she plays.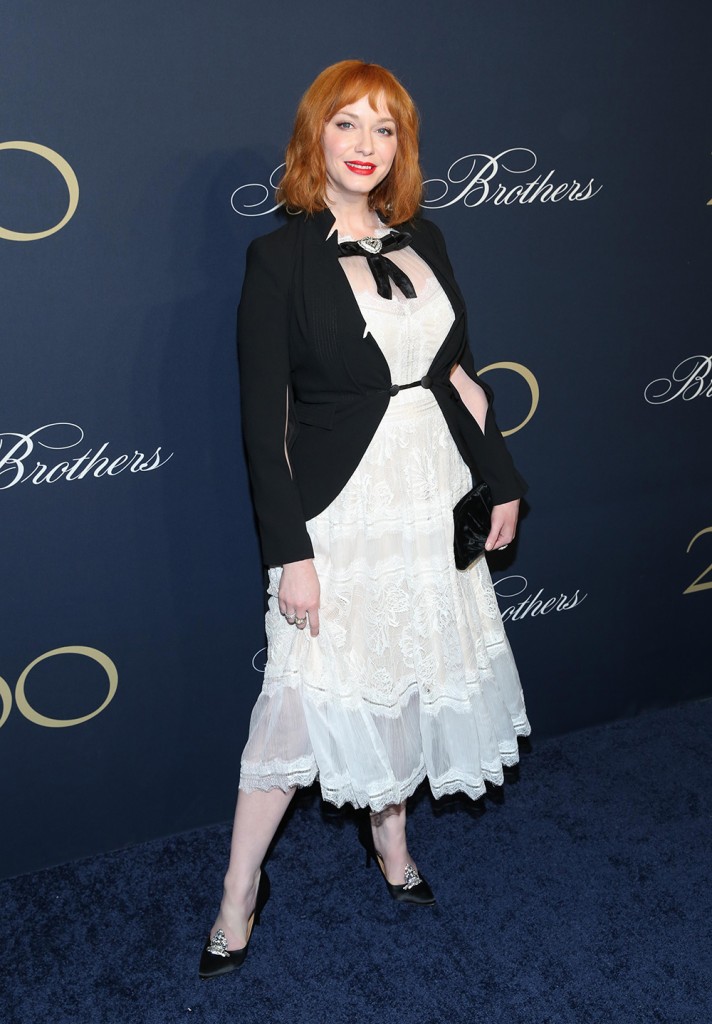 Photos: WENN.com, Getty Images