Yesterday, I talked about one pop diva making an impression, albeit indirectly, at CinemaCon in Las Vegas, but there's no bigger queen than CHER, and she surprised everyone with a show-stopping performance of ABBA's classic "Fernando" on Wednesday.
My idol for life will perform "Fernando" and one other, still-undisclosed ABBA hit in the sequel to 2008's big screen musical Mamma Mia. In the upcoming Mamma Mia: Here We Go Again!, La Cher plays the mother of Meryl Streep's character, Donna (who may or may not still be alive) and grandmother to Amanda Seyfried's character, Sophie. Back in October of last year, the 71-year-old legend revealed that she was singing, acting and wearing some sweet platform boots in the film, which is set to hit theaters on July 20.
For the finale of Universal Pictures' presentation at Caesars Palace, Amanda, dressed to the nines in a silver-sequin cocktail dress by Prabal Gurung, introduced a clip from the movie and then brought out Cher, who killed it. No stranger to the Colosseum stage, having had a residency there for many years (which I was fortunate enough to catch while celebrating my 40th in Sin City), Cher appeared from behind behind enormous palm fronds wearing a glittery pantsuit and platform heels – a subtle look for her. She was accompanied by a troupe of dancers and her performance ended with a shower of balloons. The excited crowd gave her a standing ovation – as they should.
After the performance, Cher took to social media, as she does, humbly tweeting that "Ppl seemed to like song." Seemed to? Sure looks like they loved it. I definitely did.
Just got back from Vegas ,
Did Fernando on stage at Coliseum,For Cinemacon Convention.They created look of the island & set in MAMMA MIA 2.Ppl seemed to like song

— Cher (@cher) April 25, 2018
Now I can't wait to see MM2. I'm also dying to know what other ABBA song she's going to sing. I love "One Man, One Woman" and I wouldn't mind her singing "One of Us." Better yet, she could cover Frida (a/k/a ABBA's Anni-Frid Lyngstad's) "I Know There's Something Going On." It's ABBA-adjacent, right? That one gets my vote.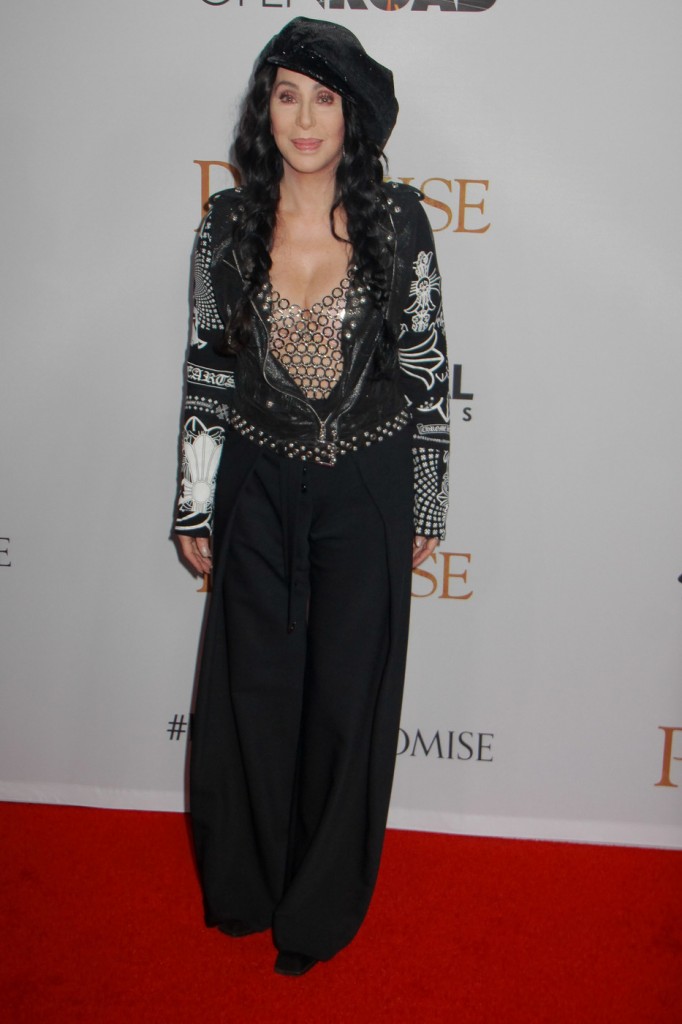 Photos: Instagram, Getty Images, Pacific Coast News