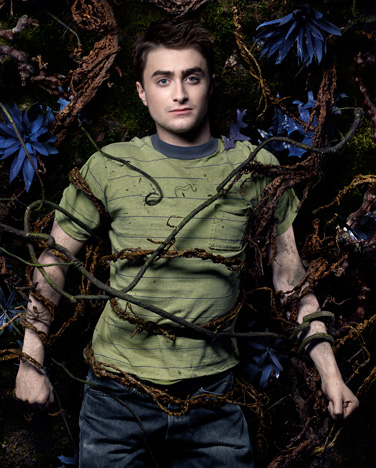 I'm starting to find Daniel Radcliffe cuter and cuter. He's always seemed like a sweet enough boy, but reading this interview in Parade just made me like him more. He uses words like "pedantic" and makes a comparison to himself and George Clooney. He also describes himself as "an old man in a young man's body" – which is sort of sweetly endearing, and probably true. The best part is when the soon-to-be 20-year-old talks about how he doesn't care for girls his own age – he says that all of his serious flings have been with girls in their twenties. My guess is that when Daniel gets to his twenties, he'll starting dating girls even older – that's when I'll strike!
Daniel gave this interview to promote the soon-to-be released Harry Potter and the Half-Blood Prince, but he ends up talking a lot of his turn on the stage in Equus, where Daniel played "an unbalanced stable boy with a religious and sexual fascination with horses." He was naked. And he looked pretty good too:
"From the moment I walked onstage [performing in Equus], I could hear them talking and getting very excited," Radcliffe recalls, shaking his head. "Then they started talking to me: 'Dan! Dan! Look over here, Dan!' " He pauses. "I'm not somebody who particularly gets angry about stuff like that. In my professional life, I rarely get angry at all. And yet, I came offstage seeing blood. I was so furious!"

But not at this point. Significantly, Radcliffe's smooth cheeks show a haze of dark whiskers. Gossip columns have linked him with a succession of slightly older actresses, and he doesn't deny his taste in women: "Girls my own age are not really an option," he tells me. "I find, generally speaking, they have to be entertained more than older girls do. So most of the girls I have had serious things with are generally sort of in their 20s."

So was Equus his declaration of independence?

"I didn't set out to shock people. I set out to do something different from Potter. If I had wanted to shock people," Radcliffe says, "I would have played, you know, a gay drug dealer. But, equally, you have to tread a very fine line. If, say, my next film was another fantasy film, everyone would just go, 'Well, he's not stretching himself.' Then, if I played some drug dealer, everyone would turn around and go, 'Oh, this smacks of desperation to stop being typecast.' "

Still, he hasn't cut the cord just yet. Radcliffe is—as might be expected—extremely respectful of the Potter story, its creator J.K. Rowling, and all that the franchise has done for him. "I've had a happy and very healthy, really enjoyable childhood, and a fantastically interesting one," he says. "I genuinely think I am a better person for having done these films than I possibly would have been had I not."

Not to mention a much richer one. His salary for the most recent Potter picture was a reported $25 million; overall, he's said to be worth at least twice that. He's been declared England's richest teenager.

"I think it's amazing," Radcliffe says. "I have been very, very fortunate. But I'm not going to spend it on flashy cars or particular extravagances. What it does in terms of my career, which is how I like to look at it—it gives me the thing that George Clooney has, where he can go off and do a big-budget movie like Ocean's Eleven, make a lot of money for it, and then go and do stuff that won't pay as much. It gives you room to maneuver, basically. It means I can relax, and I think that's the best thing it can do. It's one thing in my life that I am incredibly fortunate not to have to worry about. Money will never be the focus for me. That's not how I've been brought up."

And what about the prospect of—gulp—turning 20 next month?

"I've noticed I make noises when I get up and sit down now," Radcliffe says in all seriousness. "I mean, my knees are rotten bad—I refused to wear knee pads too many times when I was doing stunts, and I just clobbered them up a bit. I am an old man in a young man's body."
[From Parade]
See, he didn't really compare himself to Clooney, he just sort of said that he and Clooney both do the big studio films to make money, so they can work on their little projects. That being said, Daniel's stage turn in Equus was a huge deal, and I bet the theatre made buckets of money on the production. It would be really cool if Daniel continued to challenge himself and our image of him in such interesting, artistic ways. I'm just thankful he's not already some drug-and-drink soaked wanker who lives inside the hottest clubs. Not my Daniel!
Photos are from Parade.com, where they have many more.