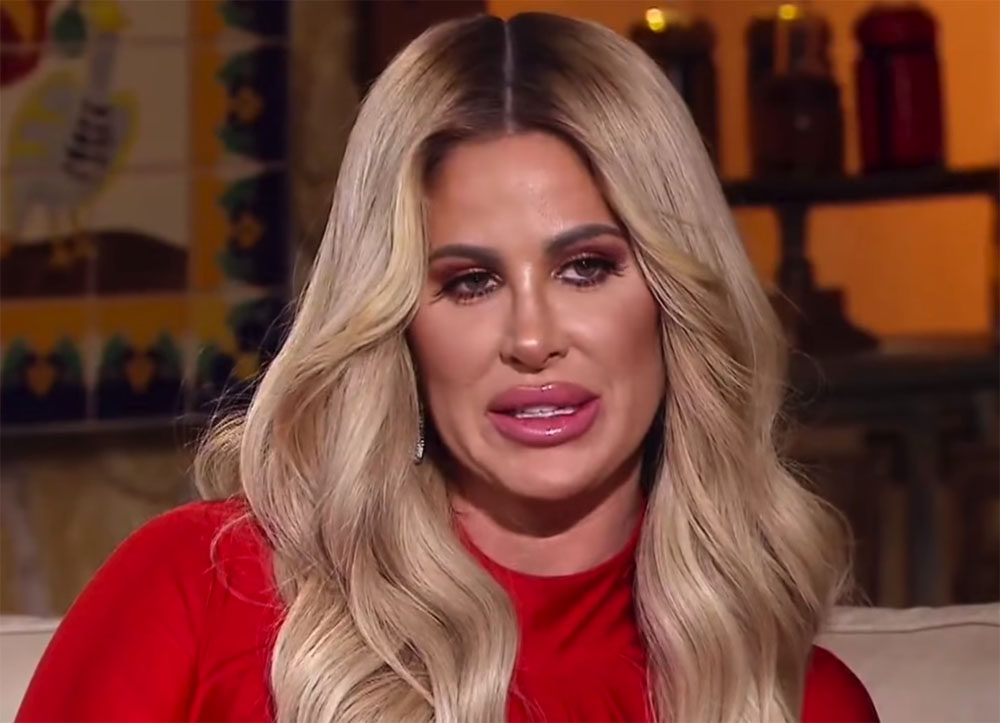 Kim Zolciak of The Real Housewives of Atlanta has been called out by her costars multiple times for being racist, which she of course denies. The last we reported on Kim she was vowing never to return to RHOA, and now that we've seen the reunion episode we know why. After Kim got exposed for starting drama with her costars of color and lying about it, Kim was blatantly racist, claiming that they were ganging up on her and trying to play the victim. (I'm primarily going on recaps including this excellent YouTube recap by Empressive calling Kim out for her lies and hypocrisy.) She said "You know why you have not found another white woman to sit on that motherf-r? Because nobody is dumb enough to do that! Put yourself in my shoes — five African-American women." Wow. OK.
Kim denied she was racist because she's a liar completely lacking in self awareness and then she denied racism exists! She really did this. She said, in part, "This whole racism thing in this day in [sic] age is bulls-t. Everyone of those motherf-rs on that couch owe this world a f'ing apology for this racism sh-t! They already tried to claim that sh-t long ago, Sheree, as you know. Nobody bought into it then because the social media wasn't there and racism wasn't all that real.."
By way of an "apology," Kim posted an Instagram yesterday claiming she was edited to appear that way and that she didn't say that racism doesn't exist, just that it was magnified by social media or something. It's hard to follow her train of thought.
During the last RHOA Reunion episode, I made a comment that confused and offended people. I sincerely apologize. Edited out of context, I understand why my remark angered people.

Racism is a sad reality in the United States. It has been prevalent throughout our country's history. Let me be very clear, I do NOT support, tolerate or put up with any form of racism, hate or other discrimination. My love for ALL people runs deep – I am open to all and always have been.

I was heartbroken when I watched the last few minutes of the episode and saw how my words were taken out of context. My comment that seemingly "racism didn't exist 10 years ago" was made as part of a larger, emotional 45-minute conversation about how, sadly, social media has become a hub for hate. Immediately following my confusing comment, I also said that "it's not as real as it is now" referring to the power of social media. But those remarks didn't make the show.

I believe that social media has made a centuries-old issue more real. Before social media, the public simply observed the news. Now, the public actively participates and has an opportunity to take action – in real time.

But this is a double edged sword. Now, when false accusations are made, they are amplified by online platforms regardless of their merit. This wasn't the case 10 years ago when I started on RHOA.
I truly pray that the people wishing horrible things on others, and on me, channel that energy into something positive. Our world would be a much better place if you do.

I am committed to making this world a better place to live. I will continue to learn from, and be open to, ALL people.
Notice how she used "All people" multiple times and claimed she was edited to appear like she was denying racism exists, but then she doubled down on her comments that racism is "more real" because of social media. She dismissed it as a "centuries-old issue" that's overblown by social media and she used "all people" to act as if it's not relevant.
After the RHOA reunion aired, US Magazine claimed that filming had stopped on Kim's spinoff show, Don't Be Tardy, and that her team had "halted all production while her lawyers have been working around the clock to investigate and deal with the final episode of the Real Housewives of Atlanta reunion." So it sounds like Kim was hoping to sue or otherwise hurt the other women for calling her out but that she ultimately decided to issue this non-apology.
Hopefully Bravo will realize that Kim is toxic and racist and that she doesn't deserve her own show. Don't Be Tardy should be canceled. How does Kim have her own show while NeNe and none of the other women do?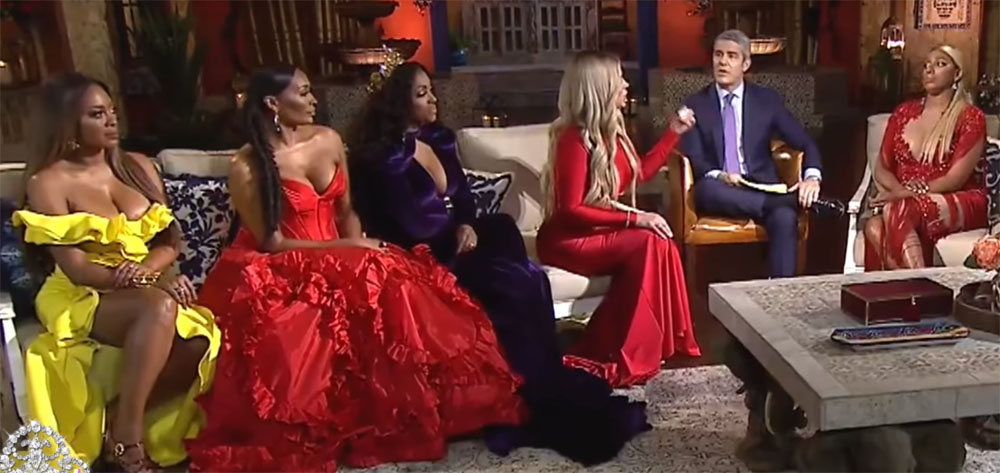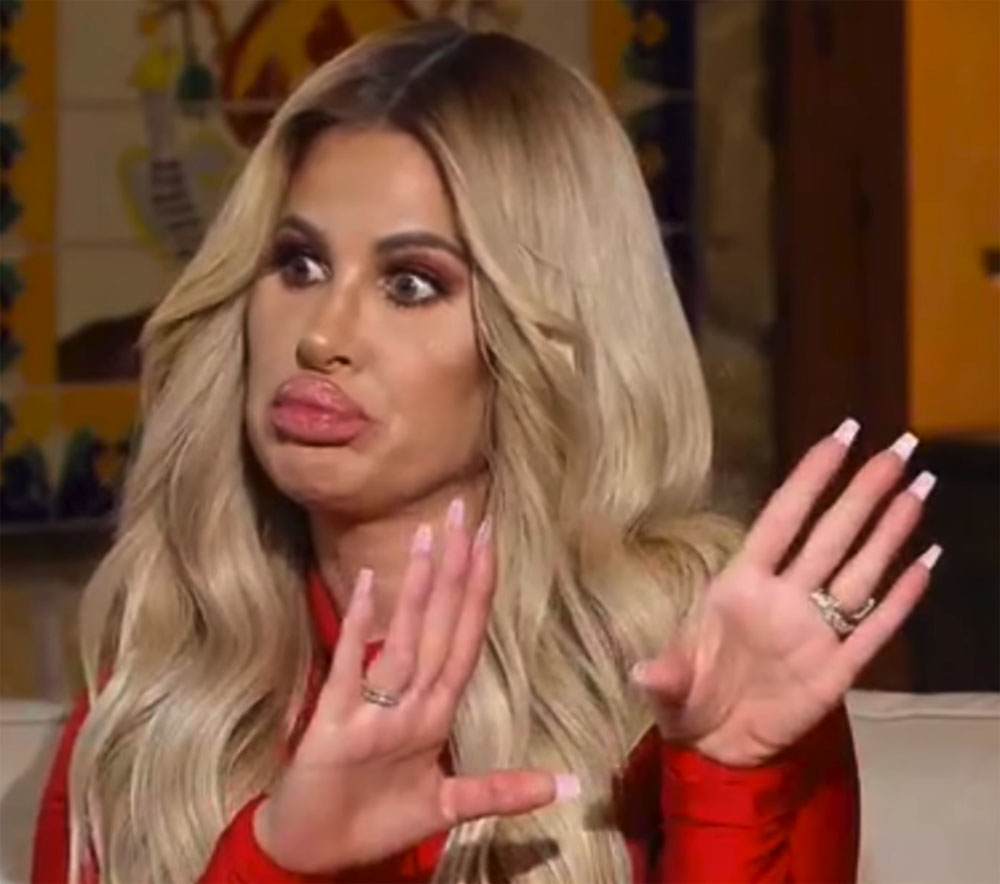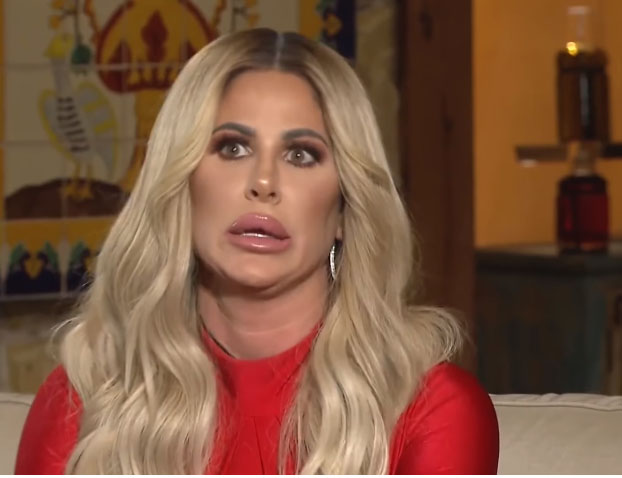 images are screenshots from this RHOA reunion recap