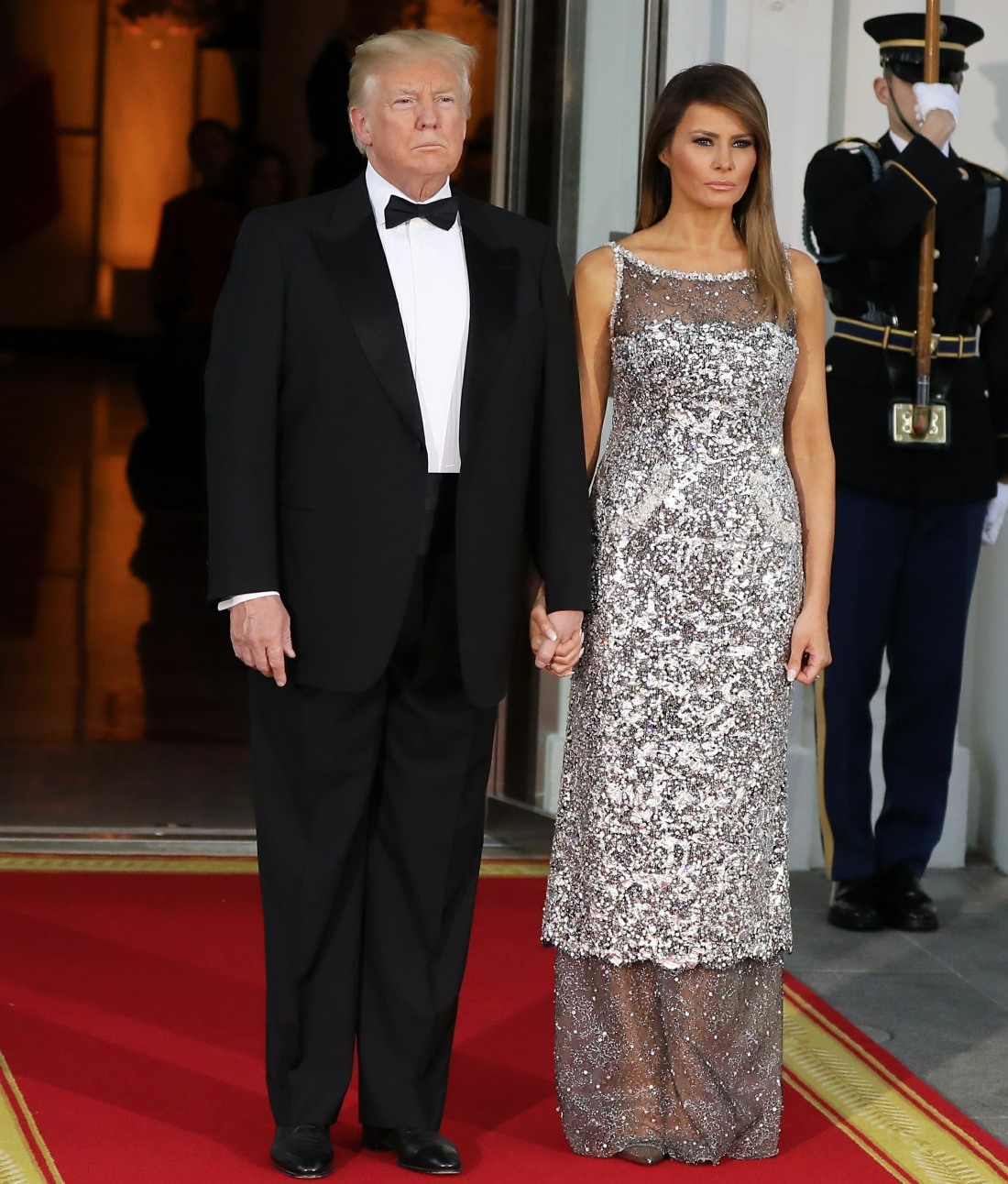 Over the weekend, the Washington Post had a somewhat crazy article about Melania Trump. I say "somewhat crazy" because… I couldn't help but imagine how differently the media would be framing the First Lady's story if a Democrat was president. Say a Democrat man was president and we had learned that he had slept with a porn star, paid off the porn star on the eve of the campaign and lied about it for a year. Now imagine what the media would be doing to the president's wife. And yet, Melania floats above it all, somehow. WaPo even notes that her approval ratings are consistently much better than her husband's, and that she's just "old-world European," and that's why she always seems to hate her husband. You can read the full WaPo piece here. Some highlights:
They don't sleep in the same room: Bigly wakes up at 5:30 to watch cable news and tweet. Melania gets up later to ready "their 12-year-old son for school, including checking to make sure his homework is in his backpack."

Her new focus: "Her focus all along has been children, and this launch is meant to formalize what her role will be for the next three to seven years," said Stephanie Grisham, Melania's spokeswoman. She said the first lady will devote the rest of the Trump presidency to the issues children face today and their well-being.

Old-world European: "She is a dignified, private person, and she'll deal with her personal life in private and it's no one's business," said Stephanie Winston Wolkoff, a longtime friend of Melania's. "They are not that couple that holds hands just because; she is old-world European and it's not who she is."

The Trumps never spend time together: The Trumps are often apart even during their free time, according to several people who know the couple's schedules. At Mar-a-Lago on holidays and weekends, the president golfs or dines with politicians, business executives and media personalities on the patio, while Melania is often nowhere to be seen. According to several current and former aides, the president and first lady often do not eat together in the White House either. "They spend very little to no time together," said one longtime friend of the president.

She never even visits the West Wing: According to several White House staff members, Melania has erected a de facto wall between the East Wing, where she is renovating her office and enjoying growing popularity, and the West Wing, where her husband and Ivanka Trump, her eldest stepdaughter, have offices. While she goes to the West Wing for official duties, she does not walk down the hall, pop her head in and see how the president's day is going. "She seldom sets foot in the West Wing," said one person with firsthand knowledge.

LMAO @ "unpaid": Trump insisted on a prenuptial agreement when he married Melania 13 years ago, just as he had with his two previous wives. The terms have never been made public. A person close to Melania noted that the prenuptial was signed before his political career, which forced her to take on a whole new role and one, as a friend said, that is "unpaid."

The rumor that Melania doesn't live in the White House: For months, a persistent rumor has floated around Washington that Melania doesn't really live in the White House and stays in a house with her parents and Barron near his suburban Washington school. "It's 1,000 percent false. We laugh at it all the time," Grisham said. "It's an urban legend," said Rickie Niceta Lloyd, the White House social secretary.
I'm still laughing at "unpaid," honestly. It's like Melania is keeping a running tab on how much Bigly owes her for "working" as First Lady and not leaving him. There are other details and facts in there, like Melania's parents were able to come to America through chain migration (which Trump often derides in speeches). No one will say if Melania's parents have a room at the White House. Sources say that Melania actually spends a lot of time at the White House, overseeing the household staff. She's also decorating, but she's been using "neutral colors," not all-gold like a Trump property. Basically, the point of this is that Melania is still an enigma and while she's not as bad as her husband, she still sucks as a person.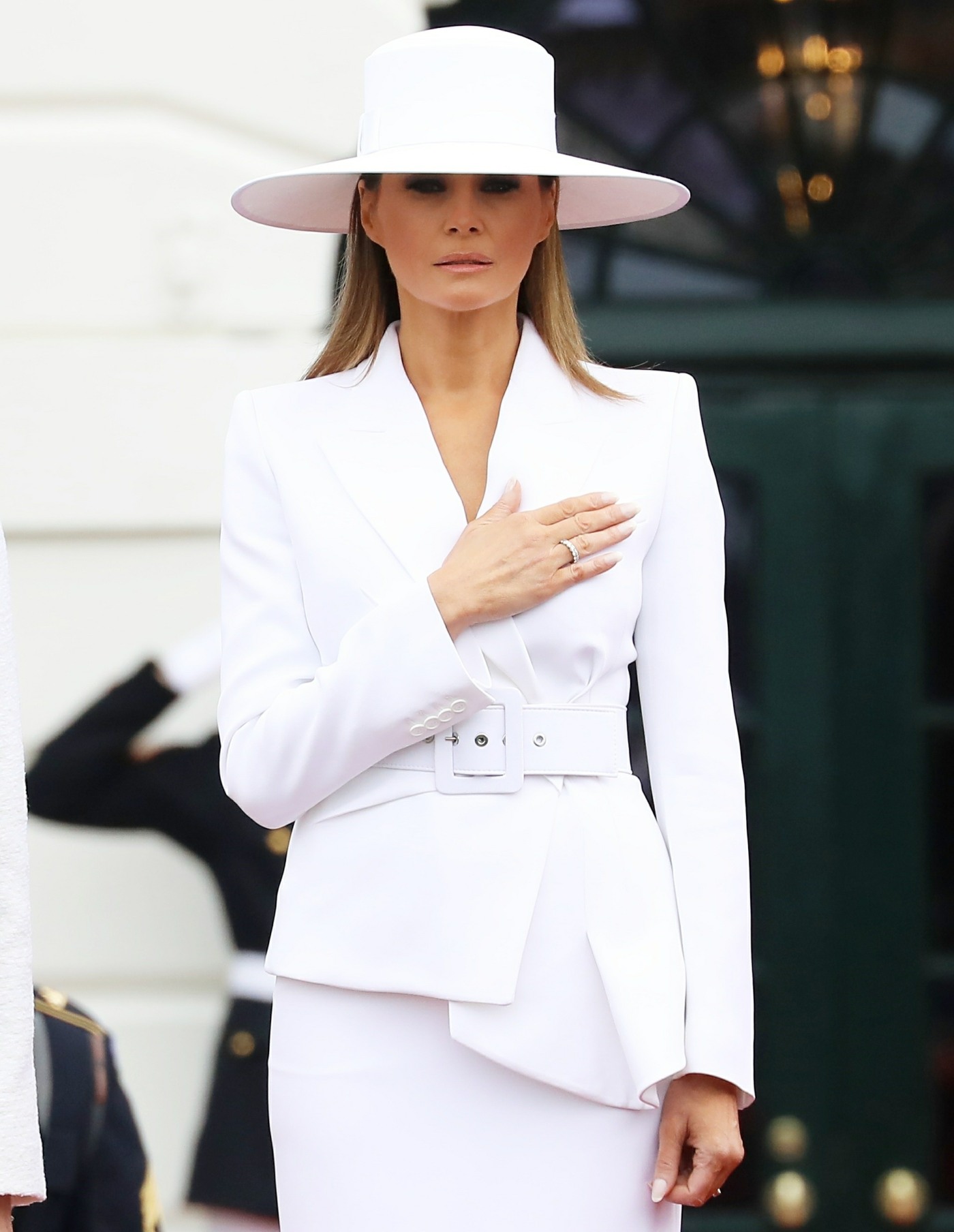 Photos courtesy of Backgrid.