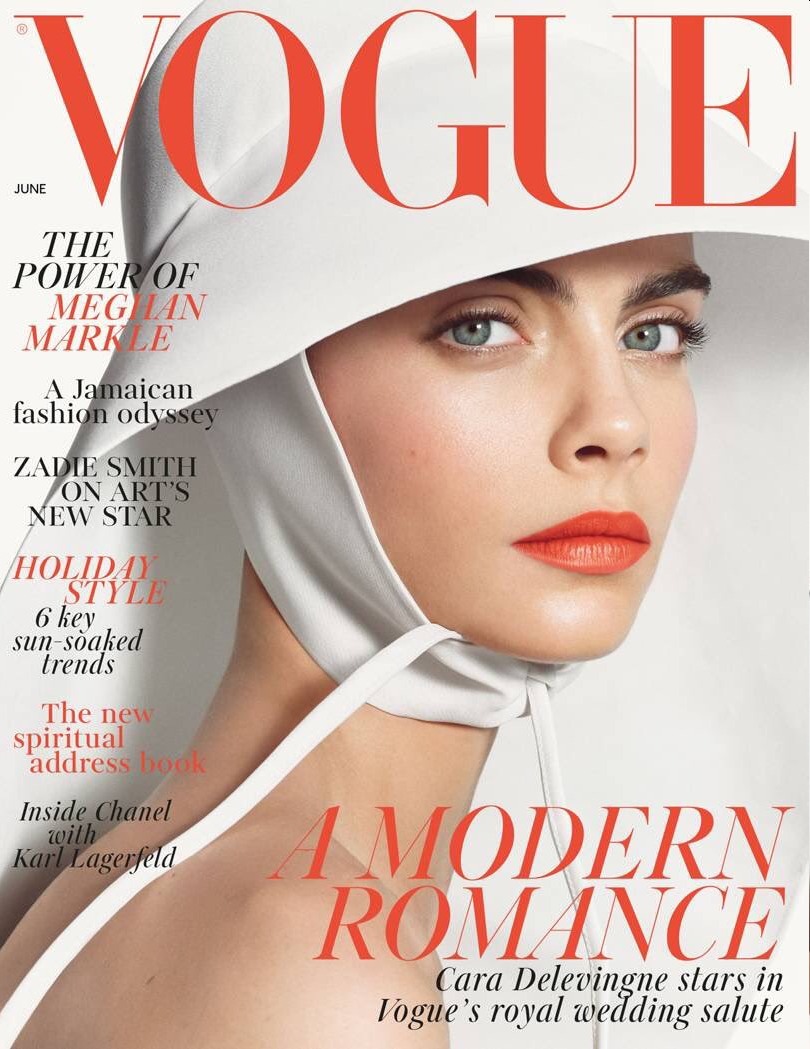 Cara Delevingne covers the latest issue of British Vogue, released as an advance on the royal wedding. The cover editorial is actually supposed to be bridal, or some kind of mod-bridal, in a tribute to Meghan Markle's wedding. British Vogue's editor-in-chief Edward Enninful says that directly, that they put Cara in bridal gear to celebrate Meghan and Harry's wedding, to which I can only say… could they not find a model of color for this particular cover shoot? A historic moment in the history of the British royal family and British Vogue is celebrating by putting a white model in bridal mini-dresses. Eh. That being said, Cara looks beautiful on the cover. This is possibly the best Vogue cover she's ever done. As for the cover interview, here are some highlights:
When she realized 'gender fluidity' is a thing: "When I first realised that gender is so much more fluid than "masculine" or "feminine", it was a breakthrough moment for me."

She's not into fairy tales: "Here's a secret for you. You know those fairy tales and romantic comedies we are brought up watching? They're not real."

Imperfections make people real: "The cracks and flaws are the things that people try and hide away. But those are the things that make us who we are."

Her milestones: "Whenever I've thought about life's milestones, I've always been conflicted about what are the "right" ones and what I actually want for myself. As a child and a teenager, all I wanted was to make people happy, but it took me so long to figure out what made me happy. The thing about landmark events is that they should be – and are -different for every person. They are special and unique to each of us. These are my milestones; times in my life and lessons I've learnt that have made me who I am."
Hearing a 25-year-old pontificate on life's milestones makes me want to angrily yell at clouds, but truly, Cara has lived a lot of life in 25 years. The rest of it just seems like the kind of fortune-cookie wisdom that Cara hopes will make her sound deep. Oh, you mean fairy tales aren't real? THAT IS BRAND NEW INFORMATION. Says the woman modeling wedding gowns to celebrate a royal wedding!!!
Cover and Instagram courtesy of British Vogue, additional photo courtesy of Getty.