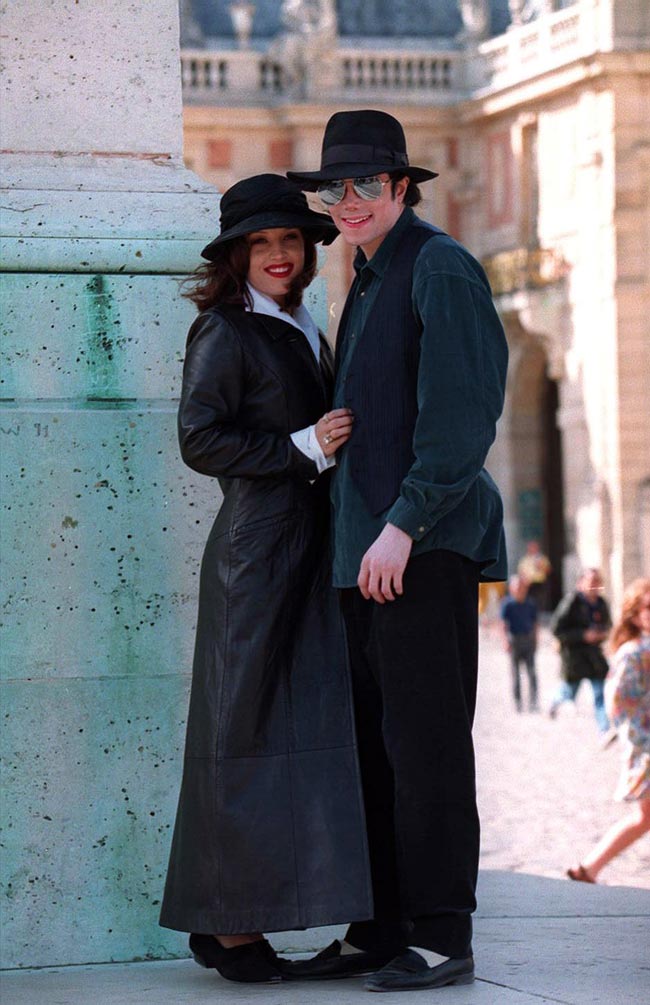 Lisa Marie Presley, Michael Jackson's first wife from 1994 – 1996, has posted a heartfelt and kind of chilling blog entry about her relationship with the late star and a conversation she had with him 14 years ago. Presley writes that Jackson told her that he was afraid that he would face a similar fate as her father, the late great Elvis Presley. Elvis passed at the age of 42 from what was first ruled a heart attack that was ultimately thought to have been caused by a prescription drug interaction. From the details that are coming out in the Michael Jackson case, his words to Lisa Marie may have been prophetic:
Years ago Michael and I were having a deep conversation about life in general.
I can't recall the exact subject matter but he may have been questioning me about the circumstances of my Fathers Death.

At some point he paused, he stared at me very intensely and he stated with an almost calm certainty, "I am afraid that I am going to end up like him, the way he did."

I promptly tried to deter him from the idea, at which point he just shrugged his shoulders and nodded almost matter of fact as if to let me know, he knew what he knew and that was kind of that.

14 years later I am sitting here watching on the news an ambulance leaves the driveway of his home, the big gates, the crowds outside the gates, the coverage, the crowds outside the hospital, the Cause of death and what may have led up to it and the memory of this conversation hit me, as did the unstoppable tears.
A predicted ending by him, by loved ones and by me, but what I didn't predict was how much it was going to hurt when it finally happened.

The person I failed to help is being transferred right now to the LA County Coroners office for his Autopsy.
All of my indifference and detachment that I worked so hard to achieve over the years has just gone into the bowels of hell and right now I am gutted.

I am going to say now what I have never said before because I want the truth out there for once.
Our relationship was not "a sham" as is being reported in the press. It was an unusual relationship yes, where two unusual people who did not live or know a "Normal life" found a connection, perhaps with some suspect timing on his part. Nonetheless, I do believe he loved me as much as he could love anyone and I loved him very much.

I wanted to "save him" I wanted to save him from the inevitable which is what has just happened.
His family and his loved ones also wanted to save him from this as well but didn't know how and this was 14 years ago. We all worried that this would be the outcome then…

The World is in shock but somehow he knew exactly how his fate would be played out some day more than anyone else knew, and he was right.

I really needed to say this right now, thanks for listening.

~LMP
[From Lisa Marie Presley's MySpace blog via WeSmirch]
That must have been a huge burden to carry and Lisa Marie is probably relieved to get that out there. The way Presley frames her relationship with Jackson and describes what she went through at the time is very touching. (The part above is just an excerpt and you can read the entire entry on MySpace) We don't know what kind of life this man lived in the past few years, or if the allegations against him had any merit, but we do know that there were many people who cherished him and that he was so much more than his public persona.
Initial autopsy is inconclusive, waiting for test results
An initial autopsy on Jackson has determined that there was no signs of foul play on the body and no "indication of any external trauma." They are waiting for toxicology results, which may take another 4-6 weeks. Several people close to Jackson have said that he was a prescription drug addict, with an attorney who represented him in his child molestation case claiming that he warned the family in the last two years (link leads to video) that Jackson was abusing prescription medication. Deepak Chopra has also claimed that Jackson asked him for narcotics in 2005 while staying in one of his facilities. Adding to the evidence that Jackson abused prescription drugs is a 2007 lawsuit against Jackson for failing to pay an over $100,000 pharmacy bill. There are stories that Jackson received a Demerol injection shortly before his death.
Jackson's doctor wanted for questioning; Demerol injection before death
The Los Angeles Police Department have impounded the car of Michael Jackson's personal doctor in search of evidence As far as I can find, Jackson's doctor is still wanted for questioning. The police met with Jackson's family at one of his homes late yesterday.
There is also of the issue of custody of Jackson's children, with Debbie Rowe expected to fight for custody of her two older children with Jackson, and Katherine Jackson, Michael's mother, expected to fight back. There are a lot of complicated details in this case and the media storm is far from passing.
Update: There is conflicting information about whether police have yet talked to Jackson's live-in doctor, Dr. Conrad Murray. People reports that detectives said on Friday that they "wish to meet and discuss the case with Murray," but an AP report claims "they spoke with the doctor briefly Thursday and Friday and expected to meet with him again soon," adding that they "do not consider him to be uncooperative at this time."
Photo Credit: WENN.com and Fame Pictures