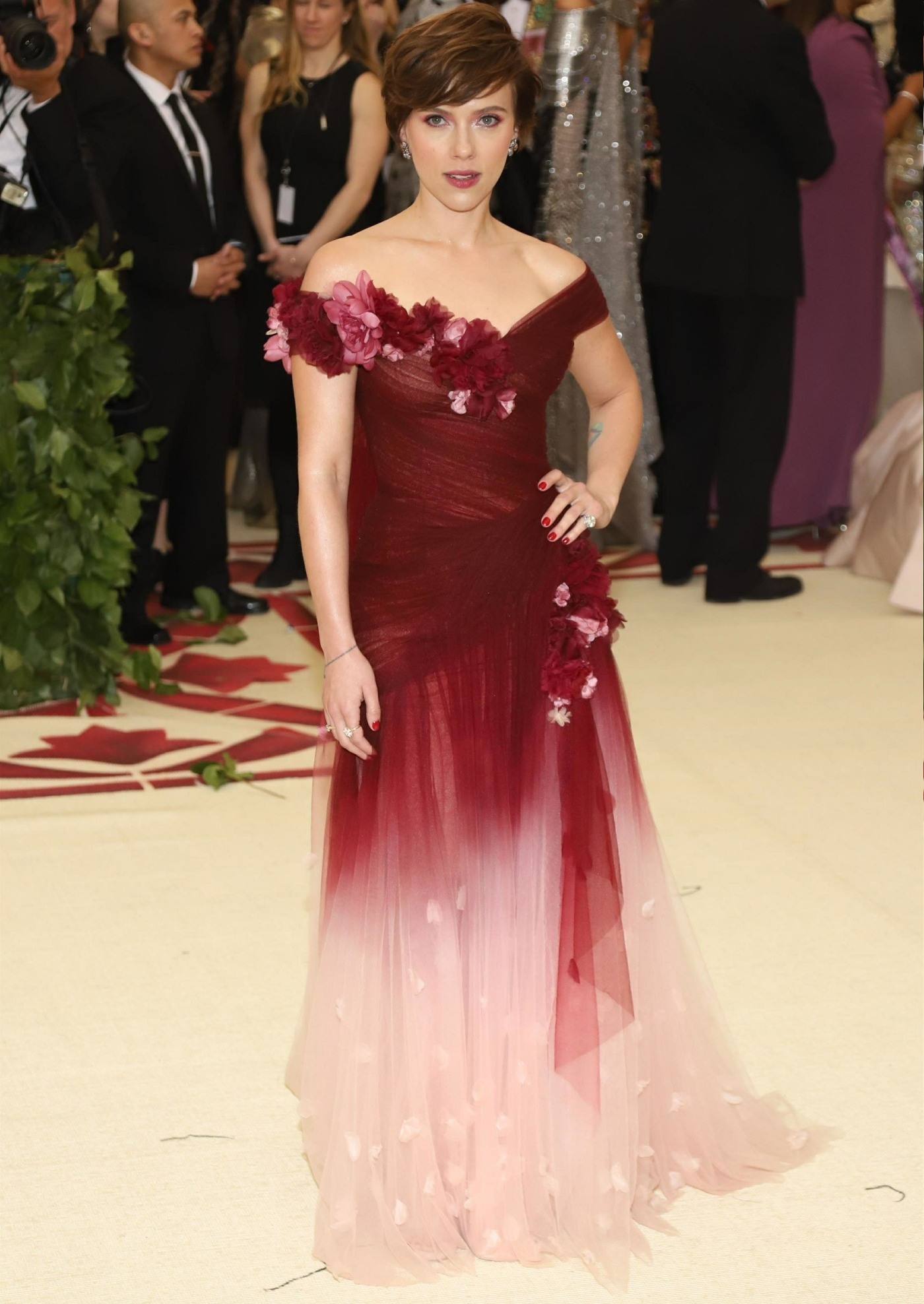 What bothers you more, the fact that Scarlett Johansson didn't dress on-theme whatsoever to the Met Gala, or the fact that she wore Marchesa? Personally, I was just offended by the ugly bridesmaid's dress and the fact that it had nothing to do with Catholic imagery. But I also found it interesting that out of all the choices Scarlett had, she chose… Marchesa, a label founded and designed by Georgina Chapman. Chapman is currently divorcing Harvey Weinstein. Georgina waited a few weeks into the then-unfolding Sex-Predator-gate scandal, then she left him and hired a divorce lawyer. But throughout the Weinstein revelations, we heard more and more about how Weinstein bullied women into wearing Marchesa. Weinstein was financially invested in Marchesa too, although I don't know for sure if Chapman has disentangled Marchesa from Weinstein financially. The point is that wearing Marchesa is still a controversial thing at this moment. So why did Scarlett do it?
Scarlett Johansson's standing by her choice to wear a Marchesa gown to Monday night's Met Gala.

"I wore Marchesa because their clothes make women feel confident and beautiful and it is my pleasure to support a brand created by two incredibly talented and important female designers," Johansson, 33, says in a statement to PEOPLE. Marchesa echoed a similar sentiment in the following statement to PEOPLE: "We are truly honored that Scarlett chose to wear Marchesa for the Met Gala. She is an amazingly talented actor who has incredible style and presence. It was wonderful to work so closely with her in creating this custom look."

After the news about Weinstein broke, many celebrities started questioning wearing Marchesa as Chapman and Weinstein's businesses were often linked. According to a few stars, including Jessica Chastain, Weinstein would allegedly pressure them to wear his wife's designs on the red carpet, and in Chastain's case, she said he mocked her when she didn't do so.
I think the reaction to Scarlett's Marchesa gown is rooted in the conversation we've been having about complicity and who-knew-what-and-when. I tended to believe that Chapman knew her husband was having affairs, but she probably didn't know he was raping and assaulting women. I tend to believe Chapman knew her husband "encouraged" actresses to wear Marchesa, but she didn't know he bullied them into it. I also think it's a bit Pollyanna of Scarlett to act like the Marchesa label is SOLELY about female-designers, when there's this complicated and convoluted Weinstein history.
I do think it's interesting that ScarJo chose the MET GALA for this moment of Marchesa-support. Scarlett could have worn Marchesa to any of the Avengers: Infinity War premieres or promotional appearances, but she didn't. She chose fashion's biggest night, so she wanted it to be a statement. As I said in the Met Gala coverage, there's some question about whether Marchesa will even continue to have a couture line, or whether they'll just focus on bridal and mass-market now. With friends like ScarJo, maybe Marchesa couture will make a comeback. Ugh. It's still poorly designed bridesmaid/ice-skater fugery, but whatever.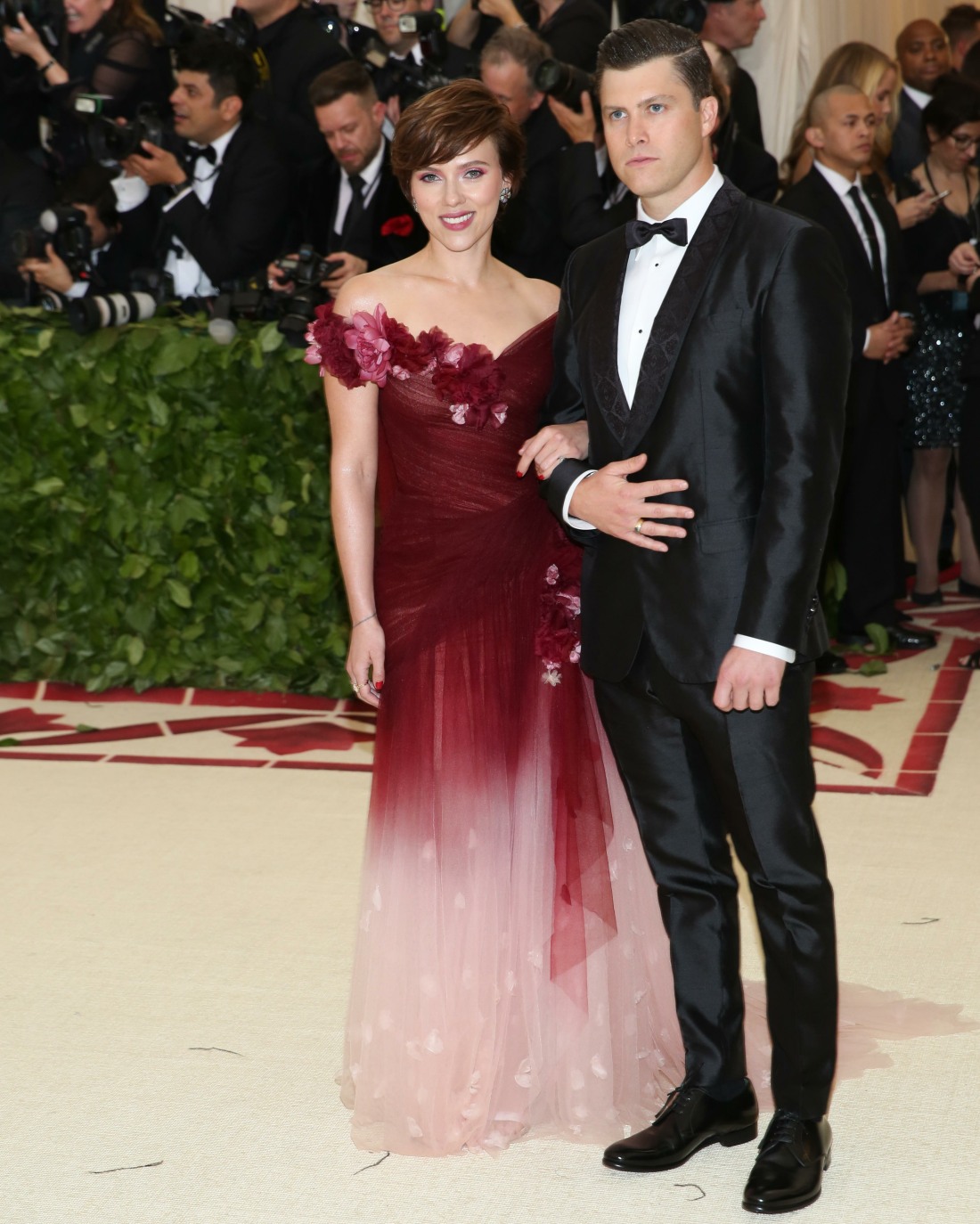 Photos courtesy of Backgrid, WENN.