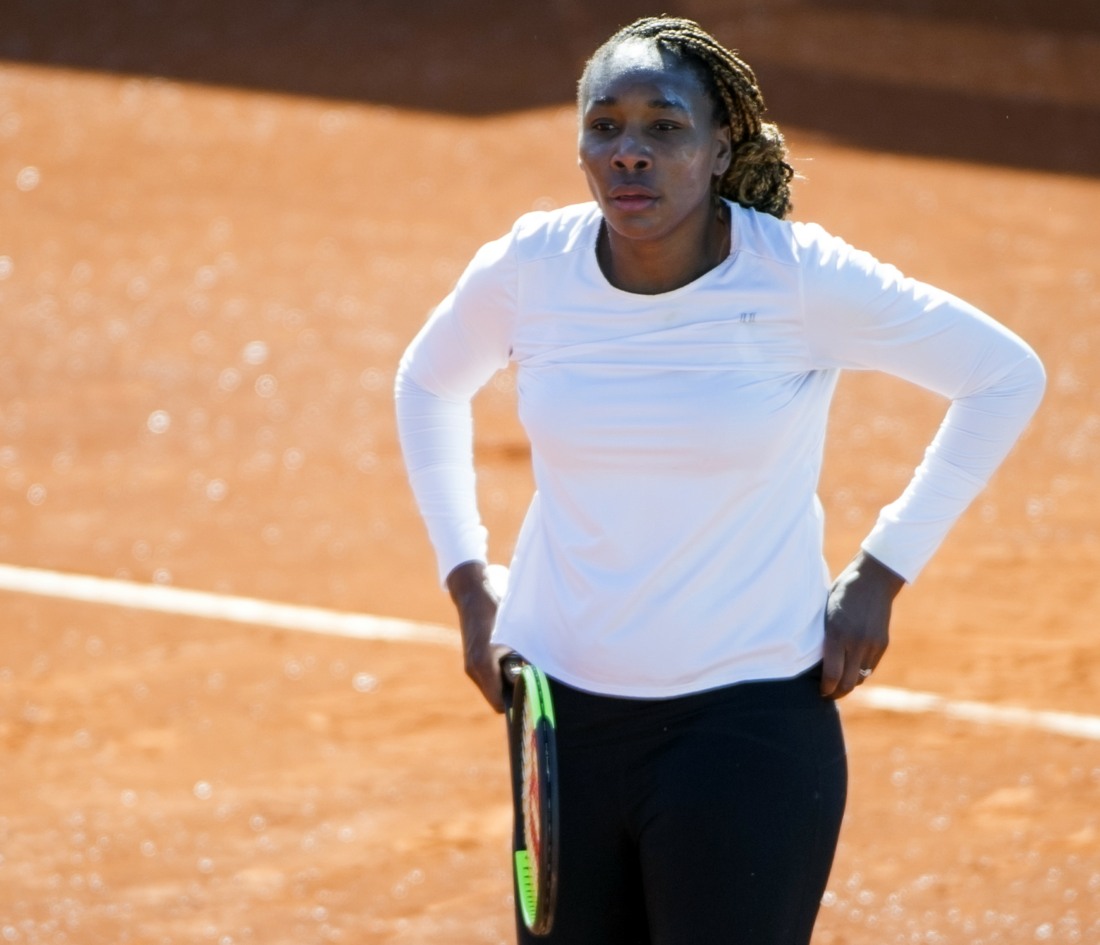 Venus Williams hasn't had the best start to the 2018 season – she went out in the first round at the Australian Open and then again in Madrid tournament last week, but she did play well in Indian Wells and Miami. Venus is 37 years old (she'll be 38 next month) and still playing tennis at a pretty high level. 2017 was one of her best years in a long time, but some people still think that Venus might be close to retirement within the next year or so. I don't know – she always talks about wanting to play into her 40s, and she's still having fun on the tour. Ahead of Wimbledon – arguably her favorite tournament of the year – Venus sat down with Elle UK for an interview, and she talks about being a woman athlete and how she doesn't label herself a feminist. Oh, God.
She doesn't identify herself as a "feminist": "I don't like labels, though I do think as women we have much more power and opportunities in our hands than ever before. We truly don't know how powerful we are. There's nothing like a powerful woman walking into a room; her presence is like nothing else."

Women in sports: "There are so many emerging forces; there's been so much growth for women in sports. It's very exciting. You have to be able to stand up for what you believe in and I think I've done a good job. I guess I don't have too many regrets."

On equality and women's rights: "For me, the conversation [around equality] was never there. There are always challenges that you have to overcome on a daily basis. Unfortunately, people have the tendency to want to dominate one another, but fortunately, there are people who want to build other women up. It's up to those people who want to build to hopefully eliminate all that negativity."
[From Elle UK via the Daily Mail]
I mean… I don't like what she says here either, but I should point out a few things. One, a 37-year-old African-American woman saying that she doesn't want to label herself a "feminist" is different than when a 20-year-old white white woman does it. The 20-year-old does it because she wants to be a Cool Girl and a Guy's Girl. When Venus does it, she's seeing it through the prism of history, and years of white-feminists ignoring the issues facing communities of color. Also: judge her by her actions too, which have always been feminist. She got female players equal pay at Wimbledon. Venus and Serena are still working towards equal pay for women across the board as well. But yeah, Venus could have explained this better.
Photos courtesy of Getty, WENN.