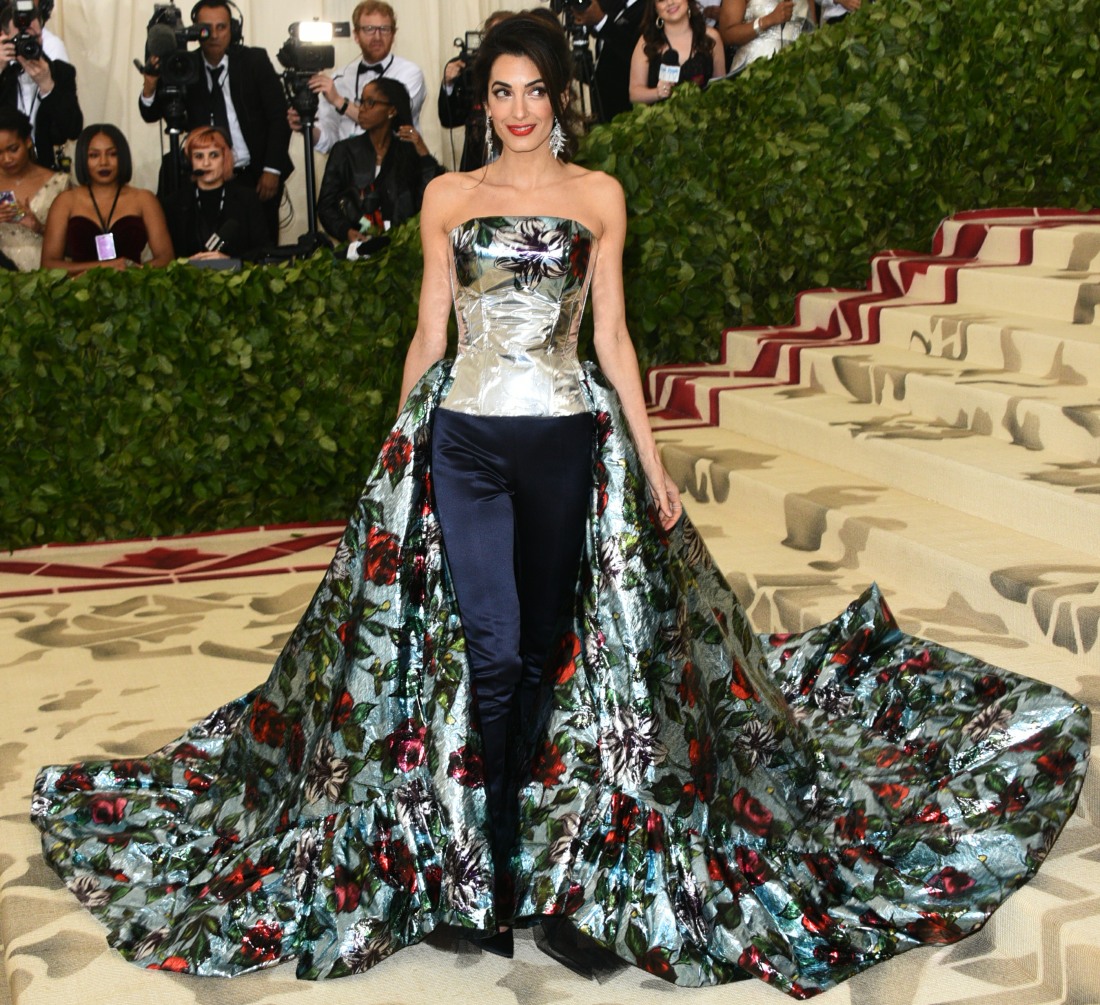 I generally felt like this year's Met Gala theme should have been taken literally at every possible level. Like, if you're not dressed up like the pope or the Virgin Mary, what's the point?? But I get that everyone wanted to do their own spin on things. I still don't really understand Amal Clooney's whole look though, and what it had to do with Catholic imagery or Catholicism. As it turns out, it had absolutely nothing to do with Catholic imagery, as the designer told Harper's Bazaar.
The theme of this year's gala was Heavenly Bodies: Fashion and the Catholic Imagination. Not only did Amal Clooney deliver on the theme, she also managed to put her own unique spin on her outfit, which was the work of London-based designer Richard Quinn. The lawyer was one of the few women at the celebrity-filled event to wear trousers on the red carpet.

"The overall look was a hybrid and [the idea] was to give it a model edge as well as tie in with the theme," Quinn told Harpers Bazaar the day after the gala. "Her decision to wear trousers was her way of depicting female empowerment and modern religion by referencing the stringent oppression that women faced."
But the theme wasn't modern religion. The theme wasn't female empowerment through religion. It was Catholic imagery!! All of that fancy talk to over-explain a mullet dress that had nothing to do with the theme! Quinn kept talking in that Bazaar piece, by the way, but that quote was the most significant. Also, it turns out that Amal didn't even wear the mullet dress throughout the gala – as soon as she was done on the carpet, she changed in a slinky Tom Ford. Anna Wintour told Stephen Colbert:
"She wore this incredible dress on the red carpet that was designed by a young British designer called Richard Quinn but it was made of tin foil, so she was a little bit concerned it might rip during the evening… She went into the gift shop and she changed into this extraordinary Tom Ford dress, which is designed to look like stained glass."
Well, now we know why Amal was so extra on the carpet – she wanted the Quinn dress to be photographed from every angle because she was changing out of that bitch ASAP. As for this Tom Ford… it is a good gown, and it does look like stained glass. She should have worn THIS to the Met Gala.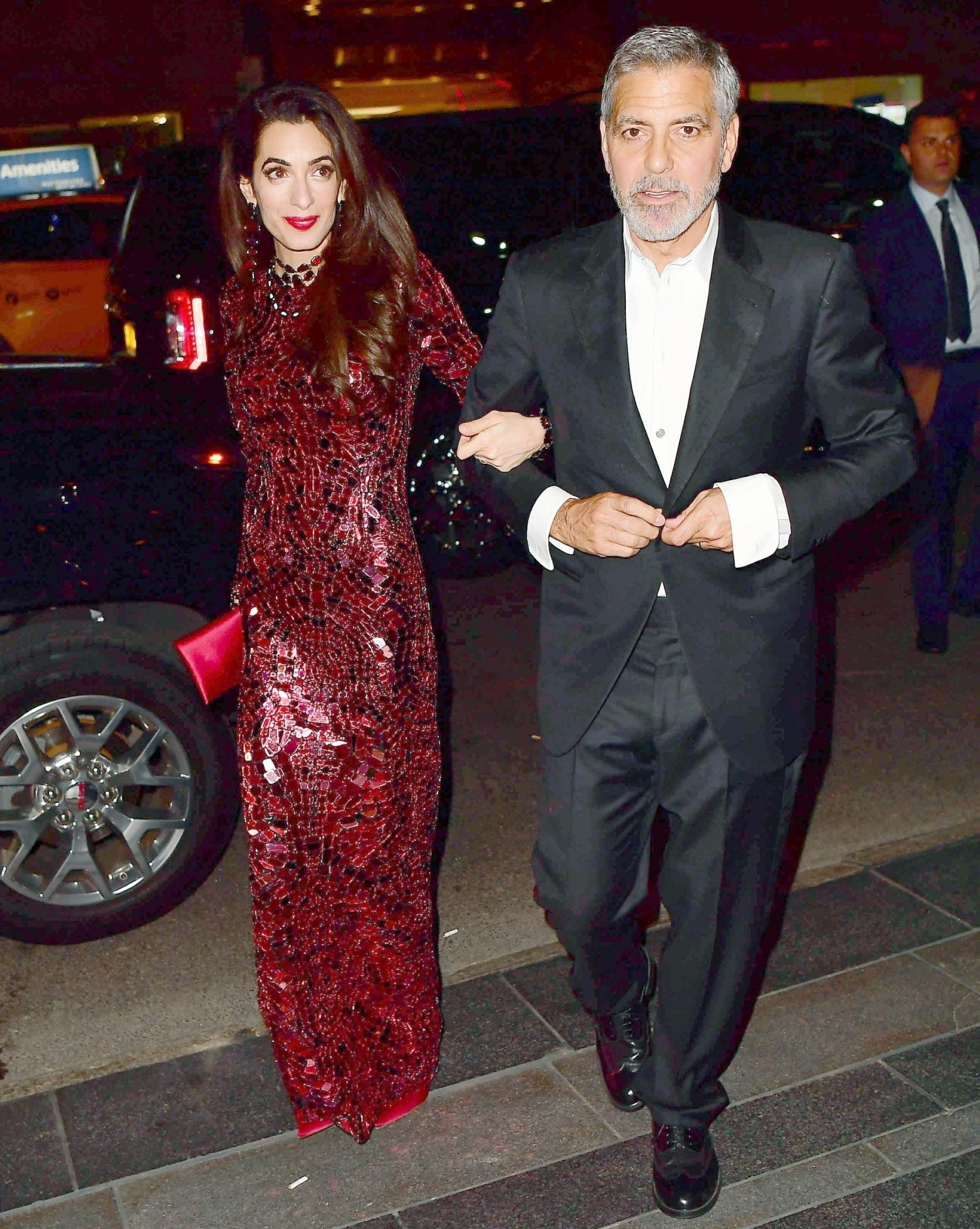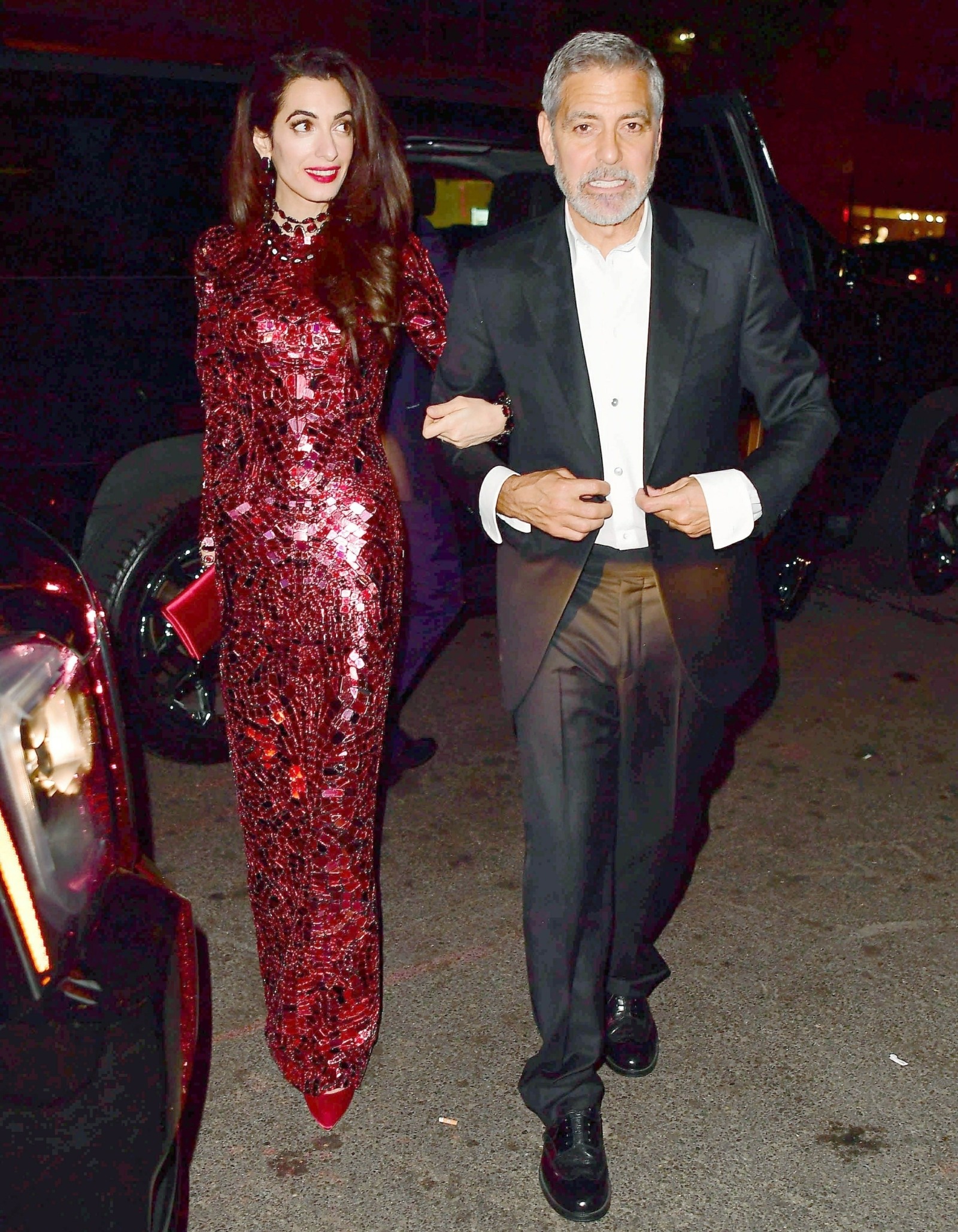 Photos courtesy of Backgrid, WENN.