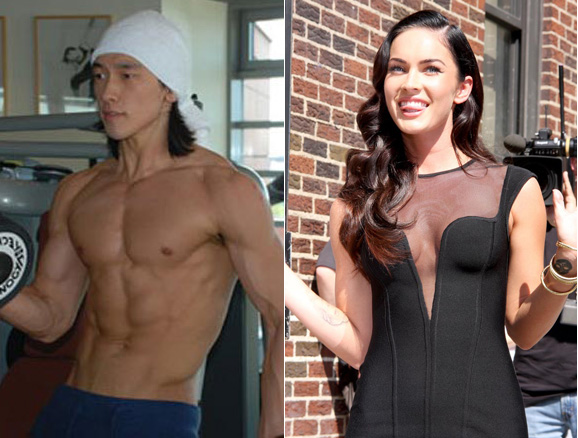 After Transformers 2: Revenge of the Fallen raked in more than $200 million in its first five days, you'd think that its star Megan Fox would be thrilled beyond belief. All of those dumb interviews, all of those dresses, all of that will-they or won't-they angst between Megan and Shia LaBeouf, all of that "provocative" thumb sucking. It all paid off! Megan should be on top of the world. But if this report from the National Enquirer has any truth, Megan is heartbroken because she has been thwarted by the man she loves, like, the most. That man? None other than South Korean superstar singer/icon Rain.
Megan mentioned on the London red carpet a few weeks ago that she has/had a crush on Rain. That was the same night she officially announced that she was single – and yet, she and "ex" Brian Austin Green have been seen together since then. Of course, Megan and Shia also seem to getting it on, in my opinion. So is she sleeping with Shia while she works it out with Brian, all while trying to win over Rain? You be the judge. But from the sound of this report, Rain really couldn't care less:
Megan Fox… can't land her dream man!

Megan has her sights set on South Korean singer-actor Rain. But so far, the singer – who is often referred to as the Korean Justin Timberlake – has blown off the 23-year-old bombshell!

"Megan has had a huge crush on Rain for some time," an insider told The Enquirer. "Now that she's single, she thought he would be an easy catch – but she's getting a big dose of humble pie."

Megan had her agent try to set up a meeting between her and Rain, and even publicly announced that she was attracted to him – thinking he'd hear about it and try to contact her, according to the insider.

"But he hasn't called, e-mailed or even responded to Megan's pushy advances," said the insider. "He totally rejected her."

As previously reported, Megan turned to Shia LaBeouf for comfort after her split with Brian, but soon decided she'd rather have him as a friend than a lover," says the insider. Although Rain is a multimillion-selling pop star, model and fashion designer, he's virtually unknown in the United States.

"It's a tough pill for Megan to swallow that she's getting blown off by a guy most Americans have never heard of," maintained the insider. "Her ego is bruised."

Megan isn't ready to throw in the towel, though. "She loves the chase," said the insider. "In fact, his seeming disinterest means she's going to try even harder to land a date with him… until Megan gets a concrete, 'No, I'm not interested,' directly from Rain, she's not giving up hope."
[From The National Enquirer, print edition, July 6 2009]
Remember, Megan is the one who started talking publicly about how she was crushing on Rain. So did the National Enquirer just pick that up and build this story around it? Or does Megan really have a thing for Rain, and she won't take no for an answer? Here's the thing – if there's any truth to it, Rain-loonies are just going to kill Megan Fox. Rain-loonies make Twihards and Brangalunatics look like amateurs. Watch your back, Megan!
Here's Megan outside The Late Show on 6/25/09. Credit: WENN.com and PRPhotos. Rain is shown on 12/23/08 and early 2008 weight training.