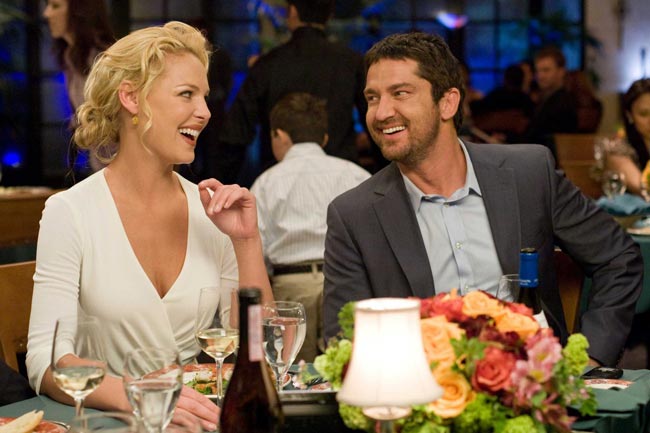 This trailer has f-bombs and is NSFW.
It's no secret that I'm loathe to promote anything to do with Katherine Heigl, but I'm starting to think I might have to see The Ugly Truth when it opens later in July. If and when I go, it will just be for Gerard Butler – he's looking very yummy in these stills Columbia Pictures just released. And before everyone starts yelling "He looks puffy!" or "He's a womanizer!" or "This guy's Scottish accent is so out of control, it comes out in every damn movie!" – enough. Yes, he's looking a little puffy in these stills. Yes, Gerard Butler has hos in different area codes. Yes, The Ugly Truth is probably just another interchangeable romantic comedy. Yes, Gerard Butler's accent is out of control (and it's still lovely). But I'm still going to see it.
I came to this conclusion after repeated viewing of this NSFW trailer in which Gerard Butler's character Mike (the brutish, misogynistic producer) takes Katherine Heigl's Abby (the anal retentive career girl who can't keep a man) shopping, and he gives her absolutely filthy advice about how to change her "look" to attract men. The basics are what you'd expect – push-up bras, no ponytails, short skirts… but the way Gerard delivers his lines is very funny. I realize I'm partial to him, but the film does look better than I thought. You can see the trailer/scene clip above, but here's a little taste of the dialogue:
Mike: We have to change your look… you are completely inaccessible. You're all about comfort and efficiency.
Abby: What's wrong with comfort and efficiency?
Mike: Well, nothing. Except no one wants to f-ck it.
Mike: [holding up a black lace bra] Now this is a bra. Boobies in this thing say 'Put me in your mouth, I taste good.'
I'm not ashamed to admit that I've watched this thing like ten times already today. Funny story – the character Mike isn't supposed to be Scottish. Yet Gerard can't say one simple, filthy, sexy line of dialogue without his Scottish accent coming out. Sigh. I like the way he says "Put me in your mouth, I taste good." Yeah… I'm going to see this film. I might not be alone either – some of the early viewers are already wondering aloud if The Ugly Truth will be the girlier version of The Hangover - which has already made more than $150 million domestically. So, will Heigl have another hit on her hands. Or, if the film does well, will Gerard get the credit?
Thanks to AllMoviePhoto for the stills from The Ugly Truth