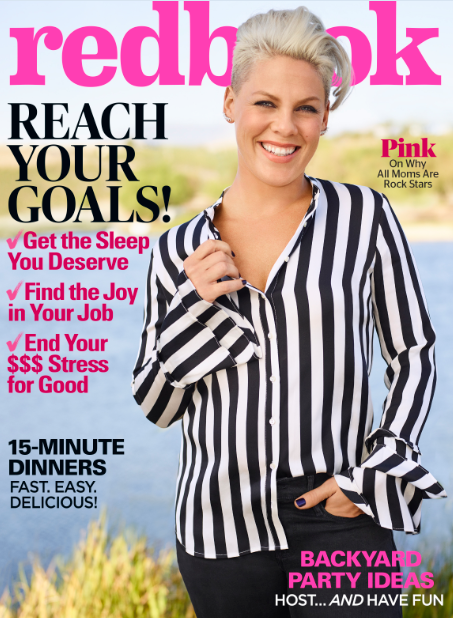 Pink covers the latest issue of Redbook, and man, she's doing a lot of press for her current tour. It feels like she's been on the covers of like six magazines over the space of two months, although I'm sure that's wrong. Since it's Redbook, Pink mostly talks about motherhood and what it's like to deal with two little kids all while being a full-time rock star. Some of this I like and appreciate, but there's one part that upsets me. You can read the full piece here. Some highlights:
On finding balance between life as Alecia Moore and life as Pink: "I've never juggled so many damn plates in my life, but it's because I want to. I enjoy it. If I had nannies raising my kids and just wanted to be a rock star and party all the time, I wouldn't be successful and I wouldn't be happy."

On life on the road with Willow (7 years) and Jameson (18 months): "When touring stops working for the kids, if they decide they just want to be home and have a normal life, whatever that means, I'll stop, because they are by far the priority. But I think it's cool that they get to see their mom be the boss and work really freaking hard to realize a dream. I'd say it's 95% positive."

On being emotional, being a crier: "I am a total crier. I cry at commercials. I cry when the wind's changing directions. Willow won't cry ever, and it annoys me to no end. One day I had a sit-in at her school because I knew she was upset and she wouldn't talk to me. I sat down on the pavement and I was like, "I'm not moving until you tell me about your feelings, because this is going to be a lifelong conversation for you and me and you have to learn to let me in." Without batting an eye, she goes, "I promise to tell you more about my feelings if you promise to tell me less about yours." In my head I was like, Holy s–t! But I said, "Not going to happen. People pay me for my feelings." She processes differently than I do, and it's teaching me a lot about how to deal with people. I process out loud. She does it inside and it scares me a little, but I have to let her go through her process.
This is the part I appreciate: "I think it's cool that they get to see their mom be the boss and work really freaking hard to realize a dream." Too few women talk about that, how important it is for them to let their kids see that their mom has a job, that their mom works, that their mom has other things on her plate other than being a mom. I'm not saying stay-at-home moms are doing it wrong at all, I'm saying that I reject this notion that SAHMs are somehow superior or doing it better. Everybody's different, and I like that Pink is talking about how it's important to HER that her kids see her working.
The part I don't like: when a seven-year-old child is telling her mom to be less verbal and less emotional, that's a signal that the kid feels overwhelmed by her mother. Your kid feels like there isn't room for HER to feel anything because mommy is so emotional and everything is about how mommy feels. Trust me – I have that kind of mom. It's really difficult. It's a difficult way to grow up. Moms need to know that they shouldn't dump all of their emotional sh-t on their kids too.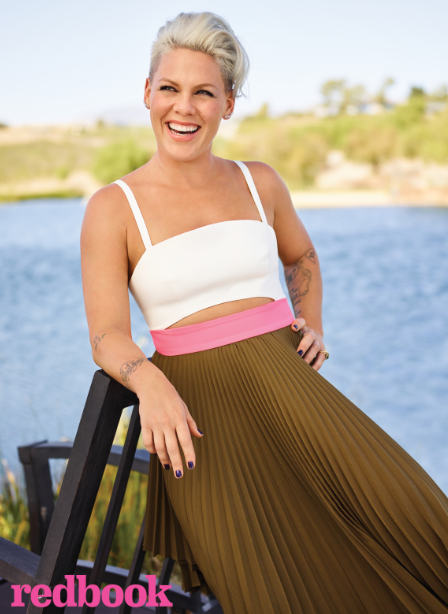 Cover and photo courtesy of Jason Kim/August for Redbook, sent from a promotional Redbook email.