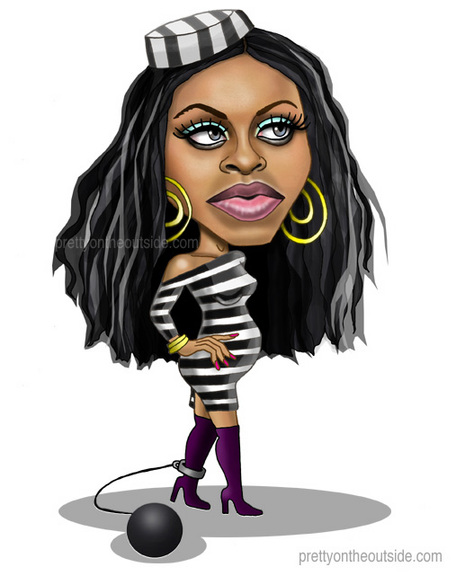 Illustration from prettyontheoutside.com
Some celebrities get a million second-chances, and some only get half a million. Foxy Brown seems to be the latter. After countless run-ins with the law Foxy is finally going to spend some significant time in jail, stemming from a probation violation. A New York City judge sentenced Brown to one year in jail for violating her probation after she threw her cell phone at a neighbor who complained when the rapper blasted music from her car for a prolonged period of time. Brown was arrested and charged after the incident, and will face a separate trial in Brooklyn. In addition to that arrest, which triggered the court appearance and probation overview, a Probation Department lawyer noted that they had filed four additional violations against Brown for leaving New York without telling the Probation Department and for moving from Brooklyn to Mahwah, New Jersey without seeking permission. She also failed to inform her probation officer that she'd received seven traffic summonses in New Jersey in the short time she's been on probation. So all in all, rules don't apply to her, even when she knows she's being closely monitored and will go to jail for ignoring them.
"Foxy Brown was sentenced to one year in jail Friday for violating probation stemming from a fight with two manicurists in a New York City salon. Criminal Court Judge Melissa Jackson sentenced the rapper at a probation hearing for Brown, 28. 'I'm not going to give you any more chances,' the judge told Brown. 'I hope you turn your life around and never again have to stand in a court of law.'

"Brown was also indicted in Brooklyn Friday on charges that she smacked a neighbor with a cell phone. Brown, whose real name is Inga Marchand, was on three years probation for assaulting two manicurists at a Manhattan nail salon in August 2004. Just before her hearing began, Brown, in handcuffs and wearing an elegant gray pantsuit, asked the judge for yet another chance at freedom and promised to straighten out her life.

"'I'm willing to do whatever I need to do to change,' Brown told the judge. She said she had made a lot of mistakes before Jackson jailed her. 'I realize that's not where I want to be. It's humbled me in ways I never imagined.' Jackson replied, 'Ms. Marchand, it's too little, too late. I'm glad you're learning something; that's a positive.' …The judge had said the defendant knew she would face a year in jail if she violated probation."
[From Yahoo News]
Brown turned to her mother, who was in the courtroom, and burst into tears after being sentenced. Talk about too little too late. She's one of those people who you can tell can only cry for herself. I don't think that much of anything could humble Foxy Brown, considering her rap sheet, and the ways she's historically freaked out on service people and others "below" her. Foxy is reportedly pregnant, so maybe giving birth in jail will be a start. Not the greatest start for the kid, no doubt, but if it somehow helps its mother become a human being, it might be worth it. According to many published reports, Brown turned down a plea deal offered by the prosecution, in which she would have only done 9 months. I can't believe that she was so delusional to think a judge would give her less time than that. But she's proven time and time again that she's a crazed egomaniac, so logic probably didn't enter into the equation. She's above the rest of us, so of course she won't really go to jail! Who knows what a year in jail will really do to someone like Foxy Brown, or how much time she'll really spend, depending on good behavior and the notoriously overcrowded New York City jails. And she'll likely get some special treatment, between the celebrity and supposed pregnancy. But there's still a teeny, tiny chance that this will help her see the error of her ways and at least lose a bit of the attitude. I just hope they make her scrub toilets like Lindsay Lohan.
Picture note by Celebitchy: Header image thanks to Prettyontheoutside.com. Image below is from 7/20/06 thanks to PRPhotos.