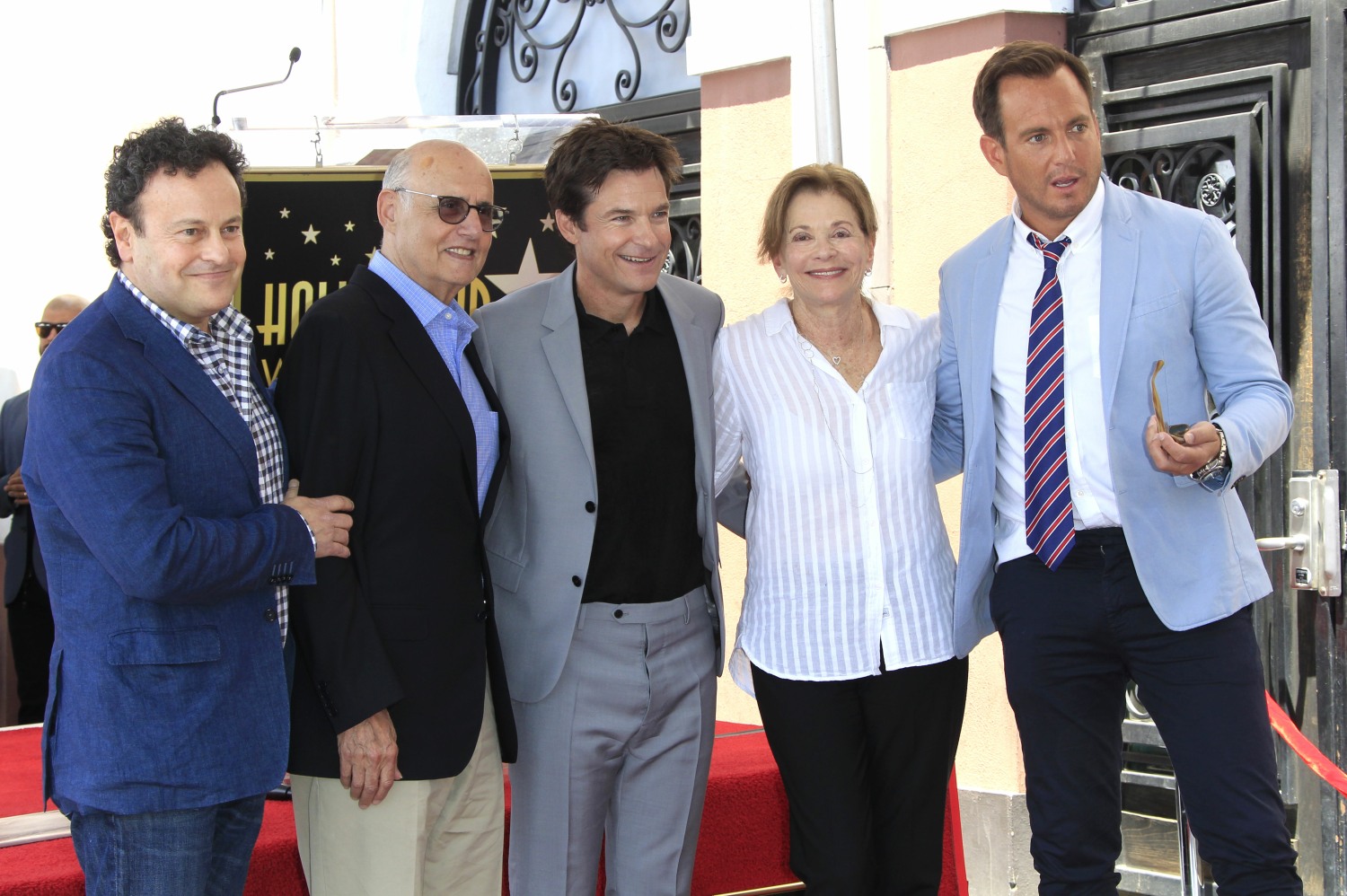 Last year, Jeffrey Tambor "quit" Transparent after a few people on the show's production claimed that he verbally harassed them. Back in March of this year, Tambor gave his first big interview to The Hollywood Reporter where he basically admits that he's not a perfect person, but he also made it seem like people were totally overreacting. Even though Tambor is persona non grata on Transparent, he still had a job on Arrested Development. The cast of AD sat down with the New York Times this week, and guess what? Tambor's behavior with Transparent employees was never just fake news. Jessica Walter cries openly during the NYT piece, talking about how Tambor verbally harassed her as well. She cries as all of the men in the room – Jason Bateman, Will Arnett, Tony Hale and David Cross – all try to cape for Tambor and minimize her experience. You can read the piece here:
We spent an hour with the cast of "Arrested Development." Jeffrey Tambor's behavior came up. "In like almost 60 years of working, I've never had anybody yell at me like that on a set," Jessica Walter said. https://t.co/Q4yp5Fq5vo

— The New York Times (@nytimes) May 23, 2018
In a sitdown interview with The New York Times, Arrested Development stars Jeffrey Tambor, Jessica Walter, Tony Hale, Jason Bateman, Alia Shawkat, Will Arnett and David Cross got candid and emotional about the recent allegations of sexual harassment against Tambor during his time on Transparent and his behavior on the set of their own show.

Walter, who stars as Tambor's ex-wife on the show, had her own verbal altercation with Tambor in the past. As the topic of Tambor's allegations came up, including reports that he had yelled at directors and assistant directors on the set of Transparent, Walter said, through tears, "Let me just say one thing that I just realized in this conversation. I have to let go of being angry at him. He never crossed the line on our show, with any, you know, sexual whatever. Verbally, yes, he harassed me, but he did apologize. I have to let it go… In … almost 60 years of working, I've never had anybody yell at me like that on a set. And it's hard to deal with, but I'm over it now."

Tambor had referenced the "blowup," in his words, in a recent interview with The Hollywood Reporter. Walter noted that the THR interview was the reason she brought up the incident to the Times. Bateman defended Tambor during the discussion, saying it was "part of his process," but Walter disagreed. Hale, similarly to Bateman, noted that "we all have our moments," to which Walter responded: "Not like that. That was bad."

When asked if she would have reservations working with Tambor again in the future, Walter said, "Of course not. No. I've just given it up. … I don't want to walk around with anger. I respect him as an actor. We've known each other for years and years and years. … Of course, I would work with him again in a heartbeat."

During the interview, Alia Shawkat responded to her co-stars who spoke about Tambor's "process" by saying: "But that doesn't mean it's acceptable. And the point is that things are changing, and people need to respect each other differently."
Jason Bateman, David Cross, Tony Hale and Will Arnett are all canceled now. Sorry, but it's true (Cross was already canceled before this, #fact). Arrested Development is canceled too, and it truly pains me to say that because it's one of my favorite shows of all time. But this sh-t is unacceptable. Jessica Walter weeps openly as she talks about the pain caused by Tambor's verbal harassment and all of the dudes just ignore her and minimize her and it's awful. They're awful. Not Walter and not Alia Shawkat, just the dudes are awful.
one small but very striking thing from that nyt arrested development interview: jason bateman essentially explaining "how the industry works" to jessica walter, as if she isn't an accomplished veteran of the same industry.

— david bynch (@soalexgoes) May 23, 2018
I can't stop thinking about that NYT interview with the Arrested Development cast. It's such a perfect distillation of men's reflexive instinct to protect other men at the expense of women. And then men wonder why harassment — in all its forms — is still such a pervasive issue.

— Sarah Lerner (@SarahLerner) May 23, 2018
Jason Bateman is #1 on the call sheet of Arrested Development. Which means he sets the tone on set. The NYT interview makes it painfully clear that his show's set is a nightmare for women and anyone who enjoys not being humiliated at work. #Shame #TimesUp

— Jose Molina (@JoseMolinaTV) May 24, 2018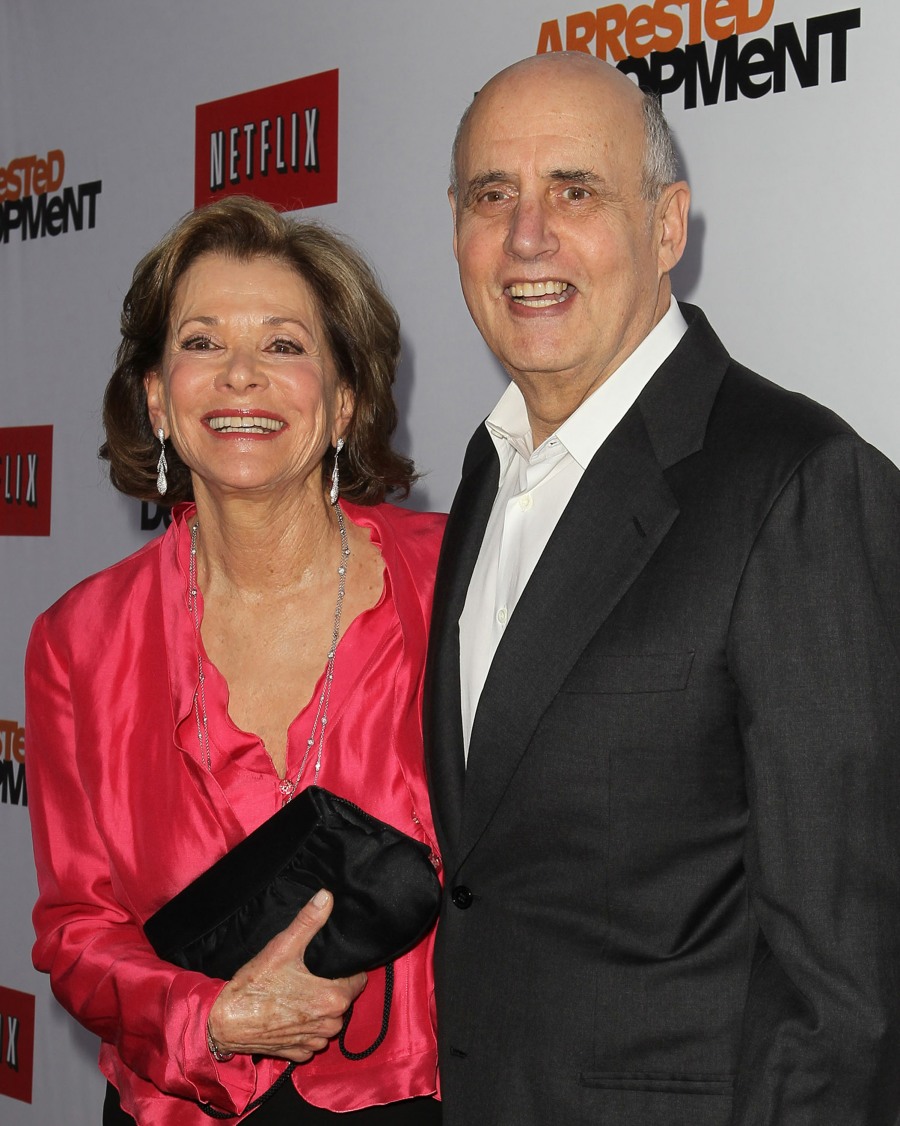 Photos courtesy of WENN.