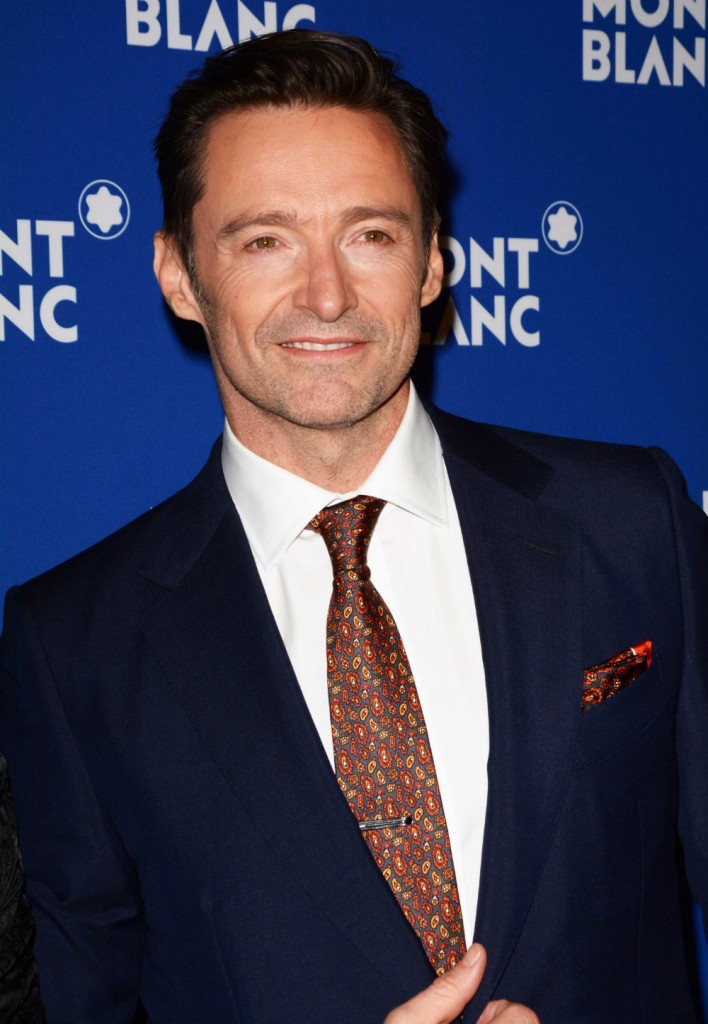 Hugh Jackman is human goals, in my opinion. I think he is a genuinely nice person who loves his family and has his priorities straight. Should he ever get knocked off the pedestal I've put him on, I probably won't recover. Something I'd only recently learned is that Hugh owns a couple of coffee houses in New York called Laughing Man Coffee*. The proceeds from the shops go towards the Laughing Man Foundation that supports community coffee farms across the globe. And all of this is because of a promise Hugh once made to an Ethiopian coffee farmer. See? Not only is Hugh a generous man, he's a man of his word. So, when he says he's teaching his children that they have a responsibility to give back to the universe, I believe him.
Ask Hugh Jackman about the greatest life lesson he's teaching his kids, and he has a quick answer.

"My kids have so many advantages," the 49-year-old Greatest Showman star tells PEOPLE. "And I want them to know that they have a responsibility to use those advantages to help others."

Jackman and wife Deborra-Lee Furness, 62, often count their blessings with their two kids, Oscar, 18, and Ava, 12. "My kids are constantly reminded about how lucky we are in our family," Jackman says. "We're ridiculously blessed. We live in a beautiful home in places that other people dream of."

In addition to helping others, Jackman says that he's trying to pattern the right behavior for Oscar and Ava. "I want to lead my kids by example when it comes to charity," he says.

According to Jackman, he learned the same lesson when he was a child. "I was brought up with parents who both did volunteer work and community work," he says. "They gave back. After my father retired, he donated his services as an accountant to developing nations for three years. So it always felt normal to me to give back. I want it to feel normal for my kids."

Jackman says it doesn't matter if his kids give back locally or around the world. "The more we can see the world as a whole, and the less as 'your team, my team,' the better we will be," he explains.

"I am ridiculously blessed," Jackson says. "I don't need any more money. I'm totally good. So if I can use whatever power I have now to share with others, that's my hope. And I want my kids to be with me every step of the way."
Hugh and Deb are pretty good about keeping their kids out of the public eye. They mention them occasionally and they've been papped with their folks, but neither use the kids for promotion so I tend to believe everything Hugh said is legitimate. And I love that he framed it as being, "ridiculously blessed." I also appreciate that Hugh admits these are his hopes for his kids, that it is a learning process and a lesson we can't assume will take right away. Both Oscar and Ava will likely collect humanitarian awards throughout their lives, though. I want them to be exactly like Hugh and Deb, I'm sure they do too.
*Okay, so full transparency, I actually first learned about Hugh's Laughing Man Coffee houses because of this Instagram post:
I swear, Hugh and Ryan Reynolds are my favorite celebrity couple. If you want to learn more about Laughing Man, you can check out their website, or watch the documentary Dukale's Dream (Dukale is the farmer that inspired Hugh). You can purchase Laughing Man Coffee at these places and, apparently, at certain Costcos.
Photo credit: WENN Photos, Getty Images and Instagram