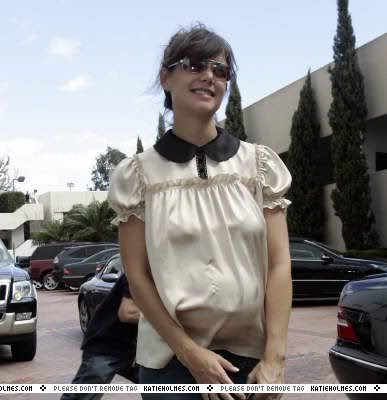 Reader Carrie hooked us up again by pointing us to these pictures from KatieHolmes.com of Holmes shopping in Hollywood yesterday.
As they've done throughout her pregnancy, people joked that she didn't really look pregnant and seemed to be carrying a beach ball under her shirt in the pictures that came out yesterday. In these latest pictures, you can see her protruding belly button through her top.
PopSugar does the math and points out that Katie is due any day now, belying the rumors that she's too far along and faking the pregnancy.
PageSix thinks it's news that Tom and Katie slobber all over each other in front of the press. Supposedly Katie looked vacant and wide-eyed during Tom's interview with Premiere magazine, in which he revealed his abusive childhood and made out with her:
"Holmes . . . wore a large diamond engagement ring. She seemed dazed, passive and vacant. She never stopped smiling." Holmes continued smiling through the interview as Cruise described how his father beat him, and as Cruise was "hooting how beautiful she was, touching and kissing her like a teenage boy on his first backseat date, aware that he was being watched." Creepy.
Seriously, though, why is this news?
What seems the most suspicious to us is the fact that Holmes is shopping for shoes right before she's giving birth. My feet were incredibly swollen when I was pregnant. Holmes is seen with some sensible flip-flops, but she also considers some pointy flats. Girl – those are not going to fit after the baby comes!
Here is Holmes shopping.
12 more after the jump.