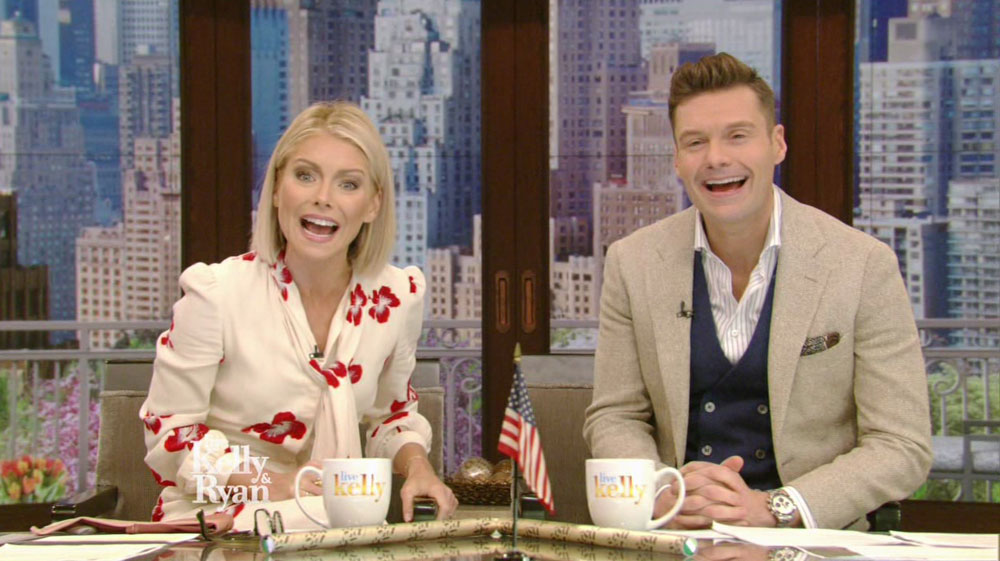 Ryan Seacrest still inexplicably has a morning co-hosting gig with Kelly Ripa and remains a fixture at E!, where he's been accused of sexual harassment by his former stylist, which he denies. (For what it's worth.) Ryan and Kelly, who are both incredibly fit and slender, were recently discussing a "juice cleanse," they each did, at Ryan's suggestion. Juice cleanses used to be all the rage but there's been a growing awareness that they're unnecessary, unhealthy and can be dangerous. As a result they're not as popular anymore and celebrities rarely promote them. Enter Ryan and Kelly, who don't care about any of that and just want to lose weight. They didn't mention the name of the cleanse but People got the details, it's one that Gwyneth Paltrow recommended. Ryan claimed that not eating and drinking these concoctions "cleanses your organs," which is not true at all, and Kelly discussed her changing bowel habits because of course she did.
For the last two weeks, Kelly Ripa and Ryan Seacrest have been doing a mysterious new cleanse — with one of them handling it better than the other.

The juice-only cleanse is iZO's Superfood Cleanse, and is a favorite of Gwyneth Paltrow. Seacrest's girlfriend, Shayna Taylor, read about it online and decided to give it a try with him for five days last week.

Cleansers mix iZO's superfood powders — which include algae, seaweeds, seeds and more — into juice or water for up to seven days.

After Seacrest's successful experience, Ripa decided to tackle it too — her first juice-only cleanse ever — but she isn't handling it too well so far.

She opened up Tuesday's episode of Live with Kelly and Ryan wondering if she can make it past day two of the cleanse.

"I'm going to be honest, I'm not going to make it," she said. "I don't think I'm going to make it."

"You can do it; you have more strength than anybody," Seacrest told her. "It's a restart for summer."

Seacrest, who finished the cleanse the week prior, admitted to teasing Ripa with all the foods — and coffee — he can have now.

"This morning, I had this beautiful, warm breakfast, and coffee," he said.

"And you sent [a video of] it to Mark [Consuelos, her husband], and he showed it to me," Ripa replied. "You are a monster too … Mark goes, 'look at this, Ryan didn't want me to show you this.' And he plays it for me, and it's Ryan eating gorgeous, steaming porridge, and French toast, and coffee."

"You'll end up getting through. We did it because it cleanses your organs, and I'm telling you, you'll feel great at the end," Seacrest said.
Haha it's so funny to not eat, to convince your coworker not to eat, and then to brag when you can eat again. I haven't missed anything but idiocy by not watching this show for years. I would say I'm disappointed in Kelly, but I have an incredibly low opinion of her ever since she defended Ryan. This isn't surprising to me at all. That said, I do think that juicing and smoothies can be healthy and beneficial – when they're consumed along with solid food. I make a smoothie with kale, banana, frozen fruit, yogurt and stevia in the Vitamix almost every day. There's no sense in buying powders when you can make it cheap with real food. I also eat a regular breakfast, lunch and dinner because I know that my body can detox on its own without being starved. If I want to lose weight I just cut calories, I don't quit eating solid food, that's how you end up so hungry you eat it all back anyway.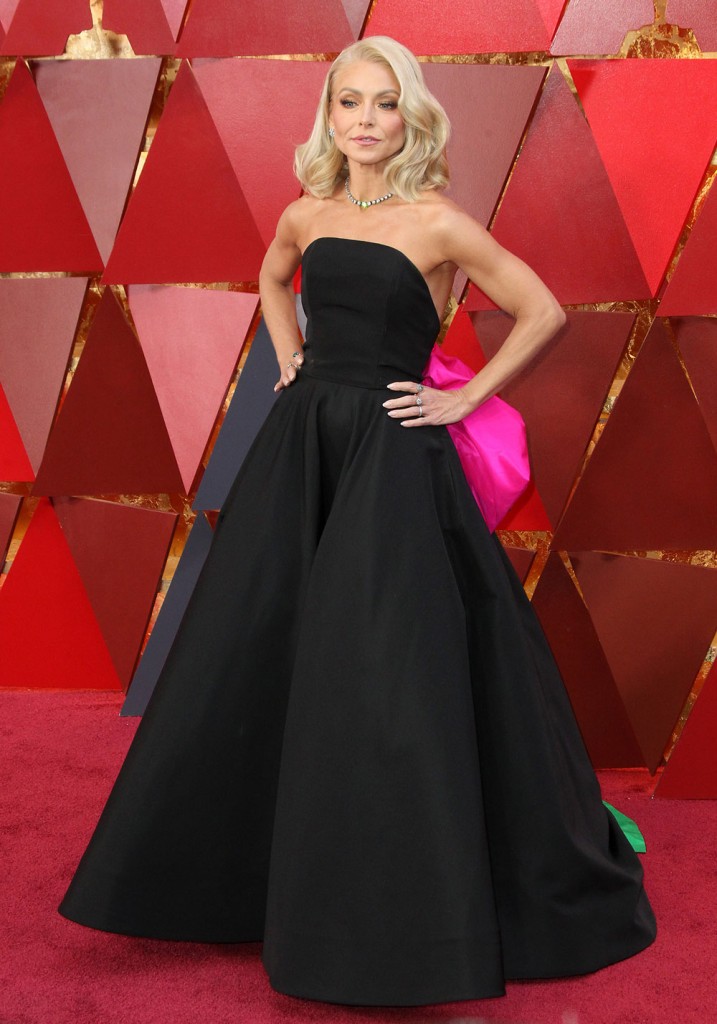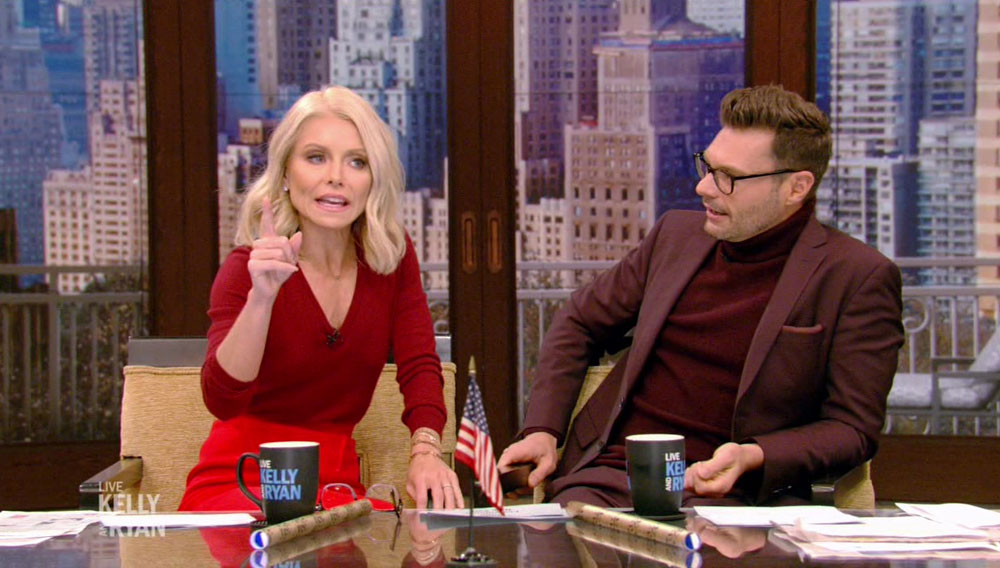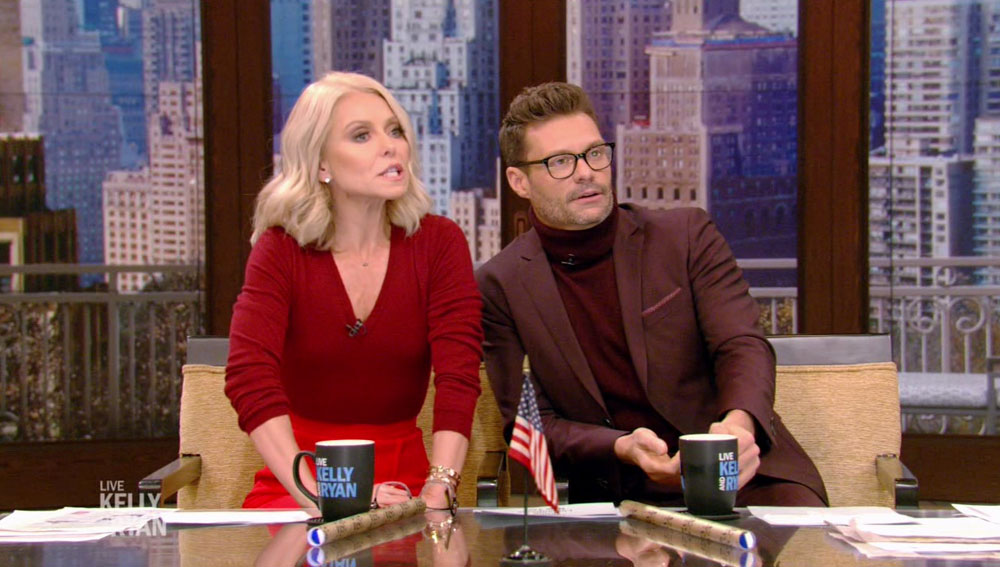 photos credit: WENN