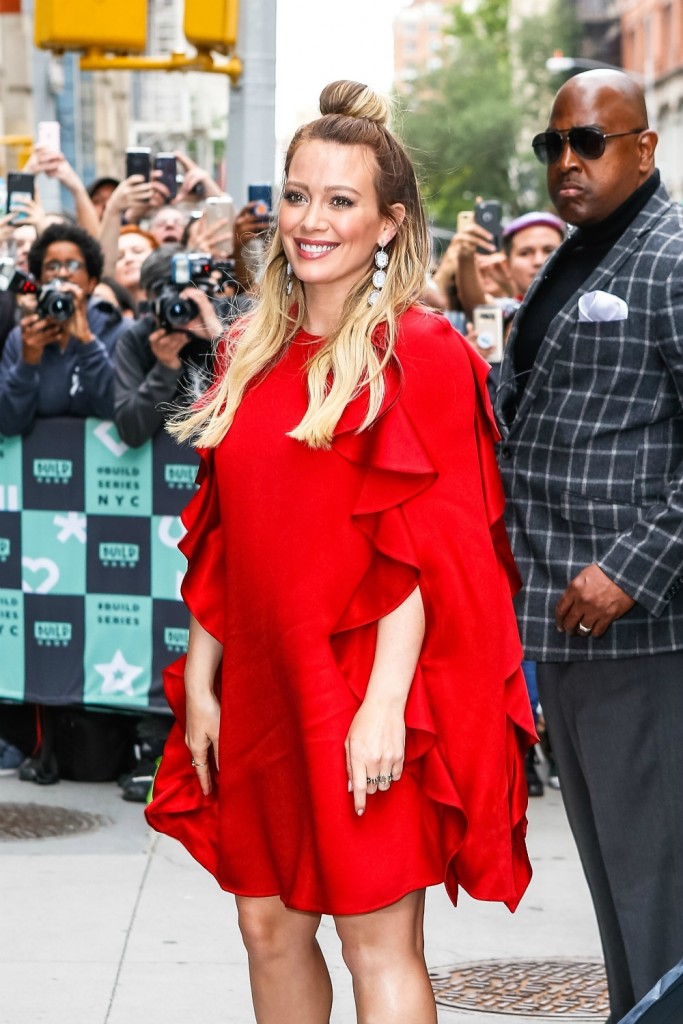 The TV show Younger has just started its fifth season on TV Land for those of you who watch it. I do. Although I was not as into last season, I really like the cast so I keep watching. Kelsey is not my favorite character (Diana is – all hail Miriam Shor!) but Hilary Duff is very good in that role. As we now know, Hilary is pregnant with her second child, a little girl. It took Hilary's six-year-old son Luca a little time to get used to the idea but now that he's there, he going all in – even picking out a name for his new sister: Confant Croissant.
Hilary Duff's 6-year-old son Luca has some pretty strong opinions about his sister-to-be.

On Monday, the Younger star, 30, swung by The Late Late Show with James Corden, where she opened up about how her son is prepping to be a big brother.

While the news of Duff's pregnancy was met with messages of congratulations from her fans, Luca was apparently a little less thrilled.

"The beginning was a little, a little a… he was surprised," Duff told Corden. "And now he's warming up to the idea."

Luca's apparently gotten comfortable enough with his sister-to-be that he's started telling friends at school about his mom's pregnancy, even if he's taken a little liberty with the story.

"He told his friend at school the other day that he's having a sister that's part red-butt monkey," Duff joked. "So we'll see! It'll be a first. That'll be really cool."
He's also thought of his new sibling's name.

"We're up for any kind of suggestions, but Luca thinks 'Cofant Croissant' is like, the coolest name," Duff said, adding that Luca has become pretty insistent on the choice. "There would be no confusion. And when I just refer to it as 'Cofant,' and I'm like, 'That would be so cool, no one at school's going to be named Cofant,' He's like 'Croissant. Cofant Croissant.' It goes together. There's no separating the two."

"It's concerning," she added. "I think he has pretty good taste… It's pretty strong right?"
I don't think Baby Girl Duff will be named Cofant Croissant but as an unattached bystander, I think we should all get behind the name. Cofant Croissant is someone we need in this world – she's stylish and mysterious as well as buttery with just a hint of flakiness to keep things exciting. I think it's darling that Luca is so dedicated to the name. I used to babysit for a family and the oldest boy fought very hard to get his baby sister to be named Batman. The parents ended up naming her Tracy Ann because they thought it sounded close. The kid bought it and told everyone that he named his sister. Getting input on the name is a nice way to include the siblings into the new baby's life. But yeah, you find yourself trying to make Pinkie Pie work with your great-grandmother's maiden name.
According to Hilary, her Younger costume designer was the first to learn of her pregnancy and the tell was when she couldn't fit into her jeans. I don't know how common it is but with all my pregnancies, the jeans were the first to go. Hilary has just started to show so I am curious how much they had to compensate on Younger for it. The show is largely about fashion so I don't doubt they found the most creative ways possible.
I'm embedding the clip here because on the couch with Hilary is Sam Richardson who plays my favorite character from VEEP, Richard: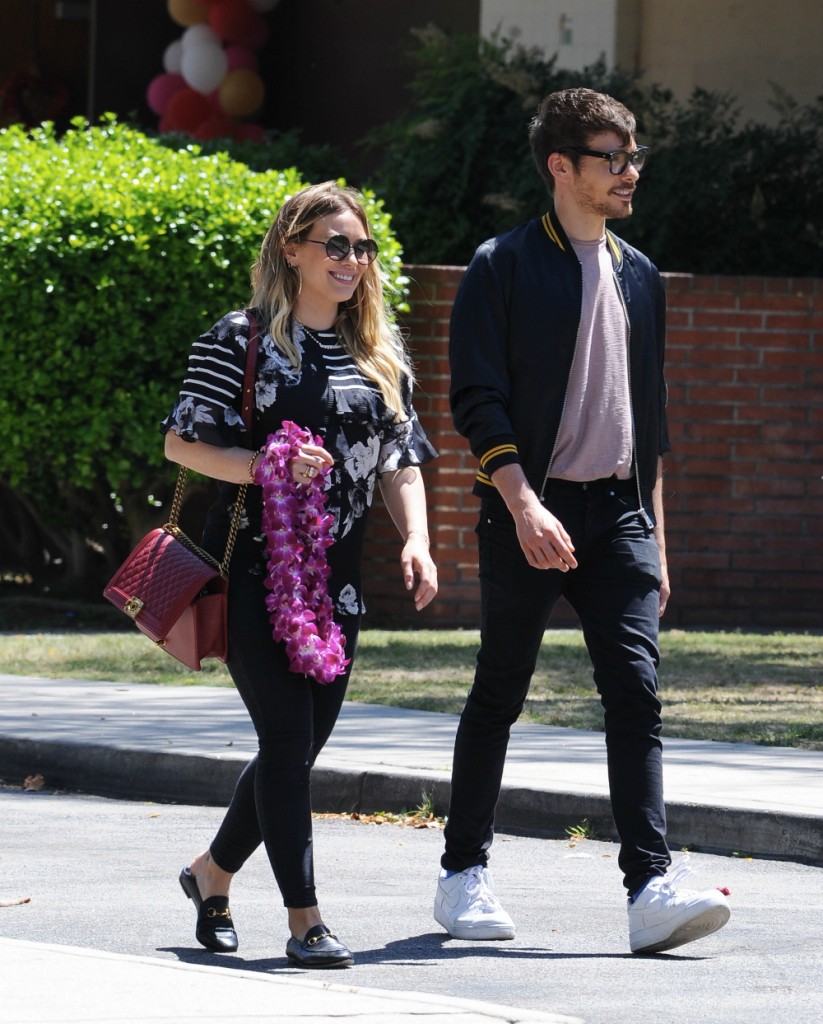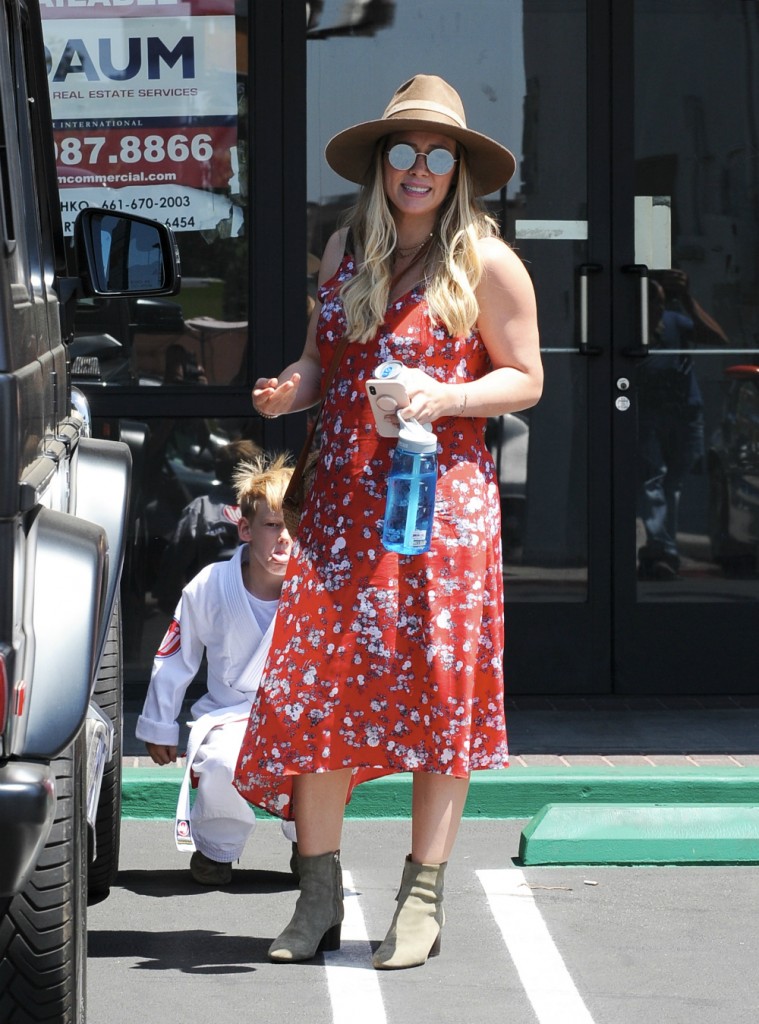 Photo credit: Backgrid, WENN Photos and YouTube