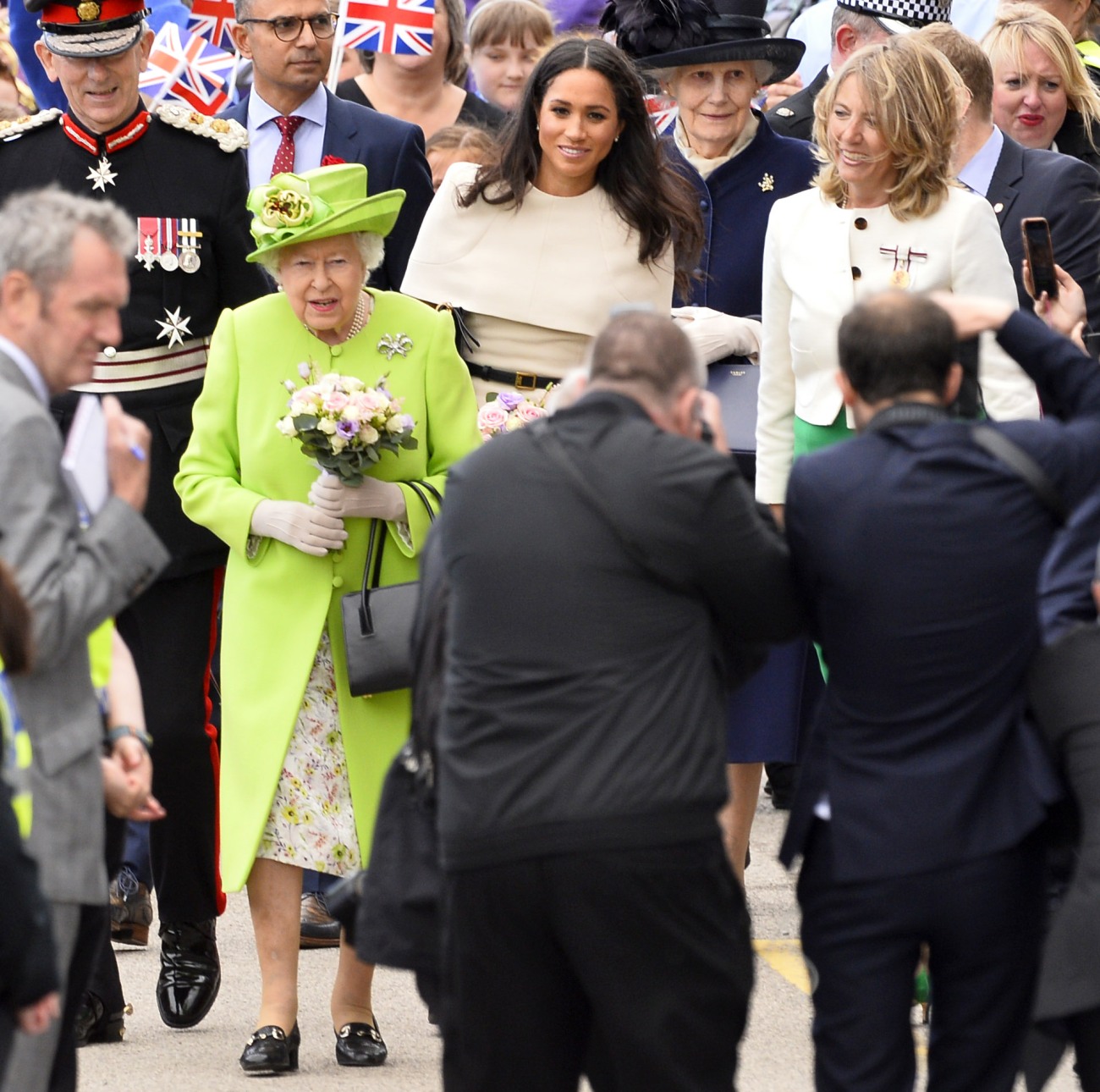 We've been gearing up for this all week! The Queen is personally taking the newly-minted Duchess of Sussex under her wing. Less than one month after Prince Harry and Meghan's Windsor wedding, Meghan is performing her first outings with the Queen! And Harry's not around, so if Meghan has any questions about protocol, she literally has to ask the Queen. Meghan and the Queen traveled overnight by Royal Train. Here are some photos from their first stop in Runcorn.
Meghan wore a shoulder-covering, demure and somewhat boring Givenchy dress. She wore Givenchy on her wedding day too, but again, it's worth noting that the famous French fashion house is currently being helmed by British designer Clare Waight-Keller. Personally, I don't care for this dress at all, but I appreciate the fact that Meghan was not trying to be some style-maven today. Her goal was to look conservative and covered up. The Queen wore Stewart Parvin – a suit that can only be described as neon lime.
Meanwhile, E! News claims they know the mystery locale of Meghan and Harry's honeymoon. Well, they actually don't have it nailed down, E! News just says that Meg and Harry "traveled into East Africa and visited more than two countries. Their activities ranged from safaris and outdoor adventures to lying in the sun." We could tell that Meghan got some sun, which made me think that they had gone to some beach somewhere, but I guess not.
Please enjoy these photos of Meghan and the Queen looking like they get along quite well.
Photos courtesy of WENN, Getty.