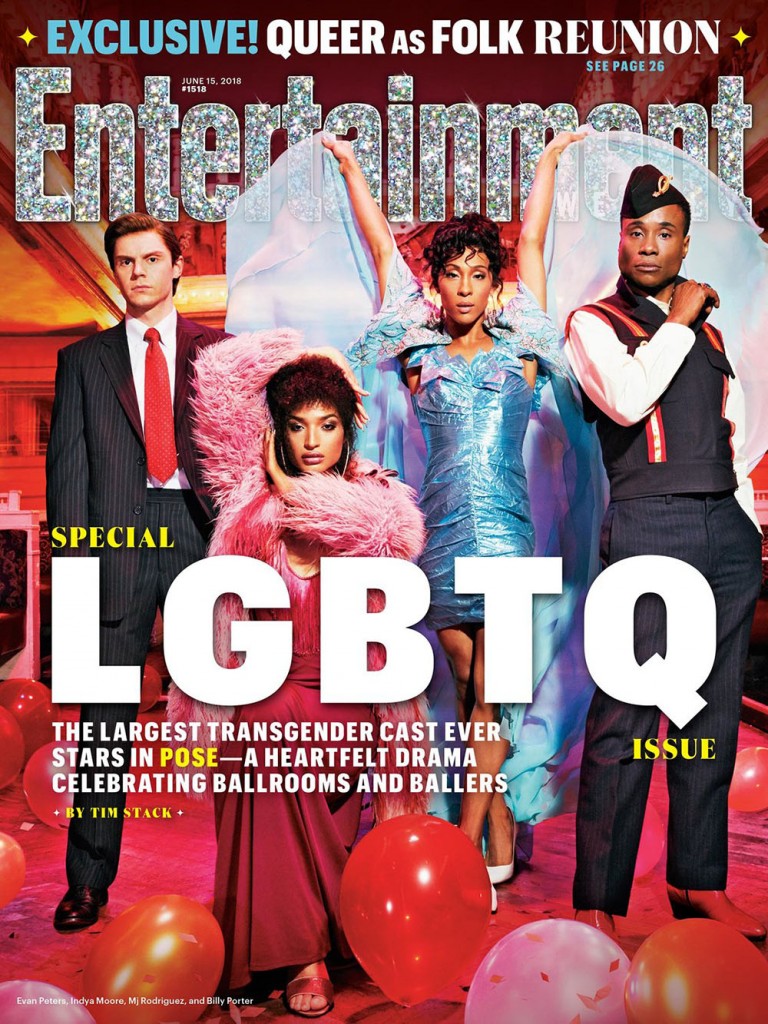 Have you watched Pose? I think it's an amazing show. The series, which airs Sunday nights on FX, is set in 1987 New York City and focuses on the LGBTQ community and its legendary ball scene, which came to the world's attention in the fabulous 1990 documentary Paris is Burning. Ryan Murphy reunited with his American Horror Story and Glee collaborator Brad Falchuk and newcomer Steven Canals to create the show, which has gotten great reviews and has a soundtrack to die for.
Cast members Billy Porter (Pray Tell), Mjj Rodriguez (Blanca), Indya Moore (Angel) and Ryan regular Evan Peters (Stan) are on the cover of Entertainment Weekly's annual LBGTQ issue. In addition to some other amazing photos, the issue also includes an interview with Ryan, who chose to create a series dealing with the LBGTQ community because he feels, "It's a community that has always needed champions and advocates, and I thought now is the perfect time." He added:
"I think the power of television is incredible. I feel like if you put characters in front of viewers, even if they're not like you, but you learn about them and you love them, it will change your worldview and lead to acceptance. I've seen it."
Ryan made sure the community he portrays on television is representative of the folks in front of and behind the camera. The show employs more than 140 transgender actors and crew. In addition to Mj and Indya, Ryan cast transgender actresses Dominique Jackson (who plays the Alexis Carrington-esque Elektra), Hailie Sahar (Lulu), and Angelica Ross (Candy). Author Janet Mock and Transparent's Our Lady J, serve as producer-writers. And, it appears Ryan and Steven are continuing to add to his Pose talent pool, telling EW:
"We keep adding more and more and more trans characters because there are so many of them who want to work and are talented but can never have the opportunity, and opportunity is everything," says Murphy.

Adds Canals: "Anyone who would say that there isn't enough trans talent out there really has not tried and not looked hard enough. There's an abundance out there that is untapped."
The actors are proud to be a part of the show as well. Billy Porter, who won a Tony for his role as a drag queen in the musical Kinky Boots, said the show feels inclusive. "As a black, out gay man, I've never felt part of the conversation — this is going to make us part of the conversation." And the beautiful Indya, a model-turned-actress in her first major television role, echoed her co-star's sentiments:
"This show is my heart and my soul. To the healing that it brings up, to the stories that it tells and the solutions that it brings to the table. This show is an evolution that I've lived through and that I still am going through. And it's going to impact the world in ways that we've never seen before."
[Quotes via Entertainment Weekly]
Increasing the visibility and representation of these often marginalized groups on TV isn't Ryan's only goal with Pose. He announced on Twitter last month that he is donating the profits from the show to LGBT charities, including Sylvia's Place, the Sylvia Rivera Law Project, and the Peter Cicchino Youth Project. He told Variety:
"We've entered this area of television as advocacy and I've seen the difference you can make in people's lives by showing up for them, caring for them, and helping them in any way that you can."

"The thing that struck me in talking to so many of them, was how much they've struggled, how under attack they feel, how many of them find it difficult getting healthcare, and finding jobs," Murphy continues. "I just decided I need to do more than just making a show for this community. I want to reach out and help this community."
I am donating 100 percent of my profits from my new FX show POSE towards trans and LGBTQ charitable organizations. These groups do amazing work and need our support. Every day for the next 14 days I will highlight a group I'm supporting, and encourage you to do the same!

— Ryan Murphy (@MrRPMurphy) May 9, 2018
If you're looking for a new summer obsession, I highly recommend Pose. The cast is fantastic, especially Indya, Mj and Dominque, who is currently waging war against Coach. The stories are wonderful and the soundtrack is magic. The third (of eight) episodes airs on Sunday, so you've got time to catch up.
photos: Entertainment Weekly, Getty Images