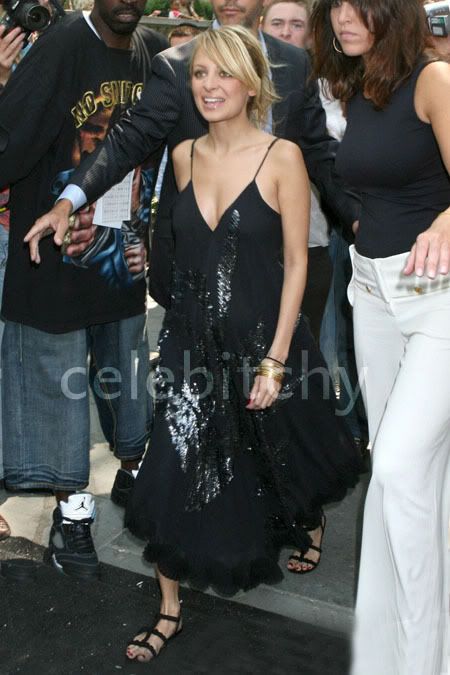 Nicole Richie has postponed her planned wedding to Joel Madden amid concerns that she is taking on too much before the birth of their baby. Joel's twin brother Benji Monk is about to marry his fiance, Sophie Monk, and word is that Joel wanted to have the weddings close together. Nicole put a kibosh on those plans due to stress.
Nicole successfully completed her whopping 82 minutes in jail for her second DUI and should be relatively stress-free apart from the fact that she's due to give birth in January. Still, she didn't want to risk it by throwing a big wedding now. I bet she just didn't want to look "fat" in her wedding dress:
25 year-old [Nicole Richie] is refusing to have any sort of ceremony until after she gives birth to their baby in January 2008. "Everything is getting too stressful for Nicole," says a friend of the celebutante. "Having a baby is the most important thing right now, and she knows it. She's emotionally and physically exhausted, and the thought of organizing a wedding it too overwhelming."
[From Star Magazine, print edition, September 17, 2007]
The article also calls Nicole the "Yoko Ono" to her fiance's band, Good Charlotte. She is said to be annoyed at the the groupies that surround her man and his bandmates and to nag him constantly about it. They quote a source who says "When Nicole is around the rest of the guys and their girlfriends, she is hard to deal with and not nice at all. This causes tension in the band that was never there before."
Meanwhile there is a blurb this this week's Enquirer that may explain why Paris Hilton was so quick to call Christina Aguilera "the most beautiful pregnant woman in the world." They say that Nicole was deliberately cutting Paris off the guest list at her now-canned nuptuals because she was acting like a bitch as usual:
Paris Hilton [asked] "Is Joel Madden really the baby-daddy?" Clucked an insider: "Nicole says it's the most insulting thing she's ever heard – but even Paris has the nerve to ask the question!" How does Nicole respond? "With a salty eff-you.. then she cross them [Paris] off the list for her wedding!"
[From The National Enquirer, print edition, Mike Walker's column, September 17, 2007]
It's a shame that bitchy back-biters like Nicole and Paris can't be friends. They have so much in common.
I'm glad Nicole cancelled her wedding until after the birth of her baby. That way, we'll be spared a lot of fluff news about her until January when she's due.
Here is Nicole going to a fashion show at Bryant Park on 9/8. Thanks to Splash News for these pictures.