Jennifer Garner Instagrammed tributes to her dad and her children's dad, Ben Affleck, on Father's Day. She called their kids "lucky" and she was vague but nice about his parenting, writing that their kids were lucky to have a dad who "loves them the way you love them." It was similar to the way she's behaved throughout their separation. (And the way she's described herself behaving, through sources.)
US Magazine covered that story about Garner's Father's Day posts and they had some more insider quotes about what's happening with her. Apparently these quotes are from April, when Garner visited Affleck on location in Hawaii, but I missed them at the time. People are understandably skeptical about US following their acquisition by American Media, but remember they're the outlet that had exclusive details from her side after Affleck slept with the nanny on their family vacation in 2015. US drops the news again that Garner is seeing "a very special someone" and is ready "to give love another try." I wonder if she met him while she was working on Peppermint or that Camping show she's doing for HBO. I bet he's someone connected to one of those projects. Here's US's quotes:
Earlier this year, Garner visited her ex on location in Hawaii for a joint Easter celebration, however, a source told Us Weekly that the reunion was strictly for their children.

"Jen was planning on only spending a few days in Hawaii with Ben and the kids, and then leave them with the nanny so that he could have quality time with them," the source told Us at the time. "Easter has always been very important to Jen and they typically go to church as a family."

The insider added: "A few weeks before the kids' spring break, Jen decided along with Ben that she would spend a bit more time on the island than she originally planned. This was only done because of the kids. Ben and Jen are spending no time together alone without their kids, this absolutely isn't a romantic trip for them. Ben is very serious with Lindsay, and Jen is enjoying dating a very special someone back in Los Angeles."

Affleck is currently dating Saturday Night Live producer Lindsay Shookus. The two went public with their relationship in July 2017. Garner, meanwhile, recently began dating again. A source told Us in March that "Jen is ready to go with her feelings and give love another try."
Reviewing our past coverage, in March Garner was rumored to be dating a lawyer and she was seen out with a "mystery guy" in February, although outlets quickly forget about that. (Honestly I forgot about that.)
How great would it be if Garner started doing pap walks with her new man? You know he's tall, dark, handsome and much more sober than her ex. (Although that's truly not saying much.) I would like to see her premiere him right around the time Peppermint is out in September. I also think that her divorce will be finalized around that time. I picture her in my mind, smacking her hands together like she's wiping off the dirt and walking away in heels, a slight grin on her face. Look at her style lately, she has her groove back. (I swear I wrote all that before I saw these photos of Garner at Violet's graduation.)
Garner just posted this video ad for her baby food line, Once Upon a Farm, which is now at Target. I'm thinking that part of the deal with Target involved this kind of cross promotion on social media. She has almost two million followers and this video has received almost a million views in less than 12 hours.
This is obviously not the guy, it's just Garner joking around with a dad at Violet's graduation. Compare her expression to Affleck's at the same event, below.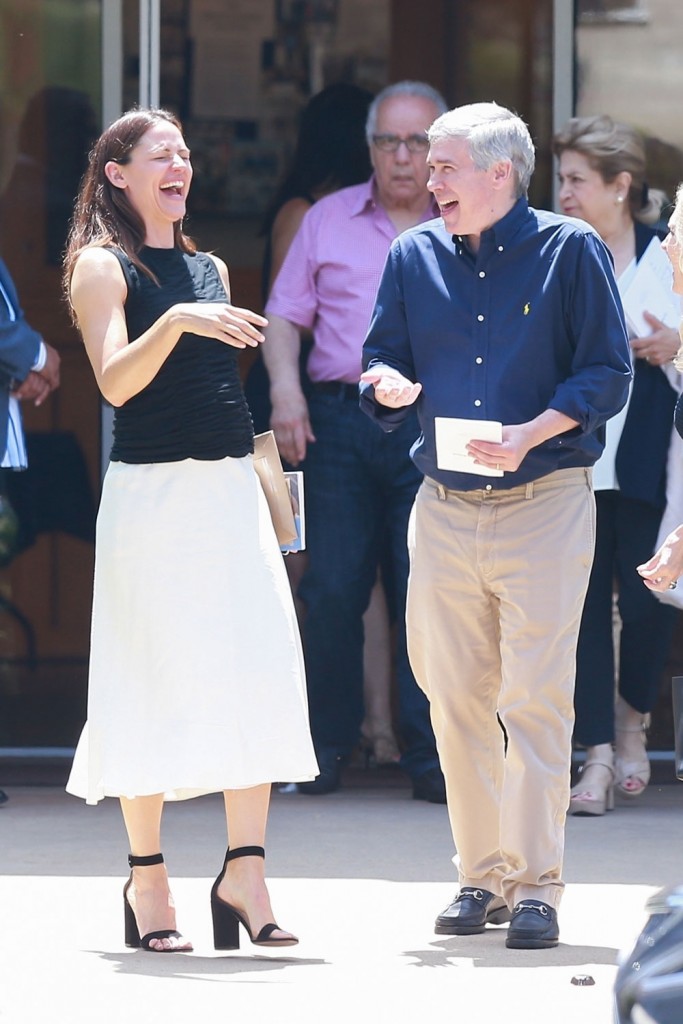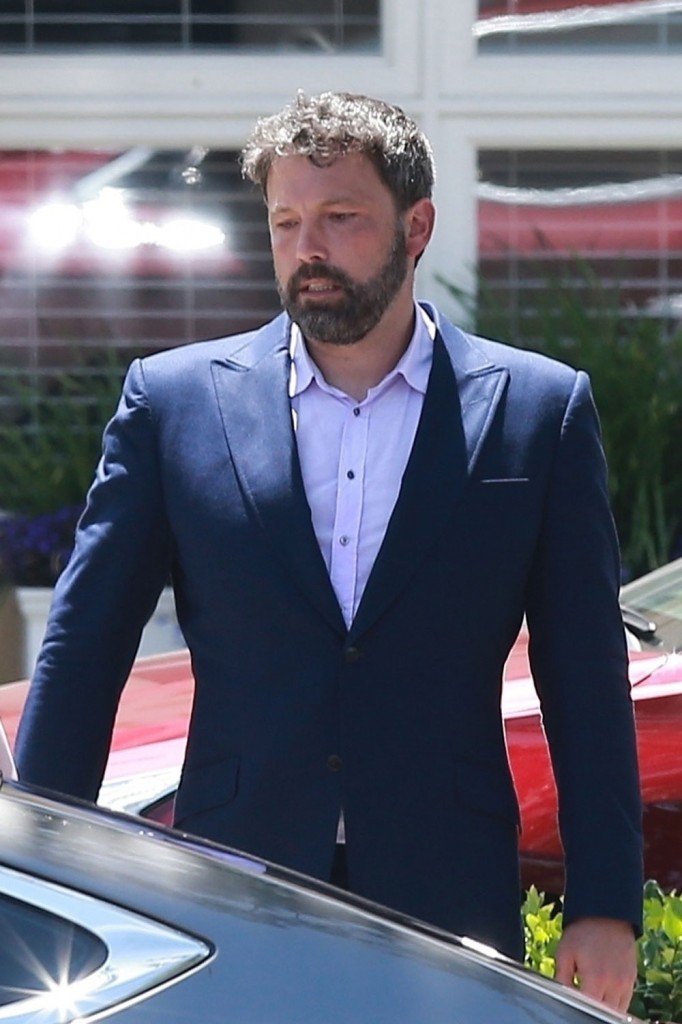 Photos credit: Backgrid