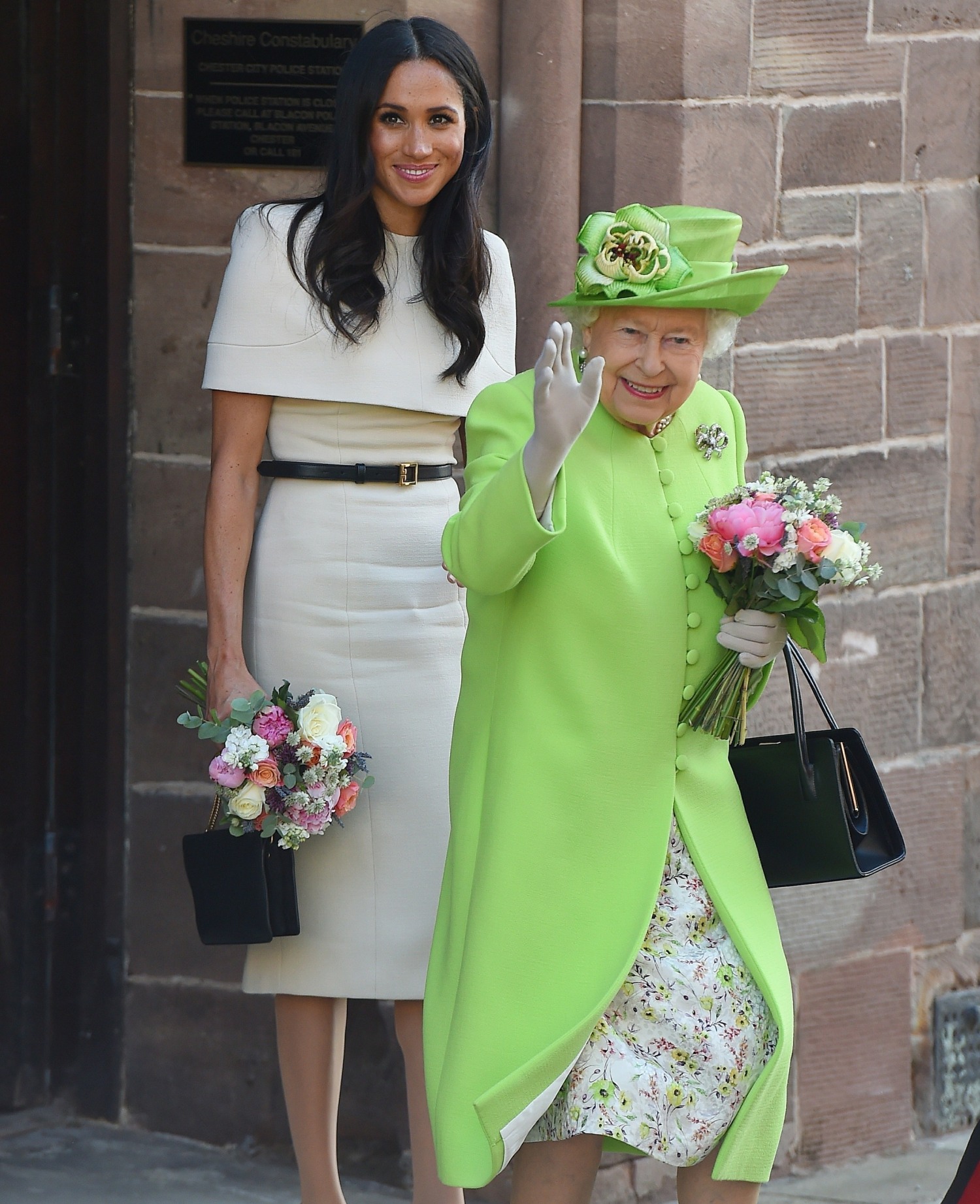 As we saw last week, Queen Elizabeth adores her new granddaughter-in-law, the Duchess of Sussex. The Queen invited Meghan to travel overnight with her on the Royal Train, then they did a day of activities with each other, with no buffers (no Harry or Camilla or whomever). It was widely seen as the Queen giving a major stamp of approval to Meghan, and it worked for the most part. I'm sure that there will always be people who criticize Meghan as an uncouth American who has no business being married to a prince, but the Queen's public approval of Meghan did a lot to silence the pearl-clutching old-guard royalists. Tom Sykes at the Daily Beast has a piece about why the Queen has grown so fond of Meghan so quickly – you can read the piece here, and here are some highlights:
Royal writer Christopher Andersen on how Meghan's love of the Queen's corgis helped her very quickly: "Everyone in the Royal Family, without exception, detests the Queen's corgis, and the corgis return the favor. Charles, Philip, Anne, Andrew, Edward, William, Harry, all have gone on record saying they cannot abide Her Majesty's dogs. They bark, they nip, they pee everywhere, and they are famous for sweeping into a room and tripping people up. But they love Meghan. And the Queen has practically adopted Meghan's adorable rescue beagle, Guy."

Anderson says Meghan showed the Queen a ton of respect from the first moment: "Meghan is quite articulate and thoughtful. To put it bluntly she comes across as a class act compared to some of the other in-laws the Queen has had to contend with. Meghan apparently asks all the right questions. She seems eager to learn all she can about England and the dynasty she's now a part of."

Robert Lacey on the importance of Meghan's invitation to go overnight on the Royal Train: "Being invited to travel on the royal train is a completely different level of intimacy to being asked to travel on some billionaire's private jet. It's more like being invited to stay at someone's private home. It's a real gesture of inclusion, since it is very much the Queen's space, and she wouldn't share that space with just anyone. Of course, we can never really know how much of all this is personal, and how much is part of the job—welcoming a recruit who is very good business for the family image. But she and Meghan do genuinely seem to have hit it off. Meghan has clearly made Harry happy, and that has made the queen happy as well."

On what this is really about: The significance of Meghan being invited to spend a night with HM on the royal train won't be lost on those courtiers who continue to grumble, with thinly disguised racism, about the royal family letting an outsider like Meghan in. She's more than good enough for me, the queen is not-so-subtly stating, so get over yourselves. In setting her face against such small-mindedness, the queen is playing her own very significant part in dragging the House of Windsor into the modern age.
Don't hate me but I actually agree with Sykes that there's a performative quality to what the Queen is doing, and I also think it's about race. I think that's why the Queen and the royal courtiers fast-tracked Meghan's journey to duchess-hood too – because they wanted to be SEEN as publicly embracing Harry's marriage to an African-American woman. They know that long-term, this helps The Firm's image and it makes them look more inclusive and, dare I say, woke. Now, that being said, of course I think the Queen is genuinely fond of Meghan too. I think the Queen appreciates that one of her favorite grandsons married a grown-ass woman who worked for a living and lived in the world, as opposed to marrying some flighty aristocratic girl.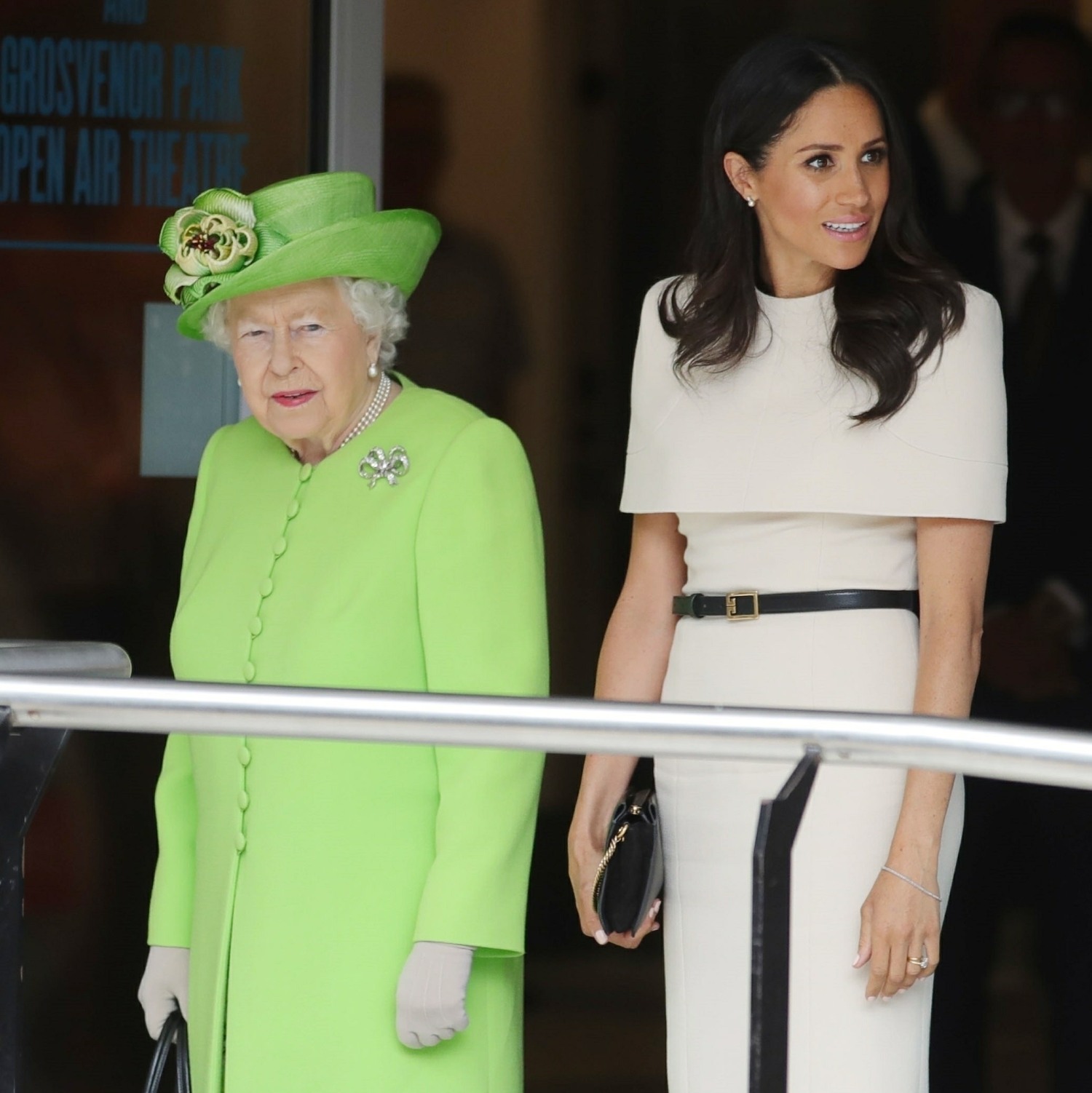 Photos courtesy of Backgrid.