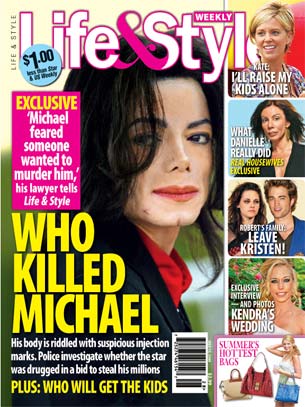 Michael Jackson is going to be on the cover of every magazine this week. His image has already claimed Time, Newsweek, OK!, National Enquirer, and he shares a split In Touch cover with Farrah Fawcett. So it's no surprise that Michael is Life & Style's cover, but I found the article somewhat interesting. The cover blares out "Who Killed Michael" with a pull-quote from self-described "family lawyer" Brian Oxman, who claims "Michael feared someone wanted to murder him".
Oxman is the same person who went a round of interviews on CNN and MSNBC just a couple of hours after Jackson died. In those interviews, Oxman played the media-wh-ring Cassandra, describing with a smarmy faux-humility how he was the one person in Michael's life who was really looking out for Michael's best interests, and that he had "warned the family" about Michael's drug use and abuse. Oxman may have been telling the truth (which I doubt) but he came across as gross, and it makes sense that he would tell his story to a budget rag like Life & Style. The bulk of the story seems to have come straight from Oxman too, and Oxman paints a conspiratorial picture:
"He feared somebody wanted to kill him," Brian Oxman, Michael's family lawyer tells Life & Style. "He was even concerned people would kill him to somehow try to take control of the Beatles back catalog."

In the hours after Michael Jackson was pronounced dead, the world seemed to come together to grieve. But a dark new controversy was already starting to emerge. Two days after the LA County Coroner's office performed a routine autopsy, Jackson family members announced they were demanding a second autopsy. Why the need for another examination? Life & Style has learned that even before Michael's sudden death, the star's family believed Michael was deliberately being kept in a drugged state by people who wanted to get their hands on his money.

"He appeared to be taking a variety of strong narcotics, and many of those drugs were obtained in the names of his staff and associates," an insider tells Life & Style. "While the people around him insist they were acting in his best interest, the drugs were used to control and manipulate Michael — and the drugs eventually killed him." And now that Michael's gone, "his family has asked the LAPD to investigate [whether there was any thing unusual about his money trail]," says the insider. "A team has already started probing his finances."

Michael was in such a fatigued, unhealthy state not only because of anorexia–insiders say he was limiting himself to just one meal a day to stay thin–but because those in his inner circle were pushing him to work in order to pad their own wallets. "Michael was under massive mental stress because of the pressure of the tour," says the insider. "He kept saying that he owed a lot of money and people would kill him if he didn't do the concerts. He felt trapped and terrified."

Fulfilling his commitment wasn't the only thing scaring Michael. "He feared somebody wanted to kill him," Brian Oxman, Michael's family lawyer tells Life & Style. "He was even concerned people would kill him to somehow try to take control of the Beatles back catalog."
[From Life and Style]
Was someone really trying to "kill" Michael? I doubt it. What I do think is that Michael died because of the negligence of many (including family members), the lack of professional and personal ethics of several doctors, and lastly, Michael died because he couldn't shake his own demons. Just my thoughts on the matter.
The question of Michael's money is something I've always found fascinating, but I don't think anyone was going to "kill" Michael to somehow get their hands on his song catalog. TMZ is reporting that as of 2007, Michael $567.6 million in assets, the bulk of which was the publishing catalog, which includes more than 200 Beatles songs. Of course, Michael also had millions in debt – so my guess is that his estate is somewhere in the vicinity of $300 to $500 million dollars, with real estate values being a factor. The estate will be worth a lot more if the executors decide to hold an auction for part or all of the publishing catalog. Would someone kill him for that?
Thanks to CoverAwards for these magazine covers.