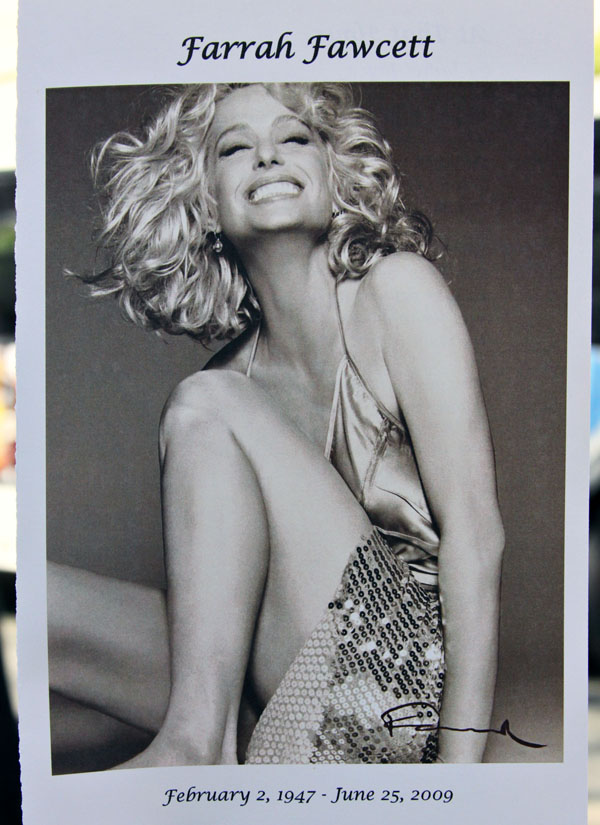 Farrah Fawcett's funeral program. Credit: Fame Pictures. Note: We do not run photos of funerals that are not open to the public
A private funeral service was held yesterday in LA for Farrah Fawcett, the beloved actress and icon who died from cancer last Thursday at the age of 62. Farrah's longterm partner, Ryan O'Neal, and her best friend, Alana Stewart, were by her bedside in the hospital when she passed and both paid loving tribute at her funeral. Farrah's son, Redmond O'Neal was granted a brief leave from jail to attend his mother's funeral, where he was a pallbearer.
US Weekly's details of the service are a little heartbreaking and it's hard to read the touching poem from funeral program and think about this dear woman without getting choked up:
A private funeral was held Tuesday at the Cathedral of Our Lady of the Angels in Los Angeles for actress Farrah Fawcett, who died June 25 after a long battle with cancer.

Her longtime partner Ryan O'Neal and best friend Alana Stewart both wore black as they arrived at the Roman Catholic cathedral around 4 p.m. PST for the private service.

Her former Charlie's Angels costars, Kate Jackson, Jaclyn Smith and Cheryl Ladd (who replaced Fawcett on the hit 70s show) also attended, as well as actor Ernie Hudson and Garry Shandling. E! News reports model Cheryl Tiegs, novelist Jackie Collins, Dynasty star Joan Collins and Fawcett's ex Lee Majors, with whom she recently reconnected after more than two decades of silence, attended as well.

See Us' photo tribute to other stars who have died too soon

Along with dad O'Neal, Fawcett's son Redmond, 24 – who was allowed to leave jail (where he is serving a sentence for drug-related charges) to attend the service – helped carry her casket, covered in yellow and orange flowers, inside the funeral home.

The program featured a photograph of Fawcett, in a sequined dress, smiling. Inside, the James Joyce poem "At That Hour" was featured:

Play on, invisible harps, unto Love,
Whose way in heaven is aglow
At that hour when soft lights come and go,
Soft sweet music in the air above
And in the earth below.

According to the program, the service opened with an "Amazing Grace" procession.

Redmond then gave the service's first reading, with O'Neal next reading the 23rd Psalm.

The Richard Marx-Linda Thompson song "To Where You Are" played before Alana Stewart and Fawcett's physician, Dr. Lawrence Piro, gave eulogies.

Fawcett passed away at age 62 at Saint John's Hospital in Santa Monica, Calif., last Thursday — just hours before Michael Jackson. Fawcett was with O'Neal, Stewart and Piro at the time of her death.

"Although this is an extremely difficult time for her family and friends, we take comfort in the beautiful times that we shared with Farrah over the years and the knowledge that her life brought joy to so many people around the world," O'Neal told Us after Fawcett's death.
[From US Weekly]
While many people are worried that Farrah's passing hasn't received enough press in the wake of Michael Jackson's unexpected death, the tributes are pouring in for her. People loved Farrah and only have kind, effusive words for what a wonderful woman she was and how she touched them. Farrah faced her illness as she faced life – with determination, strength and grace. By letting us see some of her final moments, she showed the public that our decades-long fascination with her was based on so much more than her supernatural beauty.
Bless you, Farrah. I'm not a religious person and most days I'm not sure what I believe, but I hope you're in a better place now. You fought a long, hard battle and inspired so many people.