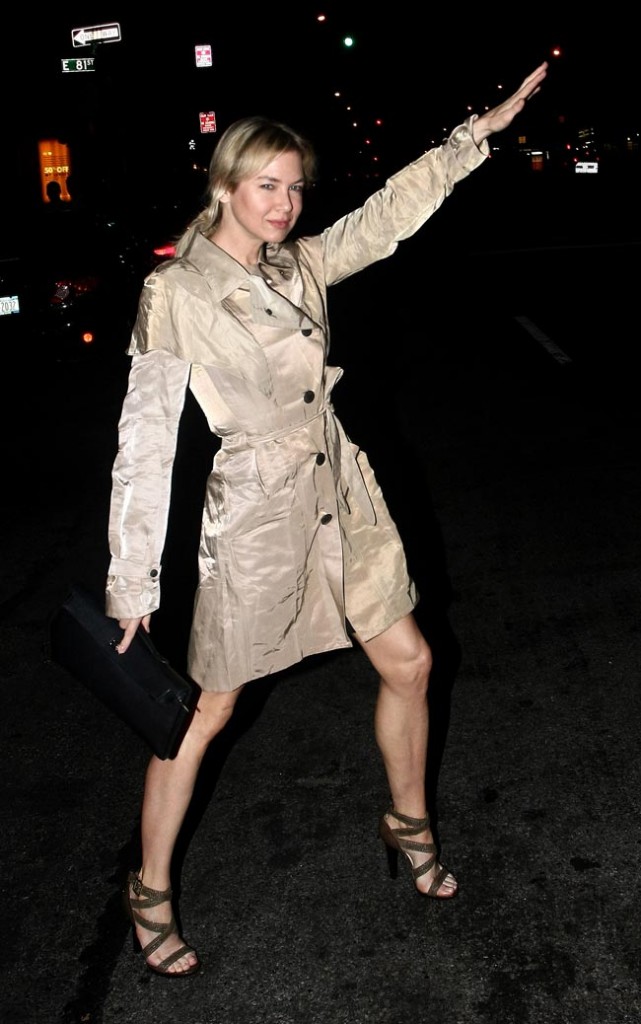 Renee strikes a pose after her date
Is Bradley Cooper's agent setting him up with top actresses for the publicity? Do these arguably emotionally vulnerable women expect romance only to be met with tabloid headlines or are they complicit in this facade?
A couple of weeks ago, Cooper went on a date with Jennifer Aniston in New York that just happened to be captured by the paparazzi. A very suspicious super positive profile of Cooper then appeared in People Magazine a few days later – "He can cook! He can speak French! He's a college graduate!" The date looked like a PR stunt to me in light of that "Bradley Cooper is awesome!" article that soon followed. Cooper later said he was "just friends" with Aniston. I thought there might have some feelings for her by the way he worded his statement, but most of you took it like he was giving her the brush off.
Cooper's latest A-list conquest is none other than Renee Zellweger, who, like Jennifer Aniston, is a 40 year-old single actress who is often portrayed in the gossip press as a sad spinster who can't keep a man. In Zellweger's case she avoids a lot of publicity by keeping herself scarce, though. Now Zellweger has hooked up on at least one date with who we're being told is the latest up-and-coming Hollywood property. Is Zellweger working to change her image too or was this a genuine date? If so, how did the paparazzi find them? At least they didn't pose together afterwards:
If there is still anything going on between Bradley Cooper and Jennifer Aniston, it certainly didn't seem to be on the actor's mind on Tuesday night as he enjoyed a romantic Manhattan meal with Renée Zellweger.

The pair, who co-star in the upcoming Case 39, were spotted together at Antonucci, an elegant Italian restaurant on NYC's posh Upper East Side, where one diner tells OK! that this was no friendly chow session.

"He pulled her chair out for her when she sat down and he kissed her on the hand," says the witness. "If they're just friends, they were being awfully affectionate!"

Renee and Bradley were seated at a corner table, where diners describe their behavior as "flirty," "relaxed" and "cute together."

In a white Henley, jeans and red sneakers, the He's Just Not That Into You Hunk was more casually dressed than his dinner date, who sported a thigh-length black, bell-sleeved dress and strappy shoes with very high heels and carried and Hermes clutch.

"Throughout the dinner they were playful and flirty," a witness tells OK!. "She played with her hair a lot, and she would often touch his arm when she was making a point about something." The lucky celeb-spotter also reveals to OK! that Renée even leaned forward across the table on a few occasions to play with his napkin.

"At one point, he seemed to want to whisper something to her as if it were a secret," says the diner. "He spoke into her ear and then they both started giggling."

Perhaps not wanting the night to end too quickly, the pair remained at their table, sipping tea and chatting long after they finished their food.

When the check arrived, sources tell OK! that both Brad and Renée reached for it. "She told him she wanted to buy him dinner to pay him back for something," says the witness. "And when he opened the check, it already had her card in it!" We're told this little surprise caused Brad to blurt out, "You [expletive]-er!"

Witnesses also say that the 40-year-old Oscar-winner jokingly referred to herself as a "cougar" because of Bradley's youthful 34 years.

After conferring over who was supposed to call whom next, the dining duo did their best to throw off the waiting paparazzi by leaving five minutes apart and hopping into separate cabs.
[From OK! Magazine]
Kaiser pointed out to me that both Jennifer Aniston and Bradley Cooper are clients of Creative Artists Agency. There have been stories that CAA has tried to set Aniston up with guys for PR purposes. Zellweger used to be with CAA, but she just dropped them in mid June and moved to the William Morris Agency. Surely she still has contacts there, though, and I would bet that someone put a call in to find another date for Bradley. At least Aniston has had enough of the pretending and I would bet she gave him the cold shoulder after the "friends" comment. Zellweger needs the press though after her last movie, New in Town, didn't do that well at the box office. She's got another film coming out in limited release at the end of August, a 1950s era comedy with Chris Noth and Kevin Bacon called My One and Only. This tabloid relationship will be long over by then, though.
Renee Zellweger and Bradley Cooper are shown after their date last night in NY. Credit: Sean Harding/INFphoto.com