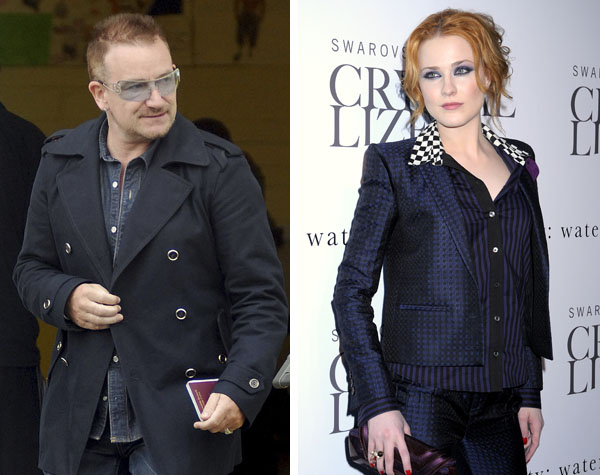 It's no secret that I don't really care for Evan Rachel Wood. She's not really that bad, but there are just a few little things that grate on my nerves about her. However, after I read her ex-boyfriend Marilyn Manson's recent comments about her – that he wanted to "smash her skull in" – I had been feeling more sympathy for her. Anyone who pissed off Marilyn that much was probably doing something right.
Now I don't know what to make of Evan after reading this interview excerpt she gave to the London Times (story via OK! UK). Evan is about to star as Mary Jane Watson in the Broadway musical version of Spiderman. She's already dyed her hair red, and she should fit into the role pretty well. Bono and The Edge are writing the music for the show, and when Evan came face to face with them, she whined to them that their music was "depressing". Uh… I'm coming down on the side of "Evan is not worthy."
Evan Rachel Wood had harsh words for BONO and THE EDGE when she met them – she told the U2 stars to make their music less depressing.

The actress is set to take on the role of Mary Jane Watson in the new musical SpiderMan: Turn Off the Dark on Broadway, which will debut in February (10).

U2 frontman Bono and guitarist The Edge are writing new music for the musical – and Wood found herself giving them tips at a recent meet-up.

She tells Britain's The Times, "I was like, 'Bono, I know you want to save the world and everything, but in this song you're talking about poverty and world hunger and it's Broadway. Can we lighten this up a bit, can I just not sing this?"

"He was like, 'You're right, I know, we have to try, we have to try'."
[From OK! Magazine – UK]
I'm sure Bono was really like "Get away from me, little dumb girl." It sounds like Evan was criticizing the music they were writing for the Broadway show specifically, doesn't it? She wasn't really issuing a general complaint against U2's music in general. Because if she's whining about U2 in general, that's enough to make me Team Bono forever and always, and I have huge issues with Bono (all non-music related). Could it be possible that Evan has a point, though? Is Bono trying to force some songs about debt relief into the Spiderman musical? Sigh. Why can't U2 go back to writing songs that were iconic and you know… not about debt relief?
Evan Rachel Wood is shown on 6/26/09 at the Swarovski Crystallized Concept store grand opening in NY. Bono is shown on 6/6/09 going to vote in Dublin. Credit: WENN.com.