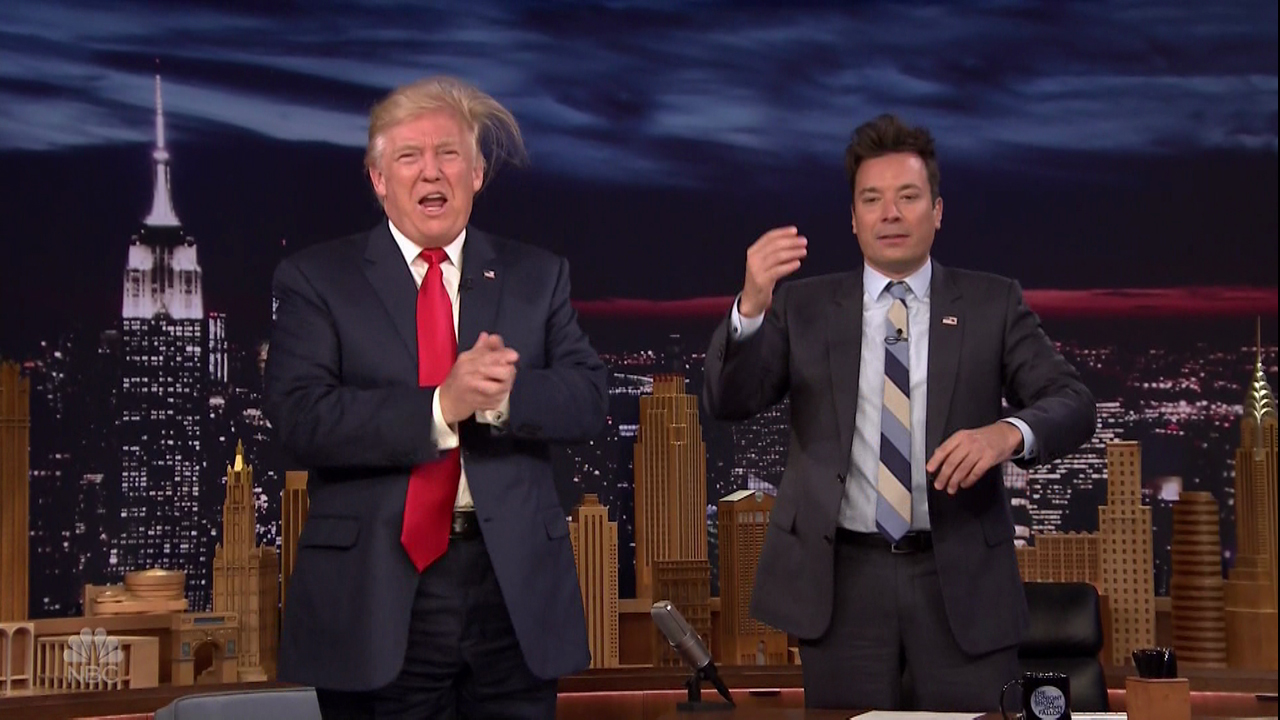 This post requires so much stupid backstory, and it's not even worth it because this whole thing is so stupid!! Ugh, this is just the worst week. Okay, the backstory. Let's do this. In 2016, Donald Trump appeared on the Tonight Show with Jimmy Fallon. Fallon has never done any kind of hard-hitting political interview in his life, so no one was really expecting Fallon to challenge Trump's ideas at the time. But I think it was shocking to see Fallon completely gloss over the fact that Trump had already said a ton of offensive bullsh-t about women, minorities, the disabled, and Gold Star families. Fallon treated Trump like a goofy reality star, and Fallon even ruffled Trump's hair. It was awful. Fallon never apologized for it either, insisting that he simply wasn't a political person and he wasn't going to do political humor or ask hard questions of any political figure.
Then, in a Hollywood Reporter podcast interview last week, Fallon was asked about the 2016 interview and this is what he said:
"It was definitely a down time. And it's tough for morale. There's 300 people that work here, and so when people are talking that bad about you and ganging up on you, in a really gang-mentality…" Choking up, he continues, "You go, 'Alright, we get it. I heard you. You made me feel bad. So now what? Are you happy? I'm depressed. Do you want to push me more? What do you want me to do? You want me to kill myself? What would make you happy? Get over it.' I'm sorry. I don't want to make anyone angry — I never do and I never will. It's all in the fun of the show. I made a mistake. I'm sorry if I made anyone mad. And, looking back, I would do it differently."
He comes across poorly, to say the least. But as soon as Trump heard that Fallon had some vague regrets, he tweeted this:
.@jimmyfallon is now whimpering to all that he did the famous "hair show" with me (where he seriously messed up my hair), & that he would have now done it differently because it is said to have "humanized" me-he is taking heat. He called & said "monster ratings." Be a man Jimmy!

— Donald J. Trump (@realDonaldTrump) June 25, 2018
After which Fallon donated to Raices, an organization which is helping out on the border with all of the children being kept in cages.
In honor of the President's tweet I'll be making a donation to RAICES in his name.

— jimmy fallon (@jimmyfallon) June 25, 2018
Fallon also devoted part of his monologue to his new beef with Trump last night:
Fallon made a lot of jokes about how Melania's Be Best campaign is a failure and how Trump should have better things to do. Interestingly enough, at the same time that Fallon was filming this, Trump was in South Carolina, doing another unhinged KKK-esque rally. He went off-script (if he even had a script) to whine about Fallon and other late-night hosts:
"Did you see Jimmy Fallon?" Trump asked his audience. "The guy screws up my hair, going back and forth. He was so disappointed to find out it was real. He couldn't believe it." About his hair, Trump joked, "If it's not your hair, don't run for office, folks." About Fallon, he lamented, "He apologizes for humanizing me. Poor guy, because now, he's going to lose all of us."

Continuing on down the late-night talk-show schedule, Trump weighed in on Late Show's Stephen Colbert who, if you can believe it, he cannot stand. "The guy on CBS, what a lowlife," Trump said. "Honestly, are these people funny? I can laugh at myself." Jimmy Kimmel, meanwhile, has "no talent," but would wait expectantly for Trump, opening the door and, to hear the president tell it, fawning over him. "Now I wouldn't do his show. That guy's terrible," Trump said of Kimmel. At least Fallon is still "a nice guy," Trump concedes. Sighs Trump, "He looks like a lost soul."
This whole thing is pathetic. Trump is a pathetic old megalomaniac and I continue to be so upset at all of the people who are STILL showing up to these KKK rallies.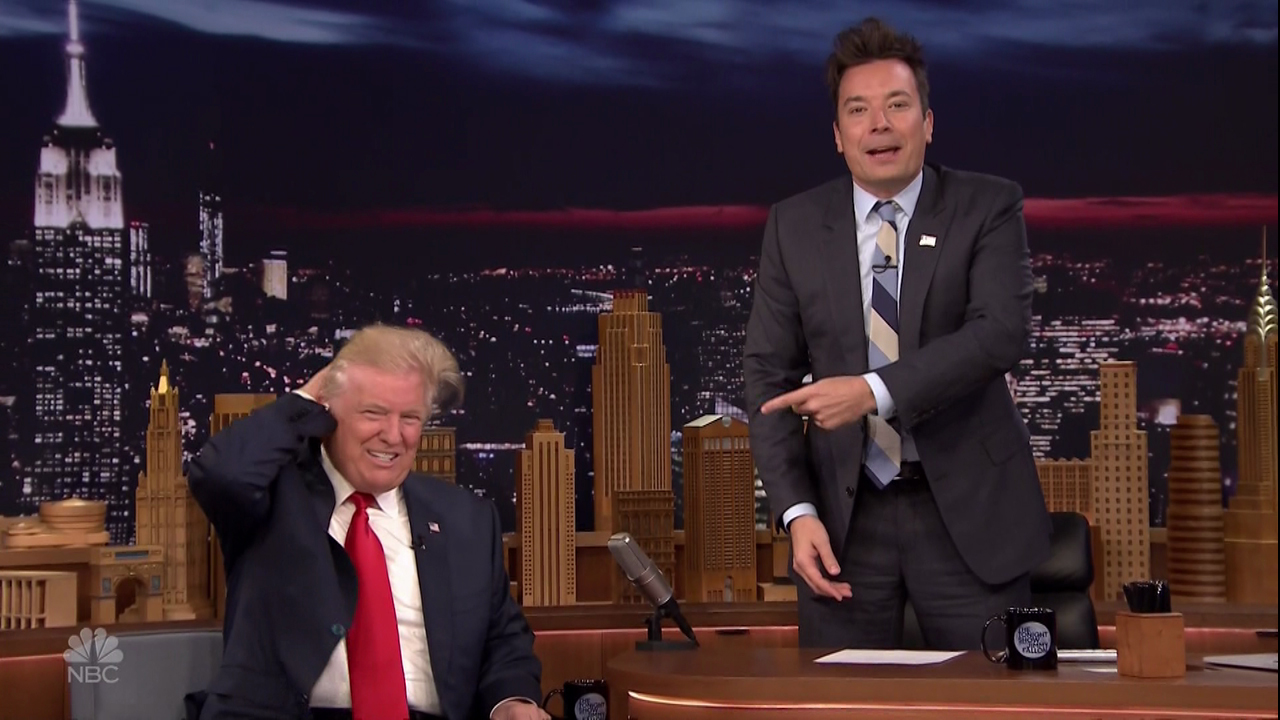 Photos courtesy of WENN, NBC.