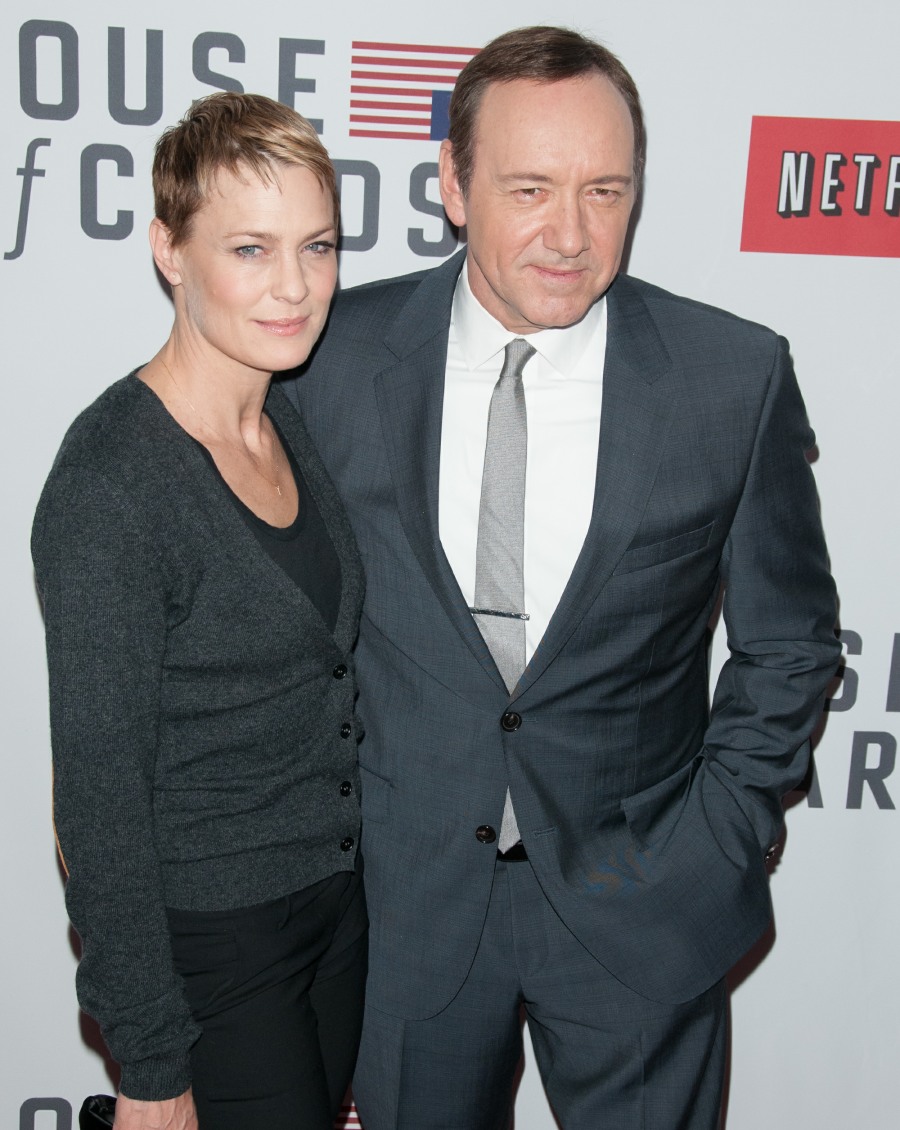 Given everything that came out about Kevin Spacey late last year, I wouldn't be surprised if some of the stories fell through the cracks. Once Anthony Rapp's story came out, the dominos fell hard and fast. Netflix suspended production on House of Cards, and executives came in to assess what was going on, and whether the show could survive. Unsurprisingly, Spacey had used the production as his hunting ground to harass and assault young men. Keep in mind that the show had been filming for years, and that many of the below-the-line employees said that there was a culture of silence with Spacey's abuse, and that they were always told to just shrug it off. Many wondered what Spacey's costar Robin Wright knew. Robin played his wife on the show, and while they were reportedly not the closest of costars, many did wonder if Robin was ever going to talk about it. Well, she is. Vaguely.
Robin Wright is speaking out about former House of Cards costar Kevin Spacey, months after sexual assault allegations were brought against him. In an interview with Today's Savannah Guthrie, airing on Monday, the actress, 52, opens up about her interactions with Spacey on set of the hit Netflix series.

"Was there any kind of red flag, or anything that would have made you think this was possible?" Guthrie inquires as Wright recalls, "Kevin and I knew each other between action and cut, and in between setups where we would giggle."

However, when the cameras were off, Wright says she did not interact with him.

"I didn't really– I didn't know the man. I knew the incredible craftsman that he is," she explains.
She says more in the clips I'm including below, and she comes across as someone choosing her words very carefully. I get the impression that she liked Spacey as an actor and as a person, and she's not going out of her way to take the victims' side, nor is she going out of her way to cape for Spacey. It's a weird balance to strike, right? Then again, we already put too much emphasis on "what does his wife/girlfriend say about all of this" – and now we're doing it about FICTIONAL wives too.
"I haven't heard from him, and I don't even know how to reach him." @RealRobinWright says of Kevin Spacey pic.twitter.com/F2EuKsmuA5

— TODAY (@TODAYshow) July 9, 2018
"Do you feel like Netflix did the right thing in cutting ties [with Spacey]?" @savannahguthrie asks @RealRobinWright pic.twitter.com/nCKCec8sEd

— TODAY (@TODAYshow) July 9, 2018
"This is a bigger, broader issue, I think, which is seduction. I don't care you are. It's about power, and once you overpower someone, that person then becomes vulnerable." @RealRobinWright talks harassment and #MeToo movement. pic.twitter.com/JzNVByuvg5

— TODAY (@TODAYshow) July 9, 2018
Photos courtesy of WENN.