As a "woman of a certain age", I make it a somewhat regular habit to seek out beauty advice from my peers…oh, who am I kidding? I scour the web trying to find whatever fountain of youth celebrities my age (and CHER) are drinking from to stay so gorgeous.
I've always thought model-turned-reality show judge Heidi Klum is one such radiant woman and I've tried to emulate her style to no avail (she makes a ponytail look elegant, on me, it looks like I overslept – no matter how hard I try to make it look neat). The woman who tried to bring blue mascara back (did that ever end up being a "thing"? I never got to try it). revealed to E! News that one of the tools in her beauty arsenal is actually (gasp) affordable.
The 44-year-old model and cover girl for Ocean Drive magazine told E! during a Miami Swim Week event that "I do like a scrub." She went on to say that "I believe it's good to exfoliate twice a week. You know, it keeps your skin rejuvenating, making new skin over and over again." Her scrub of choice is Aapri, which is available in drug stores in the United Kingdom (the US counterpart of it is St. Ives apricot scrub, which I currently have a tube of in my bathroom). She also claims that she wears minimal makeup, telling E!, "I try to keep it simple."
Heidi may love her scrub, but the professional skin care community is at odds over its benefits and possible damaging effects. The Cut spoke with skincare experts and dermatologists, and here's what they uncovered:
Skincare expert Paula Begoun believes:
"When you scrub skin with abrasive scrubs, they put micro-tears into skin. They make your skin more vulnerable to environmental damage, pollution, and sun damage." (She added that the scrubs could lead to inflammation that will prematurely age the skin.)

Manhattan dermatologist Dr. Dennis Gross is definitely not a fan:
"Scrubs are a primitive way to exfoliate. It's like using sandpaper on your face. If you look closely at the sandpaper surface, you'll see lots of scratch marks, and that's what happens on the skin."

Counterpoint, Beverly Hills dermatologist Dr. Howard Lancer (who lists Beyoncé among his clients): "I have all my patients get in the habit of using a physical scrub — what I call polish — every single day, as it actually teaches the skin cells to turn over more quickly, mimicking the action of youthful cells."
So, the debate will rage on. The dermatologists who aren't totally against scrubs just advise against using ones with large granules, like, uh-oh, St. Ives. I only use my apricot scrub on my body, as an exfoliant prior to applying self-tanner (don't judge me. I'm Irish, pasty and get a sunburn in the shade). As much as I want to look Klum-esque, I'm still wary about using scrub on my skin. I'm sure Heidi uses lots of other more pricey products as part of her skincare regimen.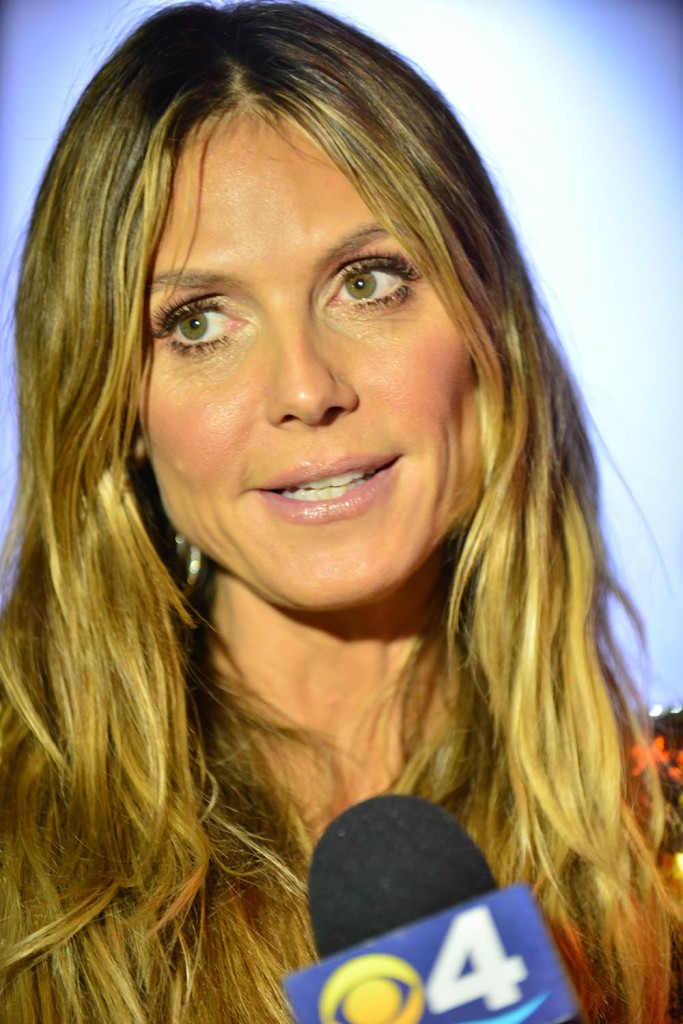 Photos: Getty and WENN