This week on America's Got Talent (but mostly singers) , it was time for the first round of Judge's Cuts and time for the acts that made it through the auditions to step it up. One act on Tuesday night's episode may have taken things a little too far.
Duo Transcend, an aerial act consisting of Tyce Nielsen and his wife Mary Ellen Wolfe, were one of the 18 acts vying for seven spots in the upcoming live shows. And, like many of the acts you find on these competition shows, they have a backstory designed to pull at the heartstrings. As Tyce points out in the pre-performance video package, "I'm legally blind in my right eye," adding, "One of the most important senses to have, especially doing what we do, I don't have it."
Despite this, the couple did put on quite an edge of the seat performance, to a really cool version of the Tears for Fears song "Shout." Things were going well until Tyce put on a blindfold and attempted to catch Mary while hanging upside down. He missed, and tried to grab her ankle. He wasn't able to get a grip and Mary hit the floor (actually a mat that was hidden from the show's camera)s. Cut to the couple's two-year-old son and (presumably) one of his grandmas, looking horrified. The judges, along with guest judge Ken Jeong (Community…never forget), and the audience screamed and hid their faces.
Judge Mel B. screamed "Nooooo!" (and then insisted there was going to be a Spice Girls reunion – okay, I was kidding about that) and Howie Mandel asked, "Is she OK?" Of course, Mary was fine (she landed on a mat, for Pete's sake). Mary asked if they could do the blindfold trick again and the judges all said no, with Ken adding, "This is not 'America's Got Perfection.' It's 'America's Got Talent.' Nobody can do this."
Simon Cowell added, "I don't think there's ever been a singer on any of our competitions who's been note-perfect. It still doesn't make them not amazing. It makes them human. And the consequences on this are slightly worse than falling off-key, whereas you nearly broke your neck. And the fact that you're nearly blind makes this incredible."
I'll admit it was an impressive act, and I'm sure the fall hurt, but she fell on a mat. The incident wasn't really a huge deal. I'm sure she's fallen dozens of times in rehearsal. It's just "reality show drama." It ups the ante – and I'd prefer danger over sob stories any day. And, I'm sure this, paired with the couple's backstory and cute child, helped them advance to the live shows, so there's that. At least they're not singers.
In case you were wondering, Ken Jeong used his Golden Buzzer to send the children's choir Voices of Hope straight to the live shows. Yep, more singers. With the exception of Tyra, who bestowed her Golden Buzzer on athletic dance troupe Zurcaroh it's been all singers. If I wanted to see singers, I'd watch American Idol. The only singers I have wanted to see go far this season are Oscar the singing dog (who got kicked off on Tuesday. For shame, judges.) and "International Superstar" Hans. OMG, Hans. I know he's Australian (I mean, "German"… wink wink), but he is truly the talent that America deserves. If he doesn't bring a smile to your face, you are dead inside. Hans' fate will be revealed next Tuesday and if he doesn't make it to the live shows, there will be WORDS.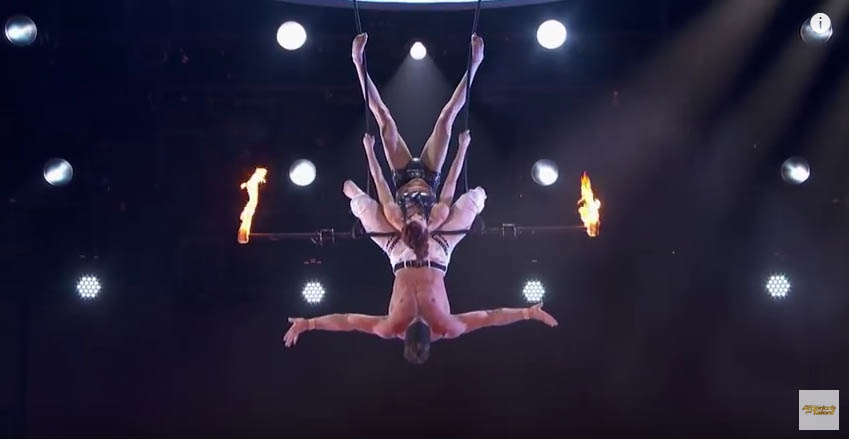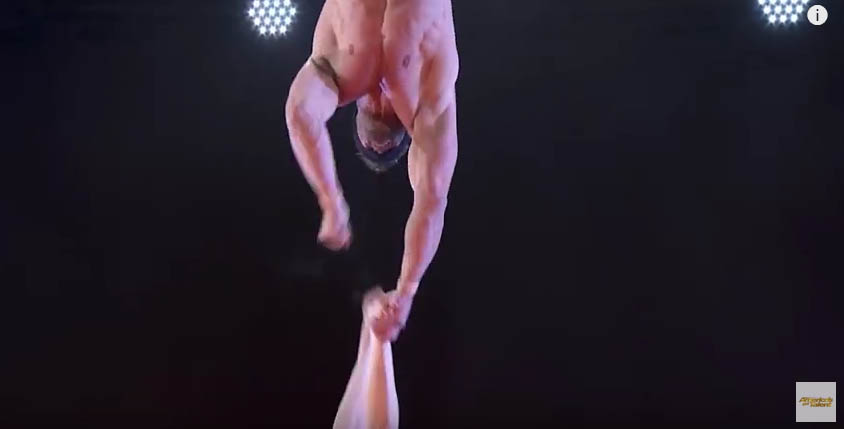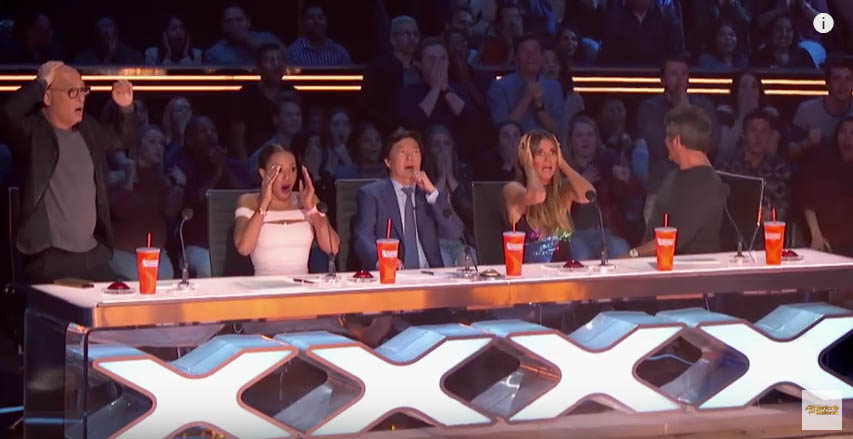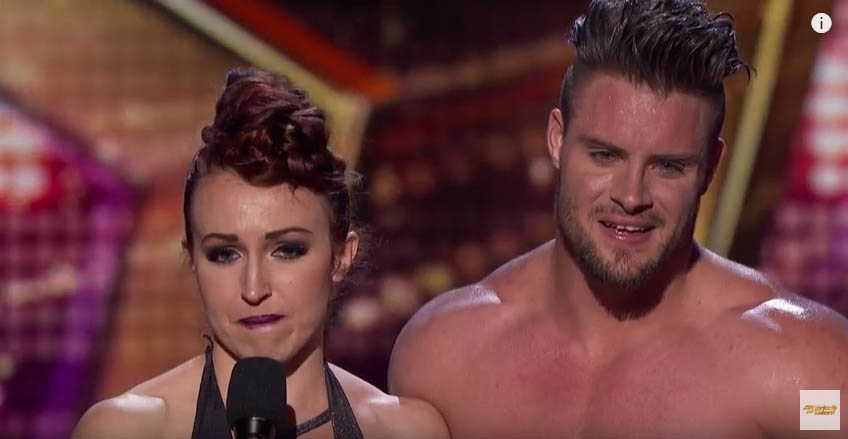 Photos: You Tube/America's Got Talent