Can you believe that the original girl power band, the Go Go's, have been around for 40 years? The pop punk princesses, Belinda Carlisle, 59, Charlotte Caffey, 64, Jane Wiedlin, 60, bassist Kathy Valentine, 59, and drummer Gina Schock, 60, formed in 1978. They made it big in 1981 with the hit "We Got the Beat." And now, like many other iconic musicians, including Tina Turner, Donna Summer and Cher, their hits are serving as the foundation for a Broadway musical. That musical, Head Over Heels, had its official Broadway premiere last night at the Hudson Theater. Here's where theater nerd Corey checks in with a hearty "YAY!"
The band discussed the show and their longevity in this week's issue of PEOPLE, which is on stands today. Music has been a driving force since Belinda and Jane started the band in the late 70s. Here are some highlights:
Why music?
Belinda: "We're not normal women to want to do what we do, but it's in our blood. Our bond is so strong. We've withstood a lot of things over the years."

Unfortunately, with success often comes all of the drama that warrants an episode of Behind the Music:
Jane: "We only had one tool in our box, and that was drugs and alcohol because there was just so much going on."

"It was so stressful. You were exhausted, so you'd have to pep yourself up and then you'd have to bring yourself down."

Kathy: "We had the jobs where you didn't really have to grow up, so we could stay in this extended state of adolescence."

You can't keep a good Go Go down:
Kathy: "We have full lives and families, but there's only four other people who know what it's like. It's a bond that never goes away."

"It's a little strange that people are so interested in our band, because we've been together for 40 years, and a lot of bands — our peers — a lot of them are missing in action, or dead. So we feel really lucky that we've become relevant again in 2018. It's pretty exciting and it's all because of this musical."
Sex, Drugs and Starting Over: '80s Rockers The Go-Go's on Their Wild Past, Getting Sober and New Musical https://t.co/x9JCvJ9gOv

— People (@people) July 26, 2018
The musical is exciting, if the reviews it got during its pre-Broadway run in San Francisco are any indication. The book takes 18 Go Go's hits, including "We Got the Beat," "Get Up and Go," "Cool Jerk," "Vacation," "Our Lips Are Sealed," and "Head Over Heels," as well as Belinda's solo hits "Mad About You" and "Heaven is a Place on Earth," and puts them into an Elizabethan-era story "rife with dramatic irony, comical courtship, and mistaken identity."
If the sweet tunes weren't enough, the show marks the Broadway debut of the first trans woman in a principal role, Peppermint, whom you may remember from season nine of RuPaul's Drag Race. Peppermint brought a Gina-less quartet on stage to perform a few songs for a curtain call after a preview performance on July 12. (Gina's been down for the count due to surgery. Get better soon!)
The quartet was also the subject of a CBS Sunday Morning profile last week. It's truly gold. Check it out if not only to hear some pre-fame music (spoiler: it's not very good) and hear about how hammered they were while filming the video for "Vacation." You can also see the rapport that's kept them together through the good times and bad. As Kathy said,
"There's been times we're in the dressing room, throwing stuff at each other. I think somebody got hit once! There's a lot of conflicting energy. But somehow, out of all of that, something stays very intact and still works very well. There's always a little eye in the hurricane that stays really nice, you know? And special."
I am dying to see this show. Please send me good vibes so I can afford a jaunt to the Big Apple to see all of these amazing shows.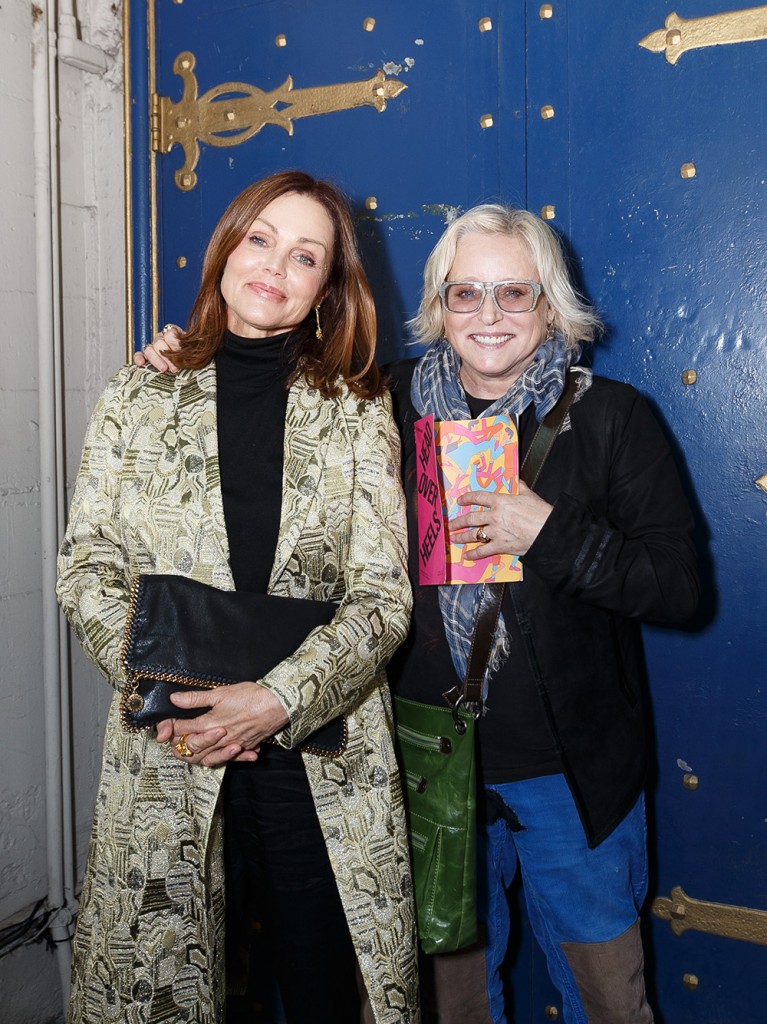 Photos: Getty, WENN