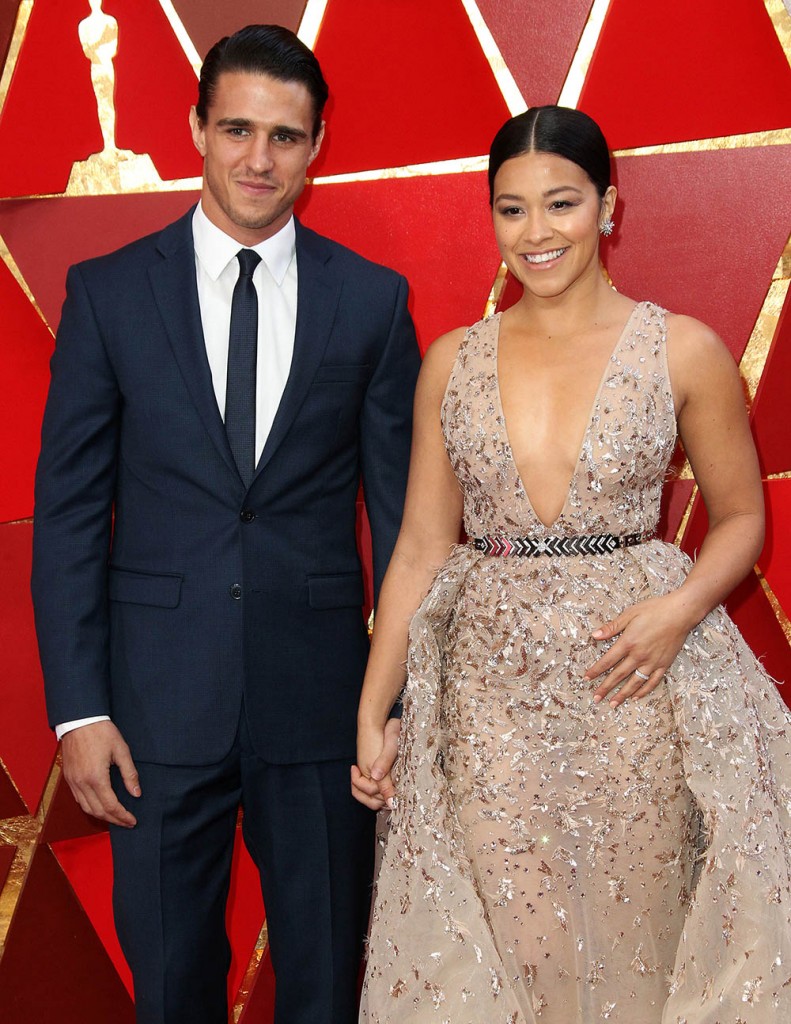 Score another one for summer love. Jane the Virgin star Gina Rodriguez is the latest to (most likely) be engaged. In a plot line that could have played out on her show, her fiancé is actor Joe LoCicero, who fans may remember as the "Don Quixote stripper". Que fuego. They met on the set in 2016 and now could be on the road to becoming Mr. and Mrs. How sweet.
While they haven't formally announced their engagement, Gina is sporting the bling on THAT finger, showing off her new ring on an Instagram post on Monday. In the photo, she's sitting at a beachfront cafe in Tulum, Mexico, smiling, with her rock in full view. I'd be all smiles if I were sitting anywhere near a beach at this moment forget the ring. But, I digress. Jane quoted artist Frida Kahlo in her caption, writing, "They thought I was a Surrealist, but I wasn't. I never painted dreams. I painted my own reality." By the way, if you're as obsessed with photo editing apps as much as I am, you'll love the 90s-inspired disposable camera effect app Gina used on this photo.
Joe also posted a snap from their day, wishing Gina a happy 34th birthday. These two are adorable.
In an interview on Live with Kelly and Ryan last May, Gina recalled meeting Joe, and it's as much of a "meet cute" as anyone could have. She said, "He thought I was being nice to him because I am nice to everyone that comes on the show. So he thought I was just being super sweet to him. And I thought he was just being sweet on me because I'm the lead." Nothing happened between them after that until six months later, when they had a serendipitous encounter at a gym, and they've been an item ever since.
I don't know about you, but they make such an adorable couple. I hope this engagement is truly "on," as I'm wishing nothing but the best for them both.
Photos: Instagram, Getty, WENN