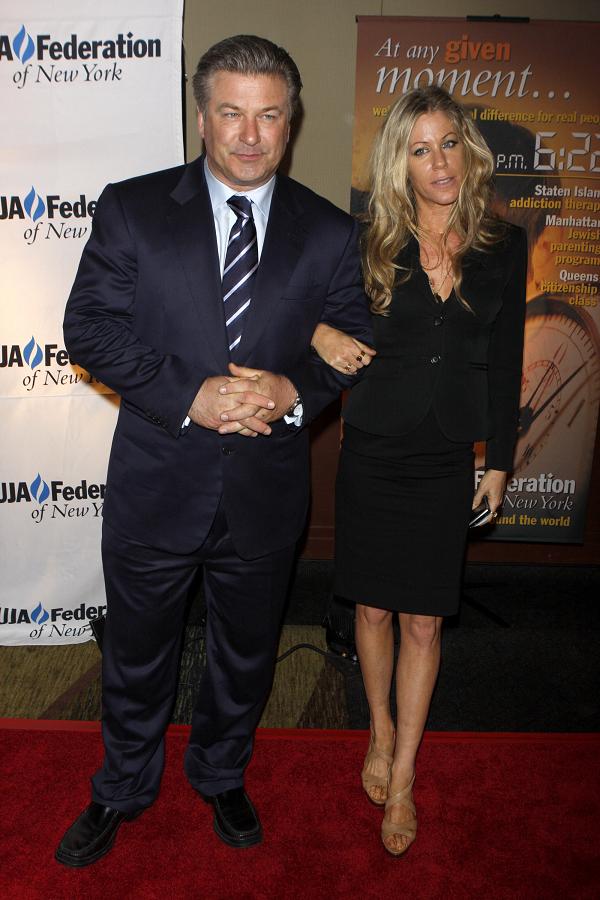 Alec Baldwin (with Marci Klein) at the UJA-Federation of New York's Leadership awards dinner at Pier Sixty in New York City on June 6th. Images thanks to WENN.com .
Depending on how you look at it, Alec Baldwin is either really gutsy, totally insane, or able to learn from his mistakes. Or perhaps a combination of the three. After the controversy of the infamous "rude, thoughtless little pig" voicemail message he left for his then 11-year-old daughter Ireland, you'd think Alec would hesitate to bring up the incident again. Sure he did the initial requisite round of apologies and explanations, and he seemed genuine in his regret. Partly because he didn't apologize for everything, only the things he felt he truly did wrong – and I suppose that's better than saying you're sorry for everything and not meaning it.
Nonetheless, that was two years ago and Baldwin has done a good job of moving on, thanks to his consistently stellar performance on "30 Rock. But he's going to bring it all up again – because Alec has an idea or two about how you should parent your kids.
He's no Dr. Spock – but that isn't stopping "30 Rock" star Alec Baldwin from writing a book – about parenting!

The actor, long embroiled in nasty family turmoil involving his daughter, recently told an interviewer: "It will be ironic for some people, but I'm going to write a parenting book.

"We're at… an awful place right now in terms of parenting. Kids have too much power and call too many of the shots, telling their parents what they will and won't do."

…Alec thinks modern parents have gone soft, and he blames the bad economy and other social stresses for pulling them away from their kids.

"We live in stressful times," Alec said. "People come home, walk up the driveway, put the key in the door, and they can't do another hard job. Parenting your children effectively is a tough job."

Said a source close to the Emmy-winning actor: "He really believes he can help other people with their parenting problems because he's been through the whole thing himself – the good, the bad and the ugly. And he's a lot more learned and loving as a result.
[From The National Enquirer, print edition, July 13 2009]
The thing is, much as I think it's ill-advised and big-headed of Alec Baldwin to think he's in a position to offer advice to other parents, I agree with every word he's said. I cannot believe the way I see children bossing around their parents, telling them what they will and won't do. Not that I didn't have my moments as a kid, but you can tell when a child is throwing a once-in-a-while random tantrum versus behaving in their everyday manner. Parents let far too much bad behavior pass without raising an eyebrow.
That's a big part of it. Yesterday I was on the train, and this kid kept obnoxiously yelling at his mom over and over again, annoying the whole train. I wanted to glare at the kid, but quickly realized the real problem – his mom had her headphones on. Loudly. She didn't want to be bothered with her kid (who was only trying to tell her about his afternoon at day camp) so the rest of us had to hear him screaming. So… Alec Baldwin, you may not have a leg to stand on, but I'm still going to read your book. And do my best not to call my future kids barnyard animals.